Pokemon Home

Pokedex

Price Guide Set List

Message Board

Pokemon GO Tips

Pokemon News

Featured Articles

Trading Card Game
- Price Guide
- Price Guide
- Card of the Day
- Professional Grading
- Killer Deck Reports
- Deck Garage
- William Hung
- Jason Klaczynski
- Jeremy's Deck Garage
- Johnny Blaze's Banter
- TCG Strategies
- Rulings Help
- Apprentice & Patch
- Apprentice League
- Spoilers & Translations
- Official Rules
- Featured Event Reports
- Top of the World
- An X-Act Science
- Error Cards
- Printable Checklist
- Places to Play

Nintendo Tips
- Red/Blue
- Yellow
- Gold & Silver
- Crystal
- Ruby & Sapphire
- Fire Red & Leaf Green
- Emerald
- SNAP
- Pinball
- TCG cart
- Stadium
- PuPuzzle League
- Pinball: Ruby/Sapphire
- Pokemon Coliseum
- Pokemon Box
- Pokemon Channel

GameBoy Help
- ClownMasters Fixes
- Groudon's Den
- Pokemon of the Week

E-Card Reader FAQ's
- Expedition
- Aquapolis
- Skyridge
- Construction Action Function
- EON Ticket Manual

Deck Garage
- Pokemaster's Pit Stop
- Kyle's Garage
- Ghostly Gengar

Cartoon/Anime
- Episode Listing
- Character Bios
- Movies & Videos
- What's a Pokemon?
- Video List
- DVD List

Featured Articles

Pojo's Toy Box

Books & Videos

Downloads

Advertise With Us
- Sponsors
- Links

Chat

About Us
Contact Us
Magic
Yu-Gi-Oh!
DBZ
Pokemon
Yu Yu Hakusho
NeoPets
HeroClix
Harry Potter
Anime
Vs. System
Megaman

| | | |
| --- | --- | --- |
| | MonsterOfTheLake's Lake | |
---
Top 5 Draw Cards in DP-On
Hello there. Sorry about the extended leave of absence; I guess I should have mentioned that I was working on Valve Time. Look forward to a new edition of the Saga of Sets™ next week!

Now, while most Top 5 articles are an exercise in mediocrity and lethargy for burned-out writers quick lists that are useful, this list is downright vital. If you don't have a good draw engine in your deck, you'll lose! And thus, it's a good thing there are only about ~15 draw cards that are just marginally in the realm of the usable! You know, so you don't get it wrong, and play like, 3 Mom's Kindness with a TeCH Professor Rowan as your draw engine.

Oh, by the way, happy late Halloween/early Thanksgiving! Unless you happen to be Canadian. Or not from the United States. Oh well.




The best draw card ever printed
Enough jibba jabba! Here's the listxor!
The List
Sorted by descending numerical order, starting from the number "5." Plus a bonus honorary entry 5.5!
5.5) Magikarp (Stormfront) + Rigged Coin

What do you mean you can't use double headed coins? Fie on that rule!




5) Team Galactic's Wager (Mysterious Treasures)

Yes, you could lose the RPS and draw 3. However, this is one of the precious few disruption cards in the format, and having your opponent draw 6 isn't so bad if they had 10+ to begin with!

You obviously need a Claydol in play before using this card, unless you're feeling particularly courageous. Fortune favors the bold.*



* Fortune may or may not favor you for being bold





Contrary to popular belief, this isn't the first RPS card in Pokémon -- 'twas Misty's Duel
4) Buck's Training (Legends Awakened)

Continuing our trend with "draw cards that do more than draw," Buck's Training lets you do 10 more damage! Pokémon is, underneath all the yellow rats that shoot lightning through their cheeks and lizard-dragon hybrids that breathe fire, is a game of math. Or maths, if you're British. An extra 10 damage may not seem like much; however, it can be a game turner-arounder when the time comes!

Don't forget that the +10 effect is before W/R. With Lake Boundary in play, or attacking a Pokémon with 2x weakness, that +10 becomes +20! That's like, two PlusPowers!





It's Bill and PlusPower, rolled into one delicious card!
3) Chatot (Majestic Dawn)

Chatot is quite underrated.

A quick look at the card will show you why it's so splashable -- that is, can be thrown into any deck with ease. It's a 60 HP basic with free retreat. You could do worse than throwing in a Chatot as the last card in your deck, such as throwing in a Mom's Kindness or Dunsparce.

"So MOTL," I hear you cry; "it IS splashable, but SHOULD I splash it in?!" "YES!" I shout back, and then everyone gathers around to do a musical number.

Mimic is an amazing attack. For the low, low cost of 0 Energy, you get an entire new hand! Thanks to its free retreat, you can also bring it up after one of your Pokémon get knocked out. And a Chatot + Call Energy is a really good start. Unless your opponent donks a T2 Kingdra or something. That's when you flip the table, and run off the store, so you don't lose rating points! How else will you get a Worlds invite?





It's the new Cleffa! Alas, without the Baby Rule =(
2) Cynthia's Feelings (Legends Awakened)

Simply put, throw in 2 in every deck.

This card is the Scramble Energy of DP-On; allowing you to recover after a knockout by getting 8 new cards. Every deck needs this card, alongside the new Luxury Ball.





No really, Cynthia *is* hot!
1) Claydol (Great Encounters)

Ignore all the hype about the new Gengar; you can throw in an Unown G if you're really scared of it.

Claydol is one of the best cards ever printed, and that's saying a lot. Refreshing your hand every single turn to 6 cards is amazing. If you don't have a 2/2 Claydol line in every deck, your excuse better be "I don't have that many."






Poképarents: Buy some Claydols for your kids this holiday season. Who needs a Wii when you can play competitive Pokémon?
---
Feedback
(You can send in your feedback at PoJoMOTL@gmail.com)
Monster I can't believe you would harp so much about medicham butt when bonsly is definatively the nasty one, my son pointed out to me from the beginning that if you look carfully you will see that bonsly is the bunghole pokemon and personally I would rather deal with a buttdcrack than the hole

Marc
Marc is right. I somehow glossed over this monstrosity: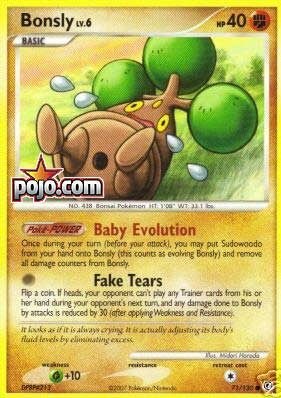 That's just
horrifying
.
---
That's all, folks!
PoJoMOTL@gmail.com
Back to MonsterOfTheLake's Lake
PoJo's Pokémon Site

Copyright© 1998-2008 pojo.com
This site is not sponsored, endorsed, or otherwise affiliated with any of the companies or products featured on this site. This is not an Official Site.