Alex
"Chuck"
Brosseau
5th place Worlds 2006 (Also current "best looking player")
Pokemon Home

Pokedex

Price Guide Set List

Message Board

Pokemon GO Tips

Pokemon News

Featured Articles

Trading Card Game
- Price Guide
- Price Guide
- Card of the Day
- Professional Grading
- Killer Deck Reports
- Deck Garage
- William Hung
- Jason Klaczynski
- Jeremy's Deck Garage
- Johnny Blaze's Banter
- TCG Strategies
- Rulings Help
- Apprentice & Patch
- Apprentice League
- Spoilers & Translations
- Official Rules
- Featured Event Reports
- Top of the World
- An X-Act Science
- Error Cards
- Printable Checklist
- Places to Play

Nintendo Tips
- Red/Blue
- Yellow
- Gold & Silver
- Crystal
- Ruby & Sapphire
- Fire Red & Leaf Green
- Emerald
- SNAP
- Pinball
- TCG cart
- Stadium
- PuPuzzle League
- Pinball: Ruby/Sapphire
- Pokemon Coliseum
- Pokemon Box
- Pokemon Channel

GameBoy Help
- ClownMasters Fixes
- Groudon's Den
- Pokemon of the Week

E-Card Reader FAQ's
- Expedition
- Aquapolis
- Skyridge
- Construction Action Function
- EON Ticket Manual

Deck Garage
- Pokemaster's Pit Stop
- Kyle's Garage
- Ghostly Gengar

Cartoon/Anime
- Episode Listing
- Character Bios
- Movies & Videos
- What's a Pokemon?
- Video List
- DVD List

Featured Articles

Pojo's Toy Box

Books & Videos

Downloads

Advertise With Us
- Sponsors
- Links

Chat

About Us
Contact Us
Magic
Yu-Gi-Oh!
DBZ
Pokemon
Yu Yu Hakusho
NeoPets
HeroClix
Harry Potter
Anime
Vs. System
Megaman

Chuck's Place for Pokemon
Wolf Pack
December 27, 2006
Hey guys, I'm back with another idea that's been in the back of my head for a while. The name of the deck is WOLF PACK for two good reasons:
Both

Pokemon

the deck focus on ar

e dogs.

They're Red and Black (

NWO

Wolf Pack's old colors!)
Houndoom

and

Mightyena

ha

ve

some sick synergy together.

Mightyena

knocks your opponents hand down to 4 for only two energy, and

Houndoom

stops your opponent from playing all trainer cards (except supporters). With only 4 cards and no trainers, your opponent's options are going to be QUITE limited. You're not going to be doing much damage, but your

Pokemon

are going to be very difficult to knock out with only 4 cards and a Stadium of your choice locked in play.
Pretty standard energy. Dark Energy gives

Mightyena

some much needed extra damage. Double Rainbow Energy lets

Mightyena

attack for one, and

Houndoom

for two.

DRE

is a very good card in this deck, and 4 might be better than 3. Heal Energy is good TecH to get you out of a nasty status condition.
4 Great Ball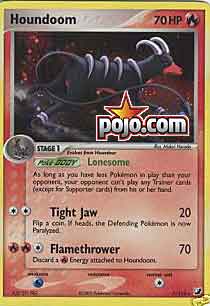 2 Professor Elm's Training Method
Great Ball is obviously here to get out your basics when you need them. 4

Celio

's AND 2

PETMs

to make sure you get your stage ones out as fast as possible. Locking a Cursed Stone or Battle Frontier into play should help a lot of

matchups

, such as

Metanite

,

Flygon

,

Sallygross

,

Banette

, etc. Energy Root is there to help

Mightyena

survi

ve

, and Crystal Shard is great TecH for Drag d,

Flygon

, and

Salamance

.
I'

ve

played a lot of games with this deck, and it actually does very well against the

metagame

(especially

Banette

!). E-mail me as always if you ha

ve

any questions/comments. Chuck@pojo.com

Copyrightę 1998-2006 pojo.com
This site is not sponsored, endorsed, or otherwise affiliated with any of the companies or products featured on this site. This is not an Official Site.