Hey guys! I'm back again today with another City Championship report. This time, I decided to drive up to Pastimes in Niles Illinois with Jason, Dani, and Matt Alvis. I played Sally/Gross again, but this time, the outcome was a little different :(.

Round 1 vs Chris with Sally/Gross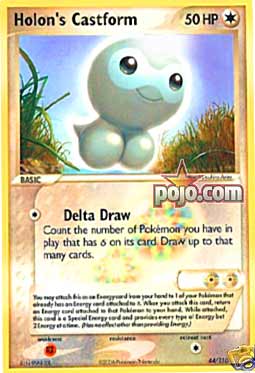 He was running a very similar list to mine,
but I didn't mind, as I figured I'd be able to out play him seeing as I'm a lot more experienced. Unfortunately, I opened with a Latias* against his Castform. He got to Delta Draw over and over to set up, while I sat there waiting to draw the Trans or Scientist that never came :(. He had about 15 card in his deck when he won, to my 40+. YUCK!

0-1

Round 2 vs girl with Typhlosian d/Banette ex

She played Typhlo/Banette, but I only got to see the Shuppets and Cyndaquils. She couldn't really get anything going against me, and my Salamence took all 6 prizes.

1-1

Round 3 vs John Bagshaw with Delta

I got a weak start against his T2 Raichu+DRE KO, and his turn 3 DRE KO. I eventually got some draw though, and the game was on! We traded prizes back in forth, but eventually I got a Sally with a bunch of Metals on it to finish him off. Close game!

2-1

Round 4 vs POOOOOOOKA with Ttar

I played him earlier before the tournament to get a feel for how the match up would go. The typical player would think that the OBVIOUS play is to send up Sally ex with the Castform, Flame Jet the Ttar, and then finish it off for 120 if they send it up. This sounds good, but is easily played around by DERAIL. If you Flame Jet and they Derail the Castform, your Sally is stuck up there and is going down for 2 free prizes. The CORRECT play is to actually use HOLONS MAGNEMITE as an ATTACKER to do 10 damage to Tyranitar on the bench, setting it up to be OHKOed by Latias*. Unfortunately for me though, my Magnemite was prized this game, and it turned into a big think-fest. Twas a close game, but at the end I just couldn't get draw well enough, and lost a super close game that went into sudden death for a turn. Stupid 2nd Briney, UGH!

2-2

Round 5 vs Mr. Lucas with Dragonite ex d/Dragonite d/Eeveelutions

I had my first Delta Draw start of the entire tournament, but this quickly ended when he Umbreoned up my Shelgon, and I had to pass for my next 5 turns. At one point my hand was 3 Gross DX, 3 Sallys, and 2 Windstorms. FULL HOUSE, I WIN! Negative. Any who, I eventually drew out of my bad luck, and got a Sally ex going. He had the chance to knock it out with his Latios*, but he overlooked it (phew) and I went on to win a close one on time. Great game though.

3-2

10th/21

So Jason and I both ended up 3-2, Matt went 2-3, and Dani went 4-1 eventually getting 2nd place, losing to Pooka in the finals. Overall it was fun tourney, but I'm a little uneasy over Sally/gross after some of the inconsistencies I had this weekend. Hit me up with any questions, as usual. Chuck@Pojo.com Later guys!