All right, the cards from Legend Maker just came out of the Prerelease, and I haven't had much time to playtest them yet. So instead of doing CoTDs (Card of the Day), I believe it's more productive and valid to just open up a discussion about the whole Modified Format in general, and some of the impact the new set Legend Maker will bring to the format.
You want to win, right? Well, me too.
Thus, I will start off saying that the best deck is the deck that can handle the problems/challenges your opponent throws at you
. Some of you may say: "What? Then this whole discussion is pointless." I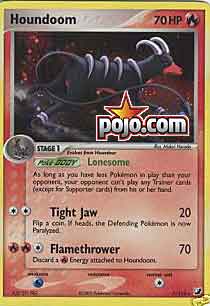 will tell you folks there is no "perfect deck". You have to be willing to take some chances. For example, I chose a turn 2 Houndoom (Unseen Forces) deck at one of my City Championships. I know there is 1 Ludicargo deck, and 1 ZRE (Zapdos ex/Rayquaza ex/Electrode ex) deck in the tournament. I understand that I most likely lose if I have to play against one of these decks - but my hope is that with all those Dark Dragonite decks, Fire decks, and Metanite decks, I am much more likely to face these throughout the tournament and top 4. Also, even if I lose to 1 of my unfavorable matchups during Swiss round (most probable ZRE), I can still make it to top 4 if I win my other 3 games.
It's complicated, but to sum it up, knowing what deck/cards my opponent runs is a huge advantage. I can plan out my strategy ahead of time in my head before even playing my opponent.
So what will some of the problems/challenges you have to deal with to win a State Championship?
1) No Poke-Powers: This is HUGE!! Anything ranging from Muk (Legend Maker), Medicham ex, Feraligatr ex, Battle Frontier (and lots more) can cripple your deck. With that being said, you need to ask yourself, can I win the game without being able to Quick Search with my Pidgeot, or Smooth Over with my Magcargo. Some decks can still win without it, although it's much tougher. Others will simply fall apart.
Example: Nidoqueen may be able to pull off a win without Pidgeot, but Victreebel/Weezing will collapse, because they need to be able to Quick Search every turn (at least both early and middle game).
2) Getting around Fossils: Fossils are back, and although how significance of the fossils remain to be seen, you will be giving your opponent more than enough time to get anything they want if you have to KO your opponent's Fossils, Jirachi (Wishing Star),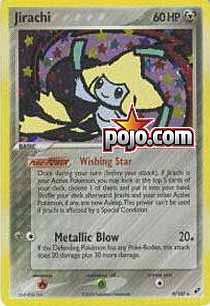 before getting to your opponent's main threats. It's not always mandatory to have a method to target your opponent's Bench before you KO your opponent's Fossils, but if you don't have a good "matchup", then you are making things from bad to worse.
So with that in mind, I really like Jermy101's Blastoise ex/Steelix ex/Lugia ex, because if your opponent can't "set-up" their Pokemon and stalls with Fossils, Steelix ex can end the game rather quickly.
3) Dominance of ex-Pokemon: I know there are plenty of competitive non-ex Pokemon decks to choose from, but I have little/no doubt that in order to win State Championships, the deck I choose must be able to handle opponent's powerful ex-Pokemon. Thus, if your deck have the deck space, fitting a 2-2 Ninetales HL (Hidden Legends) can be quite profitable. [If you don't know what it does, feel free to check the Card of the Day's or spoilers.] Also, Desert Ruins will still be a very important stadium.
4) One-Hit KOs: With Protective Orbs and Holon Energy FF (use card spoilers if needed) negating Weaknesses, and Energy Root, this is a much tougher task. It certainly can be done, however, and if you want to control your own destiny and win, building and running a deck that is capable of One-Hit KOs can be a very feasible idea.
Next time, I will make a brave attempt to build a worthy, competitive deck for State Championships.
Cheers,
William Hung