Pasadena City Championships
Pasadena, CA
17 players in age 15+ (Masters)
December 10, 2006
Hello everyone,

This is my first City Championship I will play this year, and I just hope to get warmed up with this City Championship, get more familiar with the new Modified format.
My deck choices are fairly limited, because I still need a bunch of new cards. So I ran a deck that I thought it would be reasonably consistent and safe...
Flygon d/Salamence d

Pokemon (23):
3x Trapinch d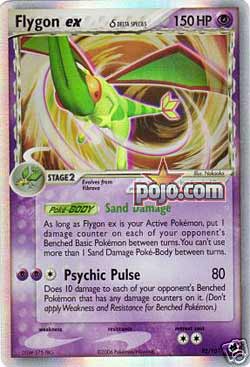 2x Vibrava d
2x Flygon d
1x Flygon ex d
3x Bagon d (Bite)
2x Shelgon d (Exoskeleton)
3x Salamence d
1x Spearow CG
1x Fearow d
1x Chimecho d
4x Holon's Castform
Trainers (23):
4x Holon Transceiver
4x Holon Mentor
2x Holon Researcher
1x Holon Adventurer
1x Holon Scientist
2x Copycat
3x Windstorm
2x Holon Ruins
3x Rare Candy
1x Mr. Briney's Compassion
Energies (14):
6x Fire
4x Metal
4x d Rainbow
I couldn't get certain cards that could make my chances better, such as Tauros CG and Psychic Trapinch d. Nevertheless, there was very few Banette ex/Houndoom, if any, and I thought I should like my chances and matchups today. Well, I am in for a rude awakening...
Round 1: vs. Amy - Metanite
We both started off strong. She started with Holon's Castform and a nice bunch of Delta Pokemon, and I decide to maximize my Copycat and set up my army of Pokemon normally. Turn 2 Holon Mentor, Turn 3 Fearow delta and my army is getting set up rapidly with a healthy 11-card Copycat. I took a 2-prize card lead, but she made a strong comeback, and I barely hang on as time is called, with a prize count of 4-5 in my favor.
Win 1-0 3pts.
It was a slow-paced game, so getting the 1st prize cards was important.
Round 2: vs. Lik - Armaldo d/Armaldo ex/Mew ex
I made a bad decision early on that costed me dearly. He went first with a lone Mew ex, and I started with a lone Trapinch d. I played Holon Mentor for Bagon d, Spearow CG, and Holon's Castform. I did have another Holon Transceiver, Delta Rainbow, and Metal Energy in my hand. I played Holon's Castform turn 1 on the Bench, along with a Metal Energy on it - planning to Delta Draw.
However, a much better play would be to put pressure on his lone Mew ex with Vibrava d, since it has a 1-Colorless Energy that does 40 damage (20 base damage x 2 for its Weakness).
My decision to change from a defensive mode (Delta Draw) to attack mode costed me 2 precious Energies and a turn.
Because of this mistake, when my Flygon d got KO'd, I didn't have Energies in my hand, and this forced me to use my Holon's Castform's Delta Draw. I played from behind from this point, and against a slow-paced player, it was simply a disaster.
I made the game at least competitive, as I was behind by 1 prize when time is called. But I can't One-Hit KO his Armaldo ex.
Loss 1-1 3pts.
It was a game I should have won, and I don't think I underestimated my opponent. I just made a mental mistake - it's like quarterbacks throwing interceptions.
Round 3: vs. Lynette - Rayquaza ex d/Arcanine ex/Rayquaza ex DX/Blissey ex
This was a matchup disaster. That's what I get for not taking care of business and go 2-0. My Fearow d was prized, she started with Rayquaza ex d, and a timely play with Rayquaza ex DX and Warp Point totally dominated me, taking a 4 prize card lead. I never recovered, and the Weakness to Colorless was too much for me to overcome.
Loss 1-2 3pts.
Round 4: vs. Russell - Dustox ex/Blastoise d
I had a matchup advantage, and I just took my time setting up my Salamence d, Flygon d, and Fearow d. I eventually have Energy advantage and overwhelmed him. However, I wasn't happy about my own sloppy play toward the end of the game, where I forgot my Flygon ex d couldn't do anything against Dustox ex. In this game, it didn't matter because it wasn't close. But that mistake just seems like it caps off the kind of day I've had so far.
Win 2-2 6pts.
I really hope to win the last game so I can finish with a solid showing, but my opponents have other plans...
Round 5: vs. (sorry, forgot his name) - Rayquaza ex d, Altaria ex (the one from Emerald), and Tyranitar ex (UF, Dark, 160 HP monster)
I had a slow start, going 2nd against his Rayquaza ex d, and couldn't get out a Holon Mentor for the first 2 turns. Whenever this happens, my Bench will get ripped apart, and although I set up my 1st Salamence d, it was too late because the Tyranitar ex UF was on the verge of Losing Control against everything I have in play.
Loss 2-3 6pts.
My overall performance was definitely a disaster, but I learned some things about the new Modified format the hard way:
- Can't play from behind, especially against slow-paced players
- There is virtually no margin of error. I will discuss with everyone more in-game situations in the upcoming weeks, but there is a lot of skill involved in Pokemon TCG.
- Can't underestimate competition against any deck, any opponent
- Must play with best effort, 110%, until the game is over. And the game is not over until the judge calls time at the end of 30 minutes, or either player takes all the prizes (don't need to elaborate on basic victory conditions).
- I think a well-designed deck with great Pokemon have an edge over just about any opponent, but not without A+ gameplay. It's just like the football coach can call a great play, but a quarterback can make terrible decisions to blow it up.
Of course, I will also fine-tune my deck a bit as well. Hopefully you guys have better success than I do so far. I must admit that I am rusty with my gameplay so far in my first City Championship.
William Hung