Hello trainers,

Well, I had difficulty coming up with a good topic to share with everybody, but with Dragon Frontiers cards coming out soon, I finally can look at a rather obvious deck that is worth some discussion, as we head into City Championships - Banette ex/Sableye from Crystal Guardians.
The concept of this deck is to use a combination of Supporter trainers to discard other Supporter trainers from your hand into your discard pile, and use Sableye's Poke-Power to fill up the discard pile with 6 or more Supporter trainers fast.
Before I go on, a sample deck list should be helpful: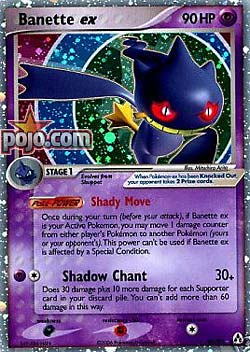 Pokemon (10):
4x Shuppet CG
4x Banette ex
2x Sableye CG
Trainers (36):
4x TV Reporter
3x Prof. Elm's Training Method
3x Steven's Advice
2x Holon Scientist
2x Holon Adventurer
4x Holon Mentor
4x Holon Transceiver
3x Crystal Beach
2x Windstorm
2x Warp Point
3x Pokemon Reversal
4x Energy Removal 2
Energies (14):
8x Psychic
3x Cyclone
3x Rainbow
The draw cards are rather obvious, but the others may not be so obvious.
Crystal Beach - This is a reasonably easy choice, because this deck doesn't need Special Energy cards that provides 2 or more Energy. Thus, we shall punish people who runs them - such as Double Rainbow, Boost, and Holon energy cards (like Holon's Electrode).
Windstorm - Although not having Poke-Powers isn't the end of the world, it still hurts my chances in the long run - such as times when I need 100 damage or extra early damage (in the early going) for One-Hit KOs.
Energy Removal 2 - I think the deck's advan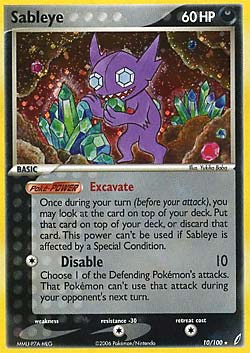 tage is both speed and consistency, and it's good to keep pressing that advantage.
Pokemon Reversal - I am not sure about 3 or 4, because it will depend on the metagame. Nevertheless, it is another important card to keep pressing the early advantage by targeting opponent's vulnerable Bench Pokemon.
Warp Point - This card really helps whenever I have to start with Sableye, because Sableye is not a good starter. It slows my assault by at least one turn, and every turn counts. I may even need 3 of these Warp Points, but I'll playtest more games first.
Cyclone Energy - This is to bring out opponent's vulnerable Bench Pokemon.
Rainbow Energy - This is good for generating an extra damage counter to "Shift" toward your opponent's Pokemon, allowing a One-Hit KO.
This is indeed a very solid deck. It handles decks that require set-up, stage 2 decks in particular, quite well. In general, this deck is designed to make your opponent very uncomfortable, and it usually will.
There are some variations of this deck (such as one ran with Houndoom UF for even more disruption), but I think this should be more consistent in getting Turn 2 one-hit KOs.
Cheers,

William Hung