Hey guys, I just wanted to discuss a deck that I thought to be one of the best decks in the format.
It won so many events.
The Top 2 Battle Road Final Decks
15 Infernape
13 Banette
However at the US National Championship we saw so many decks show up. In the masters age group we have 400+ people. There was between 50-80 Infernape decks there. Only TWO made the cut to top 32.
Looking back at nationals decks we can attempt to predict the top decks for Worlds.
Masters Top 32 players and decks:
1. Chris F - Speed spread (Absolutions/tech)
2. Jay H - Scizogross
3. John S - Flariados
4. Rob D – Rayquaza ex d/tech
5-8.
Shawn G - Electivire
Ian B – Machamp (DP)
Alex B - Banette
Eric C – Speed spread (Absolutions/tech)
9-16
Michael C - Empoleon/Marowak
Nick K - Lucario/lutions
Adam C - Banette
Aaron C - Empoleon/Marowak
Adam V - Infernape
Jayson H - R-Gon
Tom W - Mario
Emmanuel D - Mario
17-32
Brian J – Lucario/tech
Jey J - Raichu/Kingler
Paul J - Empoleon/Marowak
Jimmy B – Empoleon/Marowak
Peter O - Flygon
Alex W - Empoleon/Marowak
Gino R - Lucario/tech
James R - Lati@s
Pedro G - Rhyperior
Michael B - Empoleon/Marowak
Leo O - Rhyperior
David C - Absolutions
Chris S - Infernape
Heidi C - Banette
Tom D - Infernape
Glen P – Banlutions
Looking at this, I would bet that the top decks would be:
1)Speed Spread(Eeveelutions/Absol EX/techs)
2)Ambush(Empoleon/Marowak d)
3)Bannete EX Variants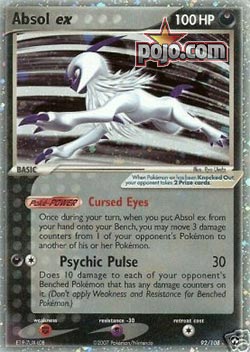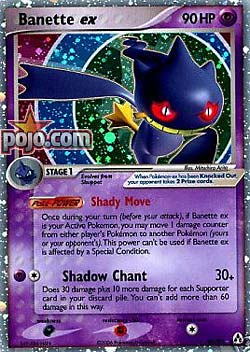 Be able to beat THOSE decks and you will be ok for the main event and especially the grinder.

One of the reasons that Ape may not have been popular is because all of those 3 decks had some tech or way to beat it. Speed Spread and Bannete both ran a 1-1 Lunatone and Solrock to disable Delcatty.

Infernape could very well be a good play in a closed event like worlds. With 64 players it could very well face alot of techs or none at all. It's a gamble.

If anyone has any questions or comments just shoot me an email - Stephen.Silvestro@gmail.com


Steve