At the beginning of the year, it would have appeared that MetaDrag(AKA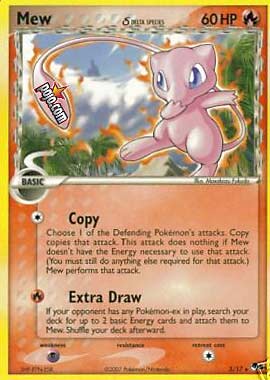 Metanite) would be the dominate deck for the entire 2006/2007 season.

During the end of Cities and the Middle of States Flygon variants became popular however they still had problems with MetaDrag.

Approx. 2 weeks before Regional Championships started POP series 5 Brought us a little 60 hit point beat named Mew. While the Hype was huge on it, in non-Fearow playing Flygon it didn't live up to the hype.

Then we had battle roads, with them we got the release of a new expansion. Diamond and Pearl.

Diamond and Pearl would turn the metagame upside down. The release of this little bugger would change the way we looked at decks for the rest of the season.

During the past few weeks we have all seen Infernape (flare) blitzing it's way across the nation winning Battle Road after Battle Road.Winning a total of 15.


Let's look ahead to US nationals, Could the deck that was Seeming Unstoppable during Cities really be shut down during Nationals by infernape?

Thanks to Flaming Spinach we can look back at the top 2s of Battle Roads.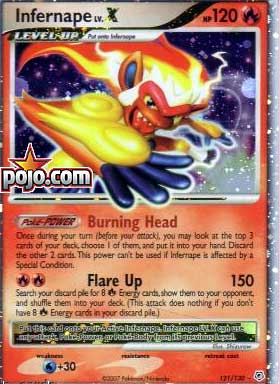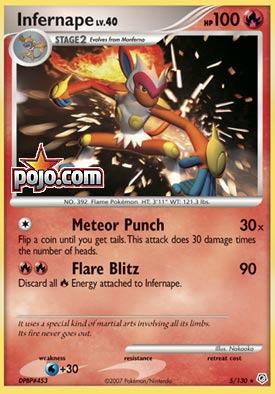 15 Infernape
13 Banette
10 MetaNite
8 Flygon ex d
5 Raieggs
4 R-gon
4 Electranite
3 MSN
3 Rhyperior
2 Absolutions
2 Flariados
2 Mario
2 Shrifty EX

1 of:
Destiny
Kingdra EX
Hariyama
MegaMetalix
Scizor/Metagross
Gardy ex d

While it's unclear how many battle roads MetaDrag won, it did at least make finals in 10.


I could be entirely wrong, but at US nationals, this writer predicts a shortness of MetaDrag and an Booming Surge of Infernape.