Hello again everyone. Once again I'd like to thank everyone who reads this. I want to welcome you to what I'm going to be calling , " Deck of the week" .
This weeks deck is (my personal favorite) Flaridos.
Pokemon 17:
4 Eevee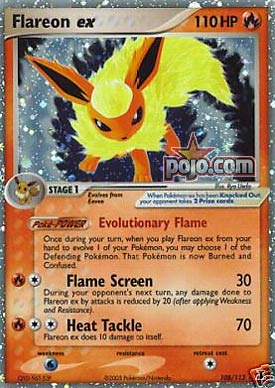 3 Flareon EX
1 Umby ex
1 Vaporeon EX
4 Spinarak
4 Ariados
Energy 14:
7 Grass
4 Multi
3 Fire
Trainers 29:
4x Tranny
2x Mentor
1x Adv
1x Scientist
1x Farmer
1x Scott
2x Giant Stump
3x Battle Frontier
3x Windstorm
4x Super Scoop
3x Marys Request
4x Professor Elm's Training Method
THE MATCHUPS AND WHAT TO DO VS THEM:
Flaridos vs Boom - 70/30
This matchup is very straight forward. Lets say you go first , with Eevee start. Attach an Energy, CFF to make sure your Umbreon EX isn't prized. Get a spinarak (in case of safe guard). Depending on your hand you WILL take control of the game next turn with Umbreon EX , or you will get a Flareon EX. The ideal bannette player will now either Acension to Banny ( Safeguard) or attach to a benched Shuppet. PETM if you have one and get Umbreon EX. Take out the shuppet on the bench if thats what they did. If they got Safeguard Banny get an Ariados and Spider Trap on it. Then just repeat Umbreon , use Flareon EX and Ariados if needed.
Flaridos vs Delta - 60/40
This matchup is a harder one for inexperienced players. Hitting Super Scoop Ups is very important in every game , but this one even more so. There are so many Flaridos decks that dont play Windstorms , these decks are inferior to mine in my opinion. This game goes the same way most times. I (hope to) start with Eevee but I can make a spinarak start work. Use mentor and then CFF. Meaning I have 4 basics on bench, Ideally I hit a t3 or so Vaporeon EX and KO castform , but it seems like every time I do that they hit a scientist =/ . Now USUALLY they wont be able to return a KO on ur Ariados/Flareon EX with Raichu or Eggs , here is where you start to run away with it. If they evolved into a Raichu Spider Trap it. If they didn't , use your JUDGEMENT and try to get a read on your opponent. If you dont think they have a Raichu go ahead and Spider Trap out a Pika. If you think they do bring in an Eggs. One of the few things I do is I do NOT burn Windstorms on Gyms. So what if you have to eat 3-4 turns of Cursed Stone. You have stumps and scoops. The rest of the game goes with you using the Flareon EX and Ariados combo attack.
Flaridos vs Metanite- 50/50
This is a hard one even for the Veterans. I usually try to get a quick ariados and Spider Trap Dratini(s). Hit a good Vaporeon EX and just go to town. In the end this game always comes down to flips. See if you can't get them to walk into a Giant Stump forcing them to loose 2 key basics. I'm trying to replay all of these games in my head but they ALL seem to go in different ways.
Flaridos vs Flygod/Flytech - 50/50
Let's face it. Flygon variants are hard for EVERYTHING. With POP 5 Mew d getting released Flygon is arguable the BDIF now. With this game you MUST to KO the Castform ASAP. Do not allow them to get a big hand. Vaporeon is key here. if you can Vaporeon and KO the castform spend the next few turns Spider Trapping and KOing trapinch. If they get a Delta Supply flygon it needs to be taken care of either with Spider Trap or Battle Frontier. This matchup sways depending on the player and techs involved.
Well , thanks everyone for reading. The most important thing I want everyone to remember is that while yes I can tell you matchups and explain to you what to do , that is nothing compared to the actual KNOWLEDGE of playtesting and learning these matchups on your own. I spend HOURS playtesting every week.
If I can quote my good friend Matt. "Play all day , Every day. AND KNOW HOW TO BARREL ROLL!"
-Silvestro