Title
: Deck of the week - Week 2. A look at Flygod
Here we are again folks. Anyone who has read my past articles has noticed I've mentioned Flygod as potentially being BDIF since Mew d(POP5) has been out.
As far as the BDIF right now , I think that's what most people are so turned off about. We've always had a strong leading deck in the format. last year LBS , Before that it was rocklock , and before that it was Blaze.. Everything has 50/50 vs pretty much everything else with Bannette and Delta being the lacking decks in the format. As of right now after states , the top decks would look something like this to me:
1/2)Metanite/Flygon
1/2)Metanite/Flygon
3)Destiny*
4)Flaridos/Absolutions
5)Flaridos/Absolutions
6)MSN
7)Delta(Rai/Eggs)
8)Shiftry Varients
9)Bannette/Boom
I have a hard time assigning ANYTHING the top deck spot. Flygon and Metanite are by easily the top 2 though. And while Mew D from POP 5 will help the matchup , Metanite is just purely an AMAZING deck with all of the things it can tech. Latios*,Lugia EX the list goes on...
Anyways , here is my Fly list. It's still a work in progress:
Pokemon:
4 Holon Castform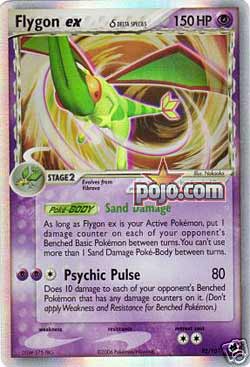 4 Trapinch d (big bite)
2 Vibrava d(Sonic Noise)
1 Vibrava d(Quick Blow )
3 Flygon d*
2 Flygon d EX (Dragon Frontiers)
1 Holons Voltorb
1 Chimecho d
1 Latios d EX
1 Latias d(Dual Aura)
1 Spearow
1 Fearow d
1 Mew d (POP5)

Trainers:
4 Holon Trans
4 Holon Mentor
2 Holon Researcher
1 Holon Adventurer
2 Holon Scientist
1 Holon farmer
1 Mr Briney's Compassion
1 Warp Point
3 Windstorm
4 Rare Candy

Energy:
4 Grass energy
4 d Rainbow
6 Psychic

It's not perfect , not by a long shot. But it gets the job done.

THE MATCHUPS:

Flygod vs Bannette: 50/50 or 40/60:
In my opinion this all comes down to the bannette players list. If they can drop a quick reversal and hit KO your key Pokemon this game is lost. However with the right set this game is very doable. This eventually comes down to you needing to hit a t3 or better powered latios d EX.

Flygod vs Flaridos: 50/50 (Matchup does improve with the right techs)
This matchup is easily improved. Tech in a tropius or another warp or switch. The Flar player will typically try to get fast spider traps. If you have a tropius or warps in your deck this is easily delt with.

Flygod vs Delta: 70/30:
Easiest game Flygod has. The way to play this game.. Get ONE Flygon ex D out at all cost. He will get you pretty much 4 prizes. By the time they KO it you have another ready... I know this is short but it's completely the way it goes...

And last but certainly not least...

Flygod vs MetaDrag 50/50 - 40/60
Let's just put it like this. The matchup sways from player to player.. I certainly wouldn't want to play vs Chris Fulop with his MetaDrag. However this is how the match goes. Both players rush to get set up. If you can hit a t2 swift guy than do it. Disrupt their castform with a guy who has lightning resistance. Now you need to bait them into waisting their Latios*. Then KO it with Flygon EX d. If they can respond with a Lugia or something the game is probobly lost. However if they can't than your in good shape. Keep your wits about you this game. It's your only chance..

Well , thanks everyone for reading. The most important thing I want everyone to remember is that while yes I can tell you matchups and explain to you what to do , that is nothing compared to the actual KNOWLEDGE of playtesting and learning these matchups on your own. I spend HOURS playtesting every week.
If I can quote my good friend Matt. "Play all day , Every day. AND KNOW HOW TO BARREL ROLL!"
-Silvestro