Greeting Pojo Peoples! This is Guy with a review of my Salamence Deck. Unfortunately, I have decided to retire the deck for now, so I thought I would release the list and a strategy overview of the deck. Salamence was pretty decent before it ran into an explosion of Gengar…but since then it has only been sub par. Hopefully you all have read my articles about this deck in the Killer Deck Reports section, so you'll know a little history of my play experience with it. It finished 3rd in Battle Roads, and won a City Championship, so I am pleased, but it's simply time to move on. I am going to provide the lists for the deck, a strategy report, a look at matchups, and a recap of my Georgia Marathon experience.
First things first: The List.
For Battle Roads, I ran a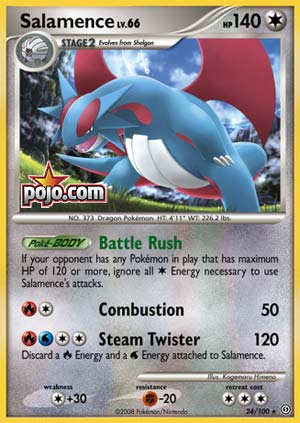 Salamence/Kingdra variation which managed to go 3-1 against Dragonite/Gyrados SP deck, Speedrill, and a Gardivoir/Gallade/Dusknoir before losing to BlazeRay. For that tournament I ran the following list:
4-2-4 Salamence
2-1-2 Kingdra
2-2 Claydol
2 Uxie
4 Bebe's Search
4 Roseanne's Research
1 Luxury Ball
3 Great Ball
1 Poke Ball
2 Team Galactic's Wager
2 Warp Point
1 Night Maintenance
4 Rare Candy
3 Broken Time Space
7 Fire energy
7 Water energy
I know, I know. No Call Energy, no Cynthia's Feelings, no Unown G. I simply did not have those cards, and just had to play with what I had. I was proud of the performance of the deck without them…and that Poke Ball actually pulled off a few crucial flips at times! I like have 17+ search and draw cards in any deck I play, and this exceeded that number by 2. So even though I was missing a few key cards, it still managed to do what I needed it to…at least for this tournament.
The strategy for this deck was to attack with Salamence and use Kingdra as backup when Salamence got in trouble. Also, Kingdra could start the game until Salamence got set up and ready to go. It was also nice to have 5-7 water energies in the discard pile during the late game and use Kingdra to attack for 50-70 damage and send some energies back into the deck. Also, the ability to snipe anything for 20 put the finishing touches on the Beedrill and Gardy/Gallade game. This was the deck I played from day one in my return to the game in August of last year until the Arceus set was released. With the release of that set I dropped the whole Kingdra idea, added Spiritombs, Expert Belts, the Accelerator Sal and the lv. X, added Delcatty, Nidoqueen, and a few other cards. I play tested this deck a lot and took it to City's.
City Championship list: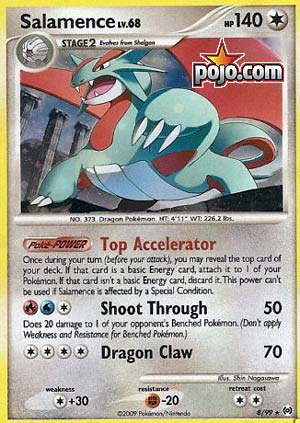 1 Salamence lv. X
2 Salamence ( Battle Rush)
1 Salamence (Top Accelerator)
2 Shelgon
4 Bagon
2-2 Delcatty
2-2 Claydol
1 Uxie
2 Spiritomb
2 Unown G
1-1-1 Nidoqueen
3 Bebe's Search
4 Roseanne's Research
1 Cynthia's Feelings
1 Luxury Ball
1 Premier Ball
3 Rare Candy
2 Broken Time Space
2 Night Maintenance
2 Warp Point
2 Expert Belt
1 Memory Berry
4 Fire energy
4 Water energy
3 Call Energy
1 Rainbow energy
1 Cyclone energy
This list was quite consistent. If I had to make some changes now I would drop one Bagon and the one Memory Berry and add the 4th Bebe's Search and the 4th Call Energy. I played a list in the Georgia Marathon that made those changes plus I added an Azelf, Chatot, Upper Energy, and 2nd Cynthia at the expense of the entire Nidoqueen line and the Rainbow Energy. I do believe I like the original list a little bit better.
The idea was to set up the Accelerator Salamence, the Battle Rush Salamence, a Claydol, and a Delcatty while Spiritomb was active (with an extra Spiritomb on the bench). Basically I would lose if Spiritomb got knocked out early, because that is a LOT to set up. Usually I could get it ready to go in 3-4 turns. The Spiritomb start was nice because it would sufficiently slow down Speedrill, SP, or anything that ran heavy trainers. Even tho the SP is a horrible matchup, Sal managed to fare 3-5 against it. The only Beedrill loss I had was to a Beedrill/Dusknoir variation. Anyway, once Sal got attacking the point was to hit for 120 every turn by attaching an energy to the active Salamence from the hand and using Delcatty + Accelerator Salamence to attach an energy from the top of the deck to Salamence so he could swing again. Then, I would play the Sal lv. X to claim 2 prizes in one shot. Sal lv. X is nice for his attack abilities as well. It deals 100 damage but only requires one energy discard for it. Add an expert belt and the healing power of Nidoqueen and there were many games in which Sal never got knocked out. Its ability to deal 100 damage at the expense of only 1 energy provided a TON of flexibility when combo'd with Delcatty. One could attach an energy to the active Sal after knocking something out with the one energy discard attack for the turn and then start loading up another Sal on the bench with Delcatty and Accelerator Sal. There was also the option of attacking with Delcatty, which helped against the Garchomp C and Flygon matches, and the ability to attack with Nidoqueen, which helped against the Gardevior Gallade matches. The deck had contained many options, and sometimes this was the downfall!
In the Georgia marathon I played with the City Championship list (except I dropped the Memory Berry and added an Azelf) on day one. This is how I fared:
Game 1 – 6-0 Win vs. Random Grass deck
Game 2 – 3-0 Loss vs. Dialga/Garchomp
Game 3 – 6-4 Loss vs. Gengar/Spiritomb
Game 4 – 6-4 Loss vs. Beedrill/Dusknoir (I was feeling quite despondent at this point)
Game 5 – 6-1 Win vs. Tangrowth/Shamin
Game 6 – 6-4 Win vs. Speedrill
I managed to pull 3-3 but felt a little overwhelmed by the competition!
For day two I decided to play a 1-1-1 Gardevior line instead of the Nidoqueen line to see if it would help me with speed (by using Telepass)
Day 2:
Game 1 – Donk Loss vs. Machamp
Game 2 – Sudden death 6-5 Loss vs. Gengar/Dusknoir
Game 3 – 4-0 Win vs Ampharos
Game 4 – 6-5 Win vs. FlyChamp
Game 5 – 6-4 Loss vs. Gyrados
Game 6 – Win by Opp. Forfeit
I went 3-3 again, but both days I finished in the bottom of the standings. I talked to a guy about dropping the 1-1-1 tech line and the rainbow energy for some consistency by adding a Cynthia, a Call, an Upper energy, and a Chatot. It definitely helped….but Sal just can't beat Gengar.
Day 3:
Game 1 – 6-5 Win vs. Dialga/Garchomp
Game 2 – 6-2 Win vs. Speedrill
Game 3 – 1-0 Loss vs. Jason Klaczynski with Gengar (I enjoyed our game. We played for fun and he crushed me again! Haha. It was fun, and he gave me the advice about playing the 4th Bebe)
Game 4 – 6-2 Win vs. Kingdra/Ampharos
Game 5 – 6-5 Loss vs. Gengar/Spiritomb
Game 6 – 6-3 Loss vs. Gengar/Spiritomb
So as you can see, the deck played a little better, but it still could not beat Gengar. It finished with a 9-9 record for the Marathon. I went 2-4 on day 4 with a Dark Flygon build, and 4-2 on day 5 with a Speed Machamp with a Luxray gl X tech. I totaled a 15-15 record in the Marathon. I had a blast, made some new friends, and learned A LOT about the game.
I decided to retire the deck after playing in one last City Championship in NC where I went 2-3. My wins came against a Gengar (only because the guy playing it was still learning the deck), and a Luxray GL X/Quagsire GL/Magnezone build. My losses came to Regigigas, LuxApe, and Metal Gengar.
Salamence's Premier Event Record – 25 Wins 15 Losses (24 – 9 vs non-Gengar. This is why I'm retiring it)
Salamence's Overall Record (play testing and league play) – 85 Wins 45 Losses
Match Ups in Premier Events:
vs. Speedrill 3-1
vs. SP 2-4
vs. Gengar variants 1-6
vs. Flygon variants 3-0
vs. Gardevior variants 3-2
vs. Gyrados 0-2
Thank you for reading! Good luck to all of you for the rest of the season!!!
Guy