G-UNIT on Pokemon
Pokemon Deck Garage (G-UNIT)
7/25 Banette
Ok Nationals has passed and the Worlds Championships is coming. Its almost two weeks away! Now heres a deck that I think is very solid, consistent, and strong. I'd say its a very good deck choice to play in worlds. Last year when banett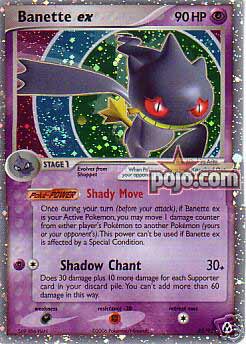 e ex came out people tried to make things with it and failed. As soon as shuppet from CG came out it was then a threat. This season it has won multiple cities, states, and regionals since then. It has top cut at Nationals and also bombed some Battle Roads.
This deck only has one bad starter out of 7 basics which is jolteon *. This deck can be played with techs such as my version or Houndoom. I personally think techs is the best way to play it. Just because you can lock a stadium regularly and you dont have to be worried about being cessationed as much. Not to mention you have more options. Anyway here's my version of Banette.
Pokemon 12
4 Shuppet
4 Banette ex
1 Banette CG
1 Lunatone
1 Solrock
1 Jolteon *
Trainers 32
4 Pokemon Reversal
4 Holon Transciever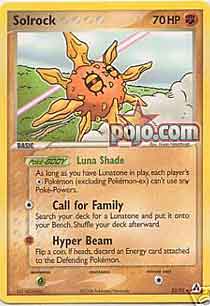 4 TV Reporter
3 Crystal Beach
3 Professor Elms Training Method
3 Holon Mentor
2 Holon Adventurer
2 Scott
2 Castaway
2 Buffer Piece
1 Strength Charm
1 Crystal Shard
1 Holon Scientist
Energy 16
10 Psychic
4 Rainbow
2 Cyclone
Strategy:
Its ability to T2 an opponent and shatter setup is breathtaking. Which is now always possible with shuppet from CG. So with 16 energy in your deck and 4 shuppet out of 7 basics. This is possible about 80% of the time or better. I play t
echs such as lunatone/solrock for my infernape matchup. Seeing as I can shut off there delcatty off I can hopefully slow them down. My jolteon * is for the addition to add 20 damage to there active at any time. I also play cyclone energy to possibly ko a pokemon they have on there bench or I just pokemon reversal and KO any pokemon I want. If they have more then 1 bench pokemon that is. Your probably wondering why I play crystal shard. I play it because it helps against shiftry and umbreon ex. Becuz they can reduce 30 and that 30 could be all you needed. Not to mention it now makes you able to one shot flygon d or dragonite d without any trouble. Other then that everything is self-explanatory.
Tha Matchups:
Absolutions 40-60
Seeing how you have weakness to absol ex and them playing umbreon ex this is quite hard. Just pray umbreon ex is prized and they dont start with absol ex. Not to mention hope they get tails on Super Scoop Ups. This is were crystal shard becomes quite useful. Overall its winnable but its very hard.
Destiney 50-50
Ive never played against destiney with banette. Seeing they play rayquaza ex and it being a sniper this is a 50-50 matchup. Its a game were you both return blows.
Empoleon 60-40
Seeing as you have resistance to marowak and you can t2 them solidely and be a 2/3 hit tank and KO everything in there path this is quite winnable.
Flaridos 50-50
Your both a T2 deck. So this on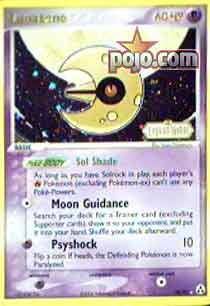 e goes to the player going 1st. They play umbreon ex so things could get ugly. Overall pray there umby ex is prized and your in decent shape.
Flytech 60-40
You can break them early with your speed. They do play rayquaza d ex in here so it becomes trouble. Use your reversals and ko the flygon d's. Those get the rhythm of the deck going. Dont forget a crystal shard makes it able for you to one shot it alot easier now.
Infernape 60-40
With your lunatone techs, buffer pieces, crystal beachs and t2 ability your more likely to always win this game.
Metanite 60-40
This deck you can flat out leave in the dust if you ko all there metagross's. Pokemon reversals and cyclones will see alot of play in this matchup. Seeing your definitely gonna take the 1st prize use it to your advantage.
Shiftree 45-55
Dont let them get going. Have the shard at all times and make your plays wisely. This is another matchup were cyclone and pokemon reversal help out tremendesly.
Hope you enjoyed my article.
Any decks you want me to fix or questions about the Pokemon TCG please email me at gdogthechamp@yahoo.com
Holla at cha boii=Gdog121TheChamp