Yesterday I broke down YugiOh! last minute gifts by price range, so today I'll give Pokemon the same treatment. It's a lot of stuff to look through and write up, and you know what? It makes me want to shop myself. At the end of this page, I'll give you my own list of what I'm getting for me!
POKEMON LAST-MINUTE GIFTS
STOCKING STUFFERS & GIFTS UNDER $10
In the under ten range, Pokemon has lots to offer that's worthwhile. Whether you need a stocking stuffer or you just want to avoid the typical inexpensive gifts (after all, does anyone need another set of knit gloves?), there's a lot you can give a Pokemon fan that won't break the bank.
Single cards
You gotta love 'em. Help round out a deck or just pick up a favorite - or a handful of them. We have hundreds of them from new releases and old, for just a little change. (Single Pokemon cards at ToyWiz.com)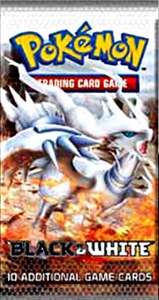 Booster Packs
Any release is fair game, with Boosters always making for an affordable and welcome gift. Who knows? That gift might have something super rare inside, making it all the better. The hottest sellers right now are Black & White Series 1 and Unleashed, with Noble Victories coming in strong as well. For a few extra dollars, we also have a set of 5 random booster packs at $14.99, making them a great bargain. (Booster Packs at ToyWiz.com)
Noble Victories Special Edition
3 Booster Packs & 1 Foil Promo Card at 11.99 is a great deal if you want to go a little over $10 too. (Noble Victories Special Edition at ToyWiz.com)
Promo Code Cards for Pokemon TCG online
My personal favorites! Loose code cards at 75 cents or $1 each, and so awesome! I love these (yes, I'm playing online in my off-time a lot)!
Mini Figures
Want something a little more 3-dimensional to give instead of cards? Minifigures are the thing. The easiest way to find a good one, cheap - click here to search for Pokemon Figures, then sort by price, low to high. We have dozens under $10.
GIFTS UNDER $20
Collectible Tins
Definitely! These are so fun - boosters and a figure and a tin together make a really great present.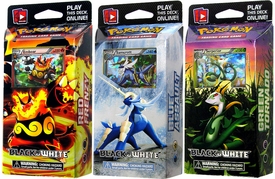 We still have last spring's Oshawott tin at $17.99 and lots more. The newest ones from the fall release are great (that Serperior figure rocks), and you can't go wrong with classics like the Charizard with Charizard G LV.X Card or the fast-selling Legends Tins, Reshiram and Zekrom. We've even got a few on Blowout Sale, and the V for Victini pre-order for January. For the Victini fan, here's an idea: Grab a Victini card at $6.99 now and enclose it in a card with a note that you've pre-ordered the Victini tin for them in January! You'll get thanks when they open it, and again when their tin and figure arrive next month. Not a bad way to gift! (Pokemon Collectible Tins at ToyWiz.com)

Theme Decks
We've also got an array of theme decks that are on fire. Not literally on fire, but definitely causing a few sparks! Black & White Red Frenzy (Emboar), Blue Assault (Samurott) and Green Tornado (Serperior) are awesome at $12.99-18.99 (Theme & Starter Decks at ToyWiz.com)
UNDER $30 & THIS YEAR'S HOTTEST SELLER


Okay, it's *just* under $30, but close enough. The Black & White Series 1 Unova Region Talking Pokedex is the thing to get for a Pokemon fan this year. It took years to get another Pokedex released, but this one's a great deal and shipping now. (Unova Region Pokedex at ToyWiz.com)
GIFTS UNDER $50
HeartGold & SoulSilver 2-Player Trainer Kit
New to the game, or know who could use some help learning? The $39.99 kit is a great way to start. It's the perfect gift for the non-playing friend to get them started. And once they've started...well you know how it is, Pokemon gets in your blood! Giving this to a friend is a gift to yourself when you help inspire them to become your best opponent. (HeartGold & SoulSilver at ToyWiz.com)
Pokemon Toy Talking Johto Pokedex Game
At $49.99, this is a lot of fun when you're on the go. (Johto Pokedex Game at ToyWiz.com)
World of Illusions Special Edition Box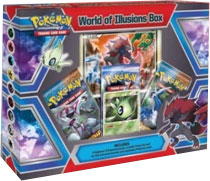 3 Booster Packs, Celebi Prime & Zoroark Promo at 36.99
. 3 Pokémon TCG booster packs
. An amazing Celebi Prime foil card
. A brand-new foil oversized card of the Illusion Fox Pokémon Zoroark surrounded by Legendary Pokémon
(World of Illusions Special Edition at ToyWiz.com)
Black & White City Battle Playset
Battle your Pokemon 3 inch and Attack Figures with the huge Pokemon Black and White City Battle Playset. It's over 3 feet long! Place the opposing Pokemon figure on the special motorized target base and shoot it with attack discs for your Pokemon Attack Figures; if you hit the target the opposing Pokemon will pop off. (Black & White City Battle Playset at ToyWiz.com)
Japanese Theme Decks
For the pro, Japanese cards are the thing, and we've got a lot of singles, plus Reshiram EX and Zekrom EX Battle Strength Theme Decks
These decks contains 60 card, 33 damage counters with 2 markers (all made with cardboard), 1 Pokemon coin, 1 paper playmat, 1 Japanese instruction booklet. (Reshiram or Zekrom Theme Decks)
GIFTS UNDER $60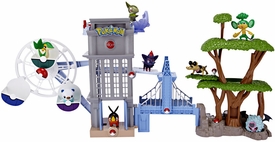 Yep, it's a lot of cash, but you'll get something truly awesome for it. The Black & White Unova Region Play Set is a giant, multi-level area with trap doors, projectile attacks, and an elevator. Forest or city, there are tons of suprises and ways to train and explore. (Black & White Unova Region Play Set)
BIG GIFTS at $100+
Ands if you want or need something with a lot of WOW factor, everyone loves Booster Boxes! Sealed and guaranteed authentic, the two hottest names right now are Black & White Series 1 and Noble Victories, 109.99 each for 36 packs. We've got lots of older releases too, so whatever deck you're building or collecting, these are the biggest and most fun way to go. (Pokemon Booster Boxes at ToyWiz.com)

---
WHEW! There we go. The hottest sellers for the holidays. And after going through them one by one, I made my own shopping cart! I order online like everyone else, even though I'm an employee (I telecommute!). So here's what I'm getting:
Grand total? $99.96 for a TON of Pokemon! I got a little of everything - the Pokedex, 150+ cards, 26 online codes, and Emboar figure and a tin!
So how did I do? Did the guide show things you wanted, and what do you think of my order? I'd love to hear your suggestions and feedback!