Magic
Yu-Gi-Oh!
DBZ
Pokemon
Yu Yu Hakusho
NeoPets
HeroClix
Harry Potter
Anime
Vs. System
Megaman

conical's Pokemon Deck Garage
Dragonstorm
May 17, 2011
And we're back with another one of these deck fixing-type things. And you thought I forgot, didn't you? Well...I might have. But there was other stuff in the way, such as school and the like. But I'm back, and we have us a deck. Let's take a look:

>>>>>

Hey, I'm a fan of dragon-types. Lately they've gotten straight colorless attacks, making it easier to run a dragon-themed deck (as opposed to the EX Dragon era when they had colored attacks). So here's the deck: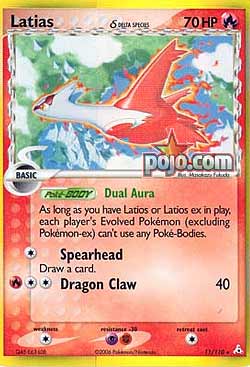 2-1-2 Dragonite
2-1-2 Garchomp
2-1-2 Charizard
2 Latias
1 Latios ex
1 Reshiram
1 Zekrom

3 Professor Elm
3 Computer Search
2 Pokemon Trader
4 Rare Candy
2 Fisherman
2 Warp Point
1 Mr. Briney's Compassion
2 Item Finder

4 Double Colorless Energy
4 Boost Energy
10 Fire Energy
3 Lightning Energy

Strategy: Latias delta (#11), from EX Holon Phantoms has the Spear Head attack, which lets me draw a card. So he's a starter dragon to get things rolling. I've included a solo Latios ex (# 96) from EX Dragon Frontiers for the Link Wing ability. That grants my Latias a free retreat, and also lets me bring a bit of disruption in the form of Latias delta's Dual Aura to shut off other pokebodies. Given that Garchomp and Charizard have poke-bodies, I have included Mr. Briney's Compassion to scoop Latias when his ability becomes a hindrance.

Dragonite (#2) from Legends Awakened is there to be a beatstick. Of all the Dragonite cards, I think this is the best incarnation available. His Draco Meteor can bomb the opponent's bench. Hence I have the Warp Point trainer to bring up any damaged pokemon so that one of my dragons can finish them off.

Garchomp (#5) from Supreme Victors has two very nice attacks that're easy to charge up. His Poke-Body Dragon Intimidation is another nice disruptive ability that serves to keep his 3 energy for 120 strong.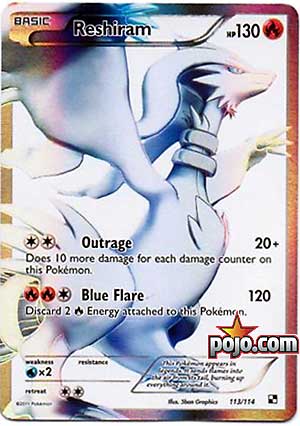 Reshiram and Zekrom are both from the new Black & White set. They're good starters/walls/late attackers thanks to Outrage.

Charizard (#1) from Platinum: Arceus is probably one of the best printings of the old lizard. While my deck isn't themed around his Fire Formation, his attacks are the cheapest you'll find on a Charizard card. He can get a tiny boost from the Latias and Reshiram, but its not something I'm counting on. I've included Charizard because Lance used him in the Gold/Silver games and is one of my favorite dragon trainers.

Three stage twos. Gulp. That's where my trainers come in. Professor Elm if from Neo Genesis. He lets me shuffle my hand into my deck and draw 7 cards. After that I can't play more Trainers during that turn. A better Professor Oak, IMO Computer Search from Base Set lets me pitch two cards to search my deck for any 1 card. Pokemon Trader from Base Set lets me swap out 1 pokemon for another. That makes the 3 stage 2 lines more bearable.

Rare Candy is from Ruby and Sapphire. Fisherman lets me get back some of those fire energies that Reshiram and Charizard would discard. Warp Point is from Gym Challenge. Finally Item Finder from Base Set lets my pitch 2 cards to select a Trainer from my discard pile and place it into my hand.

Double Colorless Energy is from Base Set and helps speed along my dragons, as does the Boost Energy from Deoxys,

This is a purely casual deck using the Unlimited Format card pool of Base Set-Black/White. Being for a casual environment, we usually don't see too many Neo Genesis Slowkings/Sneasel or Muk (Fossil)decks. My dragons are all Primary Dragons in the games (Dragonite is Dragon/Flying for example) rather than Secondary Dragons (Such as Kingdra, who is Water/Dragon). I've also diversified my Dragons' secondary types. According to the videogames, Garchomp is Dragon/Ground, Latias + Latios are Dragon/Psychic, Reshiram is Dragon/Fire and Zekrom is Dragon/Electric. I would like to keep the selection as such.

Thanks!

>>>>>

All dragons, huh? Not only that, all primary-type dragons(so no Kingdra, Dialga, Palkia, etc.). Sounds like a challenge. Let's get started.

The first problem I'm seeing is with the Lati-dragons. I understand that you want Latias d as drawpower, and given your limitations, it's probably your best option. However, once Latios ex hits the field, Latias' Body comes into play, shutting off both players' Poke-bodies. You carry two Stage 2s with Poke-bodies. This could be a problem. You already said that you're not building off Charizard's Body, but losing Garchomp's is pretty significant, I would think.

However, we're not going to remove either Lati-twin. We'll do this because, after much deliberation, I don't think having 3 Stage 2 lines is going to work, so we're cutting the Garchomp line. The Charizard line is a bit weird to keep around, but if we're going to do a Lance-themed deck, then there's no question that it needs to stay in. Besides, Garchomp is more Cynthia's thing, really, and I think the deck can only afford to pay attention to one champion, so let's stick with the one with dragons.

So we're going to streamline these Stage 2s. This is a pretty casual deck, but subjectively speaking, even casual decks need some consistency; otherwise you end up playing games with nothing but Dratini, and if you have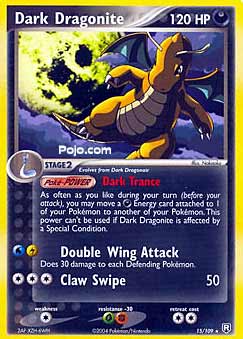 this deck already built, you've probably seen how bad pretty much every Dratini is. (On that note, I won't specify many of your evolving basics, but I do think your Dragonair should be the Triumphant version, just because that one is pretty much awesome.) And unless your 3rd Stage 2 is something crazy good like Pidgeot FRLG, that's not happening. Besides, there looks to be some pretty cool Dragonites that could really help this deck. For example, the Dragonite from the Expedition set grants a free switch, and could replace Latios ex in your deck if you so choose. There's also an old movie promo Dragonite who can also help provide draw, plus it has a not-crummy attack. However, I would recommend another old Dragonite, namely Dark Dragonite, from the original Team Rocket set, because its Power, Summon Minions is really handy, especially with all your high-HP basics like Reshiram/Zekrom, or even the Lati-dragons. You'll have to run Dark Dragonair to evolve into it regularly, but that's OK because Dark Dragonair is also really good, especially with an evolution-heavy deck such as this. I'd also try to find more copies of Latias d, just because you want to be drawing cards early.

The Trainers for the most part look adequate, but there is some polishing I want to do. Running 2 Warp Point is sort of unnecessary, but in a casual setting, I could see where running multiples of this could lead to some entertaining scenarios. You might consider running 2 Double Gust from Neo Genesis in its place, though. However, running 2 Fisherman is more unnecessary, because you already have plenty of energy. Therefore, in its place, I'd like to see 2 copies of something, anything, that searches Pokemon out of deck, because those sorts of effects really help, and Pokemon Trader is nice, but it just isn't cutting it. Either Celio's Network(multiple sets), or Bebe's Search(multiple sets), or Roseanne's Research(Secret Wonders), or Dual Ball, or something. I'd go all the way down to Poke Ball, because I think the 50% chance of success has more merit than adding cards that bring back energy that you should have plenty of. Plus, if you do that, then I have no problem with your energy lines, and I don't have to change anything there.

Cards I'd remove:
-2-1-2 Garchomp
-2 Fisherman

Cards I'd add: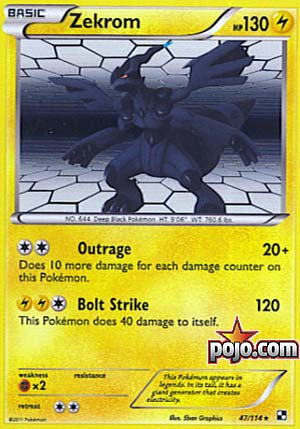 +1-1-1 Dark Dragonite
+2 Latias d
+2 Any search Trainer/Supporter

Resulting in:

3-1-2 Dragonite
0-1-1 Dark Dragonite
2-1-2 Charizard
4 Latias d
1 Latios ex
1 Reshiram
1 Zekrom

3 Professor Elm
3 Computer Search
2 Pokemon Trader
4 Rare Candy
2 -insert search Trainer-
2 Warp Point
1 Mr. Briney's Compassion
2 Item Finder

4 Double Colorless Energy
4 Boost Energy
10 Fire Energy
3 Lightning Energy

And that's it! Thanks for reading, and good luck!

-conical