Message Boards
Magic: The Gathering
Yu-Gi-Oh!
Dragon Ball Z
Duel Masters
Pokemon
Vs. System
Megaman
HeroClix
Anime
Yu Yu Hakusho
NeoPets
Harry Potter

- About Us
- Advertise on Pojo
- Our Sponsors

Please Support
Our Sponsors

Pojo.com News:

New Legends of Norrath« Release Incites Vengeance From The Gods
WHAT: Vengeful Gods, the ninth release for Sony Online Entertainment's online trading card game, Legends of Norrath« launches today. Vengeful Gods introduces all-new gameplay, incredible new art and a compelling new storyline that pits players against the avatars of the Norrathian Gods.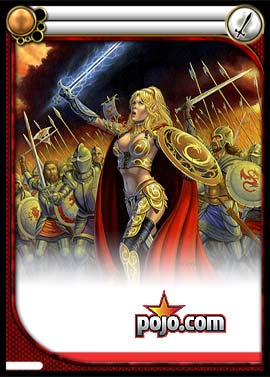 FEATURES: Players will battle against mind-controlled prophets, fight the master planner and encounter divine vengeance behind the plot to enslave the avatars of the gods. Vengeful Gods features:

WHEN: Vengeful Gods is available now.
For more information on Legends of Norrath and Vengeful Gods, visit http://legendsofnorrath.station.sony.com/.
Legends of Norrath«
Developed at SOE's Denver studio, Legends of Norrath is the only online trading card game based on and playable from within SOE's popular EverQuest and EverQuest II MMOs, as well as from a free stand-alone client using a free SOE Station Account ID (available at www.station.com). Players can challenge opponents on their game server and across other EverQuest and EverQuest II servers.

To get started, players can download the client for free, test their skills 24 hours a day against AI and real opponents, and then head over to the tournament lobby to compete. Tournament eligibility is limited and subject to Official Rules. Residents of certain territories are ineligible to participate in LoN tournament play. Please see the EULA for details. For a schedule of events, rules and further details, see the LoN Events Page. For more information on Legends of Norrath, visit the website at www.legendsofnorrath.station.sony.com.
Sony Online Entertainment
Sony Online Entertainment LLC (SOE) is a recognized worldwide leader in massively multiplayer online games which have entertained millions of players around the globe. SOE creates and delivers compelling entertainment for the personal computer, online, game console and wireless markets. Known for its blockbuster franchise EverQuest«, its successful online trading card game Legends of Norrath«, as well as the recent kids' phenomenon Free Realms™, SOE continues to raise the bar for online gaming and players worldwide. Headquartered in San Diego, with additional studios in Austin, Seattle, Denver, Tucson, and Taiwan, SOE has a slate of engaging, high-quality games currently in development across new genres for all platforms and audiences.
SOE, the SOE logo, EverQuest, and Legends of Norrath are registered trademarks and Free Realms is a trademark of Sony Online Entertainment LLC in the United States and/or other countries. All other trademarks and trade names are properties of their respective owners. All rights reserved.