Message Boards
Magic: The Gathering
Yu-Gi-Oh!
Dragon Ball Z
Duel Masters
Pokemon
Vs. System
Megaman
HeroClix
Anime
Yu Yu Hakusho
NeoPets
Harry Potter

- About Us
- Advertise on Pojo
- Our Sponsors

Please Support
Our Sponsors

Pojo.com News:

Gen Con 2010 Wraps with great success
INDIANAPOLIS (August 11, 2010) - Gen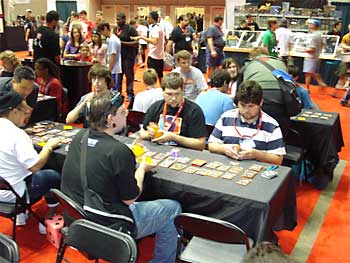 Con Indy, the nationıs largest annual consumer fantasy, sci-fi and adventure gaming convention wraps up its 43rd year! This year, Gen Con Indy 2010 had incredible attendance and for the first time ever broke 30,000 as they hit 30,046 unique attendees. All of the gaming enthusiasts converged on Indianapolis to make this yearıs Gen Con a very successful event. The amount of attendees was not the only number that increased, over 8,600 gaming events took place over the four days.

³The turnout for this years Gen Con Indy was amazing! The new continued registration process was running, and the eagerness to attend never stopped during the entire four days,² said Adrian Swartout, CEO of Gen Con. ³As always, we so appreciate our attendees and love the fact that they come out to make Gen Con the continued success that it is. We look forward to seeing everyone in 2011!²

Over the course of the four days, attendees participated in many varied events held throughout the downtown area such as Wizards of the Coast celebrating the Summer of Multiplayer with events including Grand Melee, Two-Headed Giant, Planechase and Archenem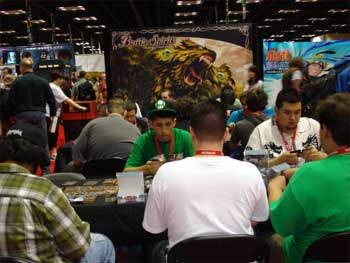 y. Other highlights included: the eGame Arena, the Gen Con Dance, True Dungeon, TerrorWerks, Anime Avenue, Family Fun Pavilion, Trade Day, SPA, Miniature Hobby Events, LARPing, Art Show, Authors Avenue, the Gen Con Auction, board gaming tournaments, seminars, workshops and much more.

Family Fun & Sunday Attendance
The 2010 Family Fun Program had great success, with 9 exhibitors, over 20 events and family fun badges on Sunday increasing from 2009. Between family fun and regular Sunday badges over 2,300 people showed up and registered onsite Sunday ­ setting a new record for Sunday attendance.

Charity
Over the years, Gen Con has sustained its efforts in helping children and benefiting educational programs through its charity events. This year to keep up the tradition, Gen Con chose the Pajama Program as the recipient of the charity fundraising. In total over $13,500 was raised. 100% of the proceeds from the following charity events were donated: Ace of Aces ­ Charity Speed Paint and Auction, Cardhalla, Charity Auction and Fandom United Jail-n-Bail. Also, over $18,000 was raised during the convention for the Gygax Memorial Fund between Gen Con and True Dungeon.

Future Gen Con Indy Show Dates
Gen Con has been in Indianapolis since 2003 and has si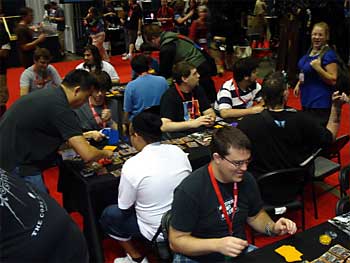 gned a five-year extension with the Indianapolis Convention & Visitors Association (ICVA) for 2011-2015. Below are the upcoming show dates.

August 4-7, 2011
August 16-19, 2012
August 15-18, 2013
August 14-17, 2014
July 30 - August 2, 2015

About Gen Con
Gen Con, LLC produces the largest consumer hobby, fantasy, sci-fi and adventure game convention in North America. Its operations include Gen Con Indy. It was acquired in 2002 by former CEO and founder of Wizards of the Coast Peter Adkison, who owns the company headquartered in Seattle, Washington. Gen Con is a consumer and trade experience dedicated to gaming culture and community. Follow us at facebook.com/genconindy, and for more information visit www.gencon.com.
Pics courtesy of Nick M.!