<![if !vml]>
<![endif]> <![if !vml]>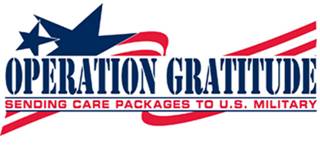 <![endif]>
Upper Deck Launches 'Million Pack March
for the Troops' Donation Drive on Veterans' Day!
Trading Card Company partners with 'Operation Gratitude' to donate packs of Upper Deck cards to deserving U.S. military personnel overseas
Carlsbad, CA (November 11, 2009) – On Veterans' Day, the Upper Deck Company is very proud to announce that it is partnering with "Operation Gratitude," a non-profit organization that sends 100,000-plus "care packages" annually to U.S. service members deployed in hostile regions across the world. The trading card manufacturer is launching the "Upper Deck's Million Pack March for the Troops" campaign in an effort to send sealed packs of donated Upper Deck trading cards (sports and entertainment-based products) to deserving U.S. military men and women overseas.
To encourage customers and card collectors to donate some of their surplus card packs to the deserving troops, Upper Deck's is kicking the campaign off by donating 100,000 packs of cards to get the ball rolling. The goal will be to reach the 1,000,000-pack plateau by Veterans' Day 2010. To create awareness, Upper Deck will host donation drives at major industry shows including the National Sports Collectors Convention in Baltimore in August while also working with its network of certified Upper Deck Diamond Dealers and hobby shops to establish donation drop-off points.
"We are very excited to partner with a dignified organization like Operation Gratitude," said Kerri Kauffman, Upper Deck's director of Marketing. "The hard-working and brave U.S. military men and women who are serving overseas deserve a fun distraction to help them get through their difficult days and lonely nights. Hopefully, opening up a pack of Upper Deck sports or entertainment trading cards will make them feel a little bit closer to being home."
"Operation Gratitude is honored to join with Upper Deck to collect and send a million card packs to our men and women deployed in combat zones," said Carolyn Blashek, founder of the organization. "Not only will the troops enjoy the cards among themselves, but the cards are also fantastic items to distribute to the Iraqi and Afghani children as gestures of friendship and support."
Upper Deck's Customer Service department routinely receives donations requests from military members overseas. Here's an excerpt from a recent letter sent in by a U.S. serviceman stationed in Afghanistan: "We were all reminiscing about how we all used to collect cards and used to now players' stats and birthdays. Sports are a big morale booster over here. We all think our hometown heroes are better than the next soldier's, and getting mail is an awesome morale booster. Just opening letters and packages make us forget where we are at for that moment in time."
Customers interested in donating any of their sealed packs of Upper Deck trading cards can send them to the following address:
Operation Gratitude/California Army National Guard
Attn. Upper Deck's Million Pack Drive to Support the Troops
17330 Victory Boulevard
Van Nuys, CA 91406
About Upper Deck
Upper Deck is the leading sports and entertainment trading card and collectibles company. For more information on Upper Deck and its products please visit www.upperdeck.com.
About Operation Gratitude
Operation Gratitude ( www.OperationGratitude.com ) is the 501 (c) (3) non-profit, volunteer organization that annually sends 100,000+ care packages filled with snacks, entertainment items and personal letters of appreciation addressed to individual U.S. Service Members deployed in hostile regions. Our mission is to lift morale, bring a smile to a service member's face and express to all Armed Forces the appreciation and support of the American people. Each package contains donated product valued at ~$100 and costs the organization $11 to assemble and ship. By the end of 2009, Operation Gratitude will have shipped more than 500,000 packages to American Military deployed overseas.
.