<![if !vml]>

<![endif]>
Huntik Trading Card Game
Makes an Action-Packed Debut!
Trading Card Game Based on New Action-Adventure Property; Launch Events Set at Hobby Stores throughout North America
North Las Vegas, NV (February 18, 2009) – It's finally here! Upper Deck is pleased to announce that the Huntik Trading Card Game (TCG) has launched nationwide! This brand new game is closely tied with the popular Huntik: Secrets & Seekers animated series, currently airing Saturday mornings on The CW4Kids Network. Visit Huntik.com for more information on this exciting action-adventure brand!
Magic, mystery, mythology and adventure come together in Huntik, and the Huntik Trading Card Game brings all the excitement of the TV series right to your table top. In the animated series, young Lok Lambert and Dante Vale travel the globe with their group of amazing Seekers, exploring exotic locations and seeking to unlock ancient secrets. Lok and his friends search for powerful spirit-warriors, called Titans, to use in battle against the evil Organization. The Huntik TCG lets players direct their own Seekers to complete missions by using amazing powers and controlling mighty Titans. Plus, one in every three Huntik TCG card packs includes a password that unlocks Titans and other great content on the Huntik website. Visit Huntik.com for more information.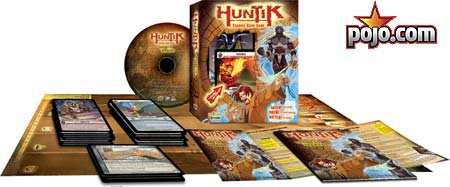 "There is a lot of excitement behind our new action-adventure brand and we are delighted to launch the TCG today," said Erika Conway, brand manager for Huntik: Secrets & Seekers TCG at Upper Deck. "The TV show is doing very well, the brand is gaining traction around the world and now the TCG offers Huntik fans another way to enjoy the characters and story lines that they are coming to love."
To augment the debut of this engaging new game, Toys "R" Us is showcasing Huntik TCG with an exclusive feature store in its flagship location in Times Square. Huntik TCG launch events will take place at hobby stores throughout North America on February 21 and 22. Visit Huntik.com to find a location near you!
The Huntik: Secrets & Seekers animated, action-adventure series recently debuted on the CW4Kids Network to high praise and is airing in over 20 other countries worldwide! During each episode, the Huntik Foundation Seekers go on a new mission and battle the Organization. Each mission is assigned to the Seekers through a Mission card, just like in the Huntik TCG. With more exotic locations than any other animated series, this adventure is not to be missed! Each episode also features a new password, letting fans unlock exclusive content on Huntik website. For more information, please visit Huntik.com.