<![if !vml]>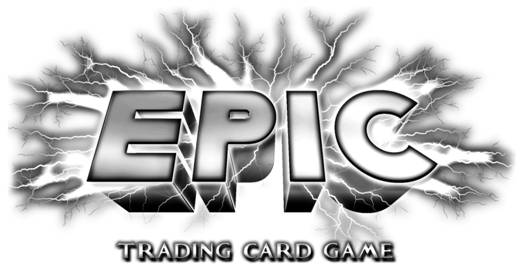 <![endif]>
Press Release
Hall of Fame Magic Players Launch New TCG
Framingham, MA –January 16, 2009- Robert Dougherty, Hall of Fame Magic player and award winning game designer, announced today that he, working with fellow Hall of Famer Darwin Kastle, has created the Epic Trading Card Game, which will have prerelease events throughout the US and Canada February 21-22 and will be available in stores March 1st.
Epic breaks from the typical trading card game's use of resource cards and the slow build up of power turn by turn. Instead Epic uses an action system in which each turn every player has a single action. The most powerful cards cost an action to play, others are free.
"Epic is incredibly fun. You and your opponent are able to play huge, powerful events and champions starting on the very first turn of the game. Every turn you have a fist full of these game-changing cards, and you have to decide which one to play. It combines easy to learn game play with a constant stream of challenging strategic decisions."
Epic's first set is 300 cards consisting of 200 common cards and 100 rare cards. Epic will be sold in 15 card booster packs containing 14 common cards and 1 rare card for an MSRP of $3.99 USD. Each display contains 24 booster packs and 1 rulebook (which will also be available free at EpicTCG.com). Epic is sold in pack form only, there are no decks.
"Because we designed every card in Epic to be powerful and playable, while you can build decks using a larger pool of cards, you can also get amazing game play simply by shuffling 2 packs together to form a 30 card deck. No other game can come close to that. "
Epic will have organized play support at local and regional levels. Local events (run by game stores) will feature unique prize cards. Regional events (run by professional event organizers) will offer electronics and cash prizes.
"I'm very excited about Epic's organized play program. We have great prizes, we are already working with the very best tournament organizers across North America, and we've got a great program in the works for in store events."
Free demo decks and quick start rules are currently available at EpicTCG.com.