Upper Deck Entertainment Presents
'Alpha Dinosaurs Attack' Booster Set
Powerful new 'Gold' and 'Colossal Rare' Dinosaur and Move
Cards Added via Second Expansion Set to Dinosaur King™ TCG
Carlsbad, CA (August 11, 2009) – Just in time for back to school, the Upper Deck Company is ready to release the latest booster expansion for the Dinosaur King Trading Card Game, entitled Alpha Dinosaurs Attack. Featuring all the main characters and dinosaurs from the popular "Dinosaur King" TV series including Max, Rex and Zoe, Alpha Dinosaurs Attack will allow players to add powered-up Alpha versions of their favorite dinosaurs to their Dinosaur King decks.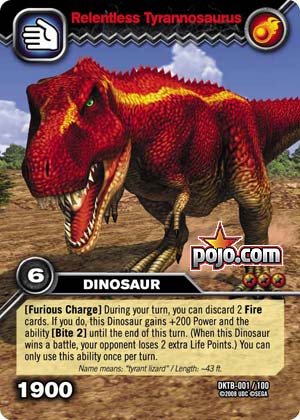 The Dinosaur King Trading Card Game is an action-packed, easy-to-play TCG based on the exciting Dinosaur King animated series currently airing on Saturday mornings during The CW4Kids programming block on the CW Network. Join the D-Team as they travel the world searching for lost Dinosaur cards that wield the power to bring dinosaurs from the past back to life! Every episode is a special adventure and offers a new opportunity to collect more cards. At the end of each episode, a new dinosaur is highlighted for kids to discover and collect from the Dinosaur King TCG. Remember: Whoever controls the cards controls the dinosaurs!
Alpha Dinosaurs Attack boasts 100 new cards to collect including 10 new character cards, plus 10 new Colossal Rare cards with exclusive artwork. In addition to learning exciting factoids about some of the newly unveiled dinosaurs, "Dinosaur King" fans should look for potent cards such as "Alpha Acrocanthosaurus" – this powerful and rare card can deal extra damage to your opponent, whether it's attacking or defending. Collect all Alpha Dinosaurs Attack cards and make your move to become the Dinosaur King!
There are nine cards per booster pack, 24 packs per booster box. Every pack includes one foil card. Visit www.DinosaurKingTCG.com for more information.