Upper Deck Announces Calendar Changes
To Dinosaur King Product Launch Schedule
Alpha Dinosaurs Attack set slated to release on August 4
North Las Vegas, NV (May 29, 2009) – The Upper Deck Company has just announced that it will be making some strategic changes to the upcoming release dates for its popular Dinosaur King Trading Card Game. The changes will provide a better experience for players and ensure that future releases coincide with the upcoming TV show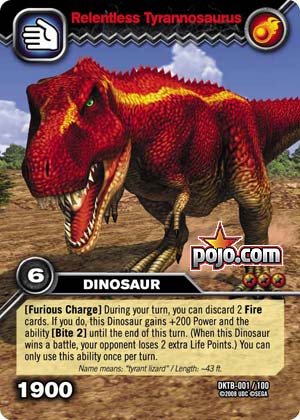 episodes from Season 2, which are scheduled to start airing in September 2009, in TheCW4Kids Saturday morning block on The CW television network.
With this revised plan, the third expansion set, Alpha Dinosaurs Attack, will now release on August 4, 2009. This change will give Dinosaur King players and fans more time to complete their Colossal Team Battle expansion collections. Players can now look forward to strengthening their decks and collections with the powerful new cards in Alpha Dinosaurs Attack just in time for back-to-school activities.
Additionally, the fourth Dinosaur King expansion, Black Dinosaur Rampage, will now be combined with the upcoming expansion release, Dinotector Showdown, and is scheduled to release on November 17, 2009. The joint Dinotector Showdown expansion will now be an impressive 160-card set including the powerful Black Dinosaurs and jaw-dropping Fusion Moves originally scheduled to appear in Black Dinosaur Rampage.
"I'm confident that with the combined expansion and the fact that our marketing efforts are synching up nicely with the Season 2 episodes that this will all translate to positive rewards for both TCG fans and retailers," said Ana Pereira, Upper Deck's Dinosaur King Brand Manager. "We look forward to each of these upcoming launches becoming great successes."