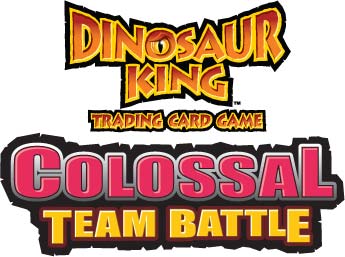 THE PLAYING FIELD JUST GOT BIGGER
with 'colOSSal team battle'
More action-packed game play and Dinosaur cards
added via expansion set to Dinosaur King™ TCG
North Las Vegas, NV (March 31, 2009) – Just five months after the initial launch of the Dinosaur King™ Trading Card Game (T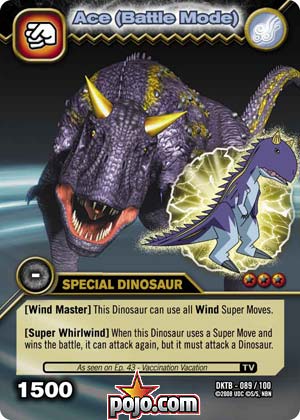 CG), Upper Deck has just released the brand's first expansion set: Colossal Team Battle. Featuring all the main characters and dinosaurs from the popular "Dinosaur King" TV series including Max, Rex and Zoe, Colossal Team Battle lets players recreate the exciting showdowns between the heroic D-Team and the villainous Alpha Gang. New Special Dinosaurs Ace, Paris, Spiny, and Tank make their debut in Colossal Team Battle, along with new versions of Chomp and Terry!
The Dinosaur King Trading Card Game is an action-packed, easy-to-play TCG based on the exciting Dinosaur King animated series now airing on Saturday mornings during The CW4Kids programming block on the CW Network. Join Max, Rex, and Zoe as they travel the world searching for lost Dinosaur cards that wield the power to bring dinosaurs back to life! Every episode is a global adventure to collect more cards and to ensure they do not fall into the wrong hands. At the end of each episode, a new dinosaur is highlighted for kids to discover and collect from the Dinosaur King TCG. Whoever controls the cards controls the dinosaurs!
With Colossal Team Battle, there are 100 new cards to collect including 10 unique "Colossal Rare" cards, plus the all-new "TV Moments" cards. In addition to learning exciting facts about the newly unveiled dinosaurs, "Dinosaur King" fans will find one silver-foil or gold-foil card in every pack and discover new Dinosaur and Move cards to make their decks more powerful than ever. Collect all Colossal Team Battle cards and make your move to become the Dinosaur King!
Visit www.DinosaurKingTCG.com for more information.