Pojo.com News:

CHAOTIC BEVERAGE TO LAUNCH IN CANADA
Best-Selling Trading Card Game Inspires Nutrient-Infused Beverage Which Hits Canadian Retailers This Week
Innovative Can Design Features Special Removable Coded Tab Redeemable Online at Chaotic Website
NEW YORK (May 26, 2009) – 4Kids Entertainment (NYSE:KDE) and its majority-owned subsidiary TC Digital Games announced today that Toronto-based U & Me Marketing has launched a unique new beverage in Canada based on Chaotic«, the #1 selling trading card game (TCG) in Canada, and popular animated TV series.
The Chaotic beverage will be available in four flavors, all inspired by creatures and game play from the popular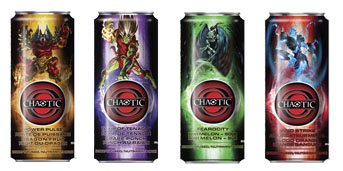 trading card game. Each can will have a specially designed tab that, when removed, will reveal an alpha-numeric code which can be uploaded on www.ChaoticGame.com. Available at more than 5,300 supermarkets, gas stations and convenience stores throughout Canada including Zellers, Loblaws, Sobeys West and London Drugs, the beverage will be offered as individual purchase items at an MSRP of $2.49, or as a four-pack for $9.99 (which will also include a booster pack of Chaotic trading cards).
"U & Me Marketing has created a new category of 'Consumable Entertainment.' We are confident that both Chaotic fans, as well as consumers new to the brand, will find that this product provides a fun, healthy, thirst-quenching experience," said Carlin West, Executive Vice President, Acquisitions & Development, 4Kids Entertainment.
The Chaotic beverage's four formulations are 100% natural and nutrient-infused with Vitamin A, C, D and E. Each flavor offers more vitamins than the average glass of orange juice and includes only natural sugar from beets and sugar cane with no high fructose corn syrup. Three flavors will contain caffeine derived from green tea and one flavor will be caffeine-free.
"The Chaotic beverage provides a great tasting choice for hydration that also helps contribute to one's daily needs for a number of essential nutrients, antioxidants and functional herbs," said Carol Kerley-Rimmer, Corporate Dietitian/Nutritionist and Regulatory Affairs Manager, U & Me Marketing.
The Chaotic beverage will include 150 calories per 12 ounce serving and will be available in the following flavors:
"The Chaotic beverage has generated strong interest with retailers across Canada because of its compelling packaging, great tasting natural ingredients and unique trading card game tie-in," said Darryl McDaniel, President, U & Me Marketing. "We're expecting to double our retail locations in the very near future."
Chaotic is a revolutionary trading card game which integrates a collectible in-person card game with an online multi-player experience. Each Chaotic trading card is printed with a unique alphanumeric code that enables players to upload their personal card collection onto www.chaoticgame.com. Chaotic connects traditional trading card elements with state-of-the-art technology to create an interactive gaming experience like no other.
Complementing the Chaotic Trading Card Game is the Chaotic animated TV series, whose second season, entitled "Chaotic M'arrillian Invasion," currently airs in Canada on TELETOON and in the U.S. on TheCW4Kids, the five-hour Saturday morning children's programming block on The CW Television Network. The animated series also can be seen in the U.S. daily on DisneyXD (formerly Jetix).
Plans call for introducing the Chaotic beverage in the U.S. later this year. For more information about the Chaotic beverage, visit www.chaoticdrinks.com.