Upper Deck Entertainment Goes BIG With
New World of Warcraft® Miniatures Game
Deluxe World of Warcraft® Miniatures Game
Scheduled for Release in Summer '08
Nürnberg, Germany (February 7, 2008)—Following the huge success of the World of Warcraft® Trading Card Game (TCG), Upper Deck Entertainment today unveiled the World of Warcraft® Miniatures Game at the 59th Annual Spielwarenmesse International Toy Fair. The deluxe-quality and highly detailed pre-painted plastic miniatures will be available in hobby and retail outlets this summer and can be previewed today at www.WoWMinis.com.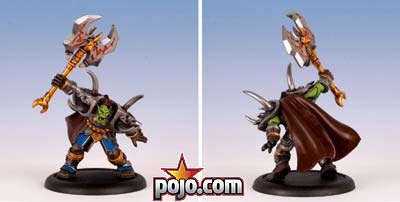 The World of Warcraft Miniatures Game will feature intricate 3-D renditions of iconic characters from Blizzard Entertainment®'s hugely popular World of Warcraft massively multiplayer online role-playing game (MMORPG) . The World of Warcraft Miniatures will showcase superior artistry and industry-leading material quality, continuing UDE's tradition of setting new market standards of excellence. To ensure its first collectible pre-painted plastic miniatures embody exceptional quality, UDE has recruited some of the industry's most talented sculptors from all over the world, including Jacques-Alexandre Gillois (France), Juan Navarro Perez (Spain), Stefan Niehues (Germany) and Steve Saunders (USA).
"We are very excited to be entering the collectible miniatures category, and there is no better property for the hobby market than World of Warcraft," said Justin Gary, Product Manager and Lead Game Designer for the World of Warcraft® Miniatures. "We worked closely with Blizzard Entertainment to ensure that the miniatures and gameplay were true to the online experience. It is always Upper Deck's goal to set a new standard of quality when entering a market, and we have done it again with the World of Warcraft Miniatures."
Each deluxe pre-painted miniature will showcase a detailed version of an iconic World of Warcraft character and be mounted on a uniquely engineered removable base, allowing each figure to serve as both a game piece and a collectible. In the spirit of the action and adventure of Blizzard Entertainment's MMORPG, the World of Warcraft Miniatures Game will offer standalone raid and dungeon scenarios, letting players battle either individually or cooperatively against other teams of players or the game itself.
UDE will also launch a robust Organized Play structure for the new World of Warcraft Miniatures Game, including everything from hobby and in-store tournament programs to Darkmoon Faire events and National and World Championship tournaments.
For more information on World of Warcraft® Miniatures and UDE Organized Play programs, visit www.WoWMinis.com or www.upperdeckstore.com.