WIZARDS OF THE COAST TEAMS UP WITH NEXON AMERICA TO RELEASE MAPLESTORY iTRADING CARD GAME
New iTrading Card Game Provides
MapleStory
Community
New Ways to Enhance Online Experience
Renton, WA. – July 31, 2007 – Wizards of the Coast, Inc. (NYSE: HAS) today announced a partnership with Nexon America Inc. to launch the MapleStory iTrading Card Game (iTCG) in the US and Canada in November. The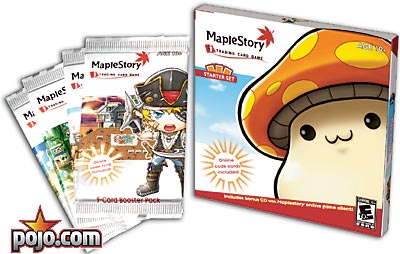 iTCG is a real-world Trading Card Game with codes redeemable for exclusive virtual-world game content – an interactive extension to MapleStory, Nexon's massively multiplayer online role-playing game (MMORPG), which is enormously popular with more than 67 million worldwide registered accounts.
Wizards of the Coast first introduced redeemable codes to the Trading Card Game category with the Neopets TCG in 2003. With the introduction of the MapleStory iTCG, Wizards of the Coast and Nexon are partnering to take TCGs to the next level by giving players a fully integrated experience between the online and offline worlds. "Unlike codes in other TCGs that redeem online for limited value vanity items, codes in the Maplestory iTCG will unlock exclusive online rewards and game experiences such as highly sought-after artifacts, rare virtual pets, and all-new quests." Says Laura Tommervik, Brand Manager, Wizards of the Coast. The iTCG is also a great way for long-time TCG players to learn about the magical world of MapleStory through a familiar format.
The MapleStory iTCG plays much like its online counterpart as characters battle monsters and level up yet adds the unique element of character versus character combat. The game is available in starter sets and booster packs. Boosters contain 9 cards (including one code). Starter sets contain 34 cards (including one code), one booster pack, game rules and a CD-ROM with the MapleStory online game client.
"This is like teaming up two superheroes," said Gregory Yahn, Director of New Business for Wizards of the Coast, Inc. "The MapleStory iTrading Card Game unites two passionate fan bases and offers each group new gaming experiences. Both fan bases can unearth new parts of the virtual "Maple World" by taking advantage of exclusive in-game items from the iTCG codes as well as playing a fun and new trading card game with all the flavor and excitement of the online game."
"Wizards of the Coast created some of the world's most popular brands as a leader in role-playing, trading card game and tabletop strategy games," said Min Kim, director of game operations for Nexon America. "MapleStory's extraordinary world and rich characters give Wizards of the Coast a distinctive establishment to build the next great trading card game."
MapleStory is an online adventure game that centers around the "Maple World," allowing players to combat monsters and develop their characters' skills and abilities in an immense platform-inspired persistent world. Players, using charming characters, interact through chatting, trading, and playing mini-games while surrounded by vibrant backgrounds. Groups of players can unite in parties or guilds to socialize, hunt monsters, or embark on quests.
MapleStory's innovative cash shop offers players the option to use real currency to pay for game enhancements, from cosmetic items such as haircuts and clothing, to virtual pets that can be trained to sit, stand, and breathe fire. This feature is purely optional and players can try out items prior to purchase in a virtual dressing room. Players create truly unique identities in MapleStory through avatar customizations.
Developed by Wizet, MapleStory is available exclusively for Windows PC via free online download at http://maplestory.nexon.net.
About Wizards of the Coast
Wizards of the Coast, Inc., a subsidiary of Hasbro, Inc. (NYSE:HAS), is a worldwide leader in the trading card game and tabletop role-playing game categories, and a leading developer and publisher of game-based entertainment products. The company holds an exclusive patent on trading card games (TCGs) and their method of play and produces the premier trading card game, Magic: The Gathering«, among many other trading card games and family card and board games. Wizards is also a leading publisher of role-playing games, such as Dungeons & Dragons«, and publisher of fantasy series fiction with numerous New York Times best-sellers. For more information, visit the Wizards of the Coast website at www.wizards.com.
About Nexon America
Nexon America Inc. is the North American publishing arm of Nexon Group, a pioneer of interactive entertainment software and the world's leader in massively multiplayer online games. Based in Los Angeles, Nexon America was founded in 2005 to bring the best of online entertainment to the North American audience. The company's growing library of titles includes the world-famous, smash-hit franchise, MapleStory, and the new motion-captured dance battle game, Audition. The foundation of all Nexon America titles is the Item Selling business model, in which users access the full game for free and can later opt to pay for game enhancements. For more information, please visit: www.nexon.net.