Message Boards
Magic: The Gathering
Yu-Gi-Oh!
Dragon Ball Z
Duel Masters
Pokemon
Vs. System
Megaman
HeroClix
Anime
Yu Yu Hakusho
NeoPets
Harry Potter

- About Us
- Advertise on Pojo
- Our Sponsors

Please Support
Our Sponsors

Pojo's Friday News Page
February 17th - 2006
Hooked on comics

There's a new generation of comic readers in America, and they're not just Spider-Man fans or teenage boys.

Girls, boys and adults are getting lost in a comic world featuring big-eyed characters, sophisticated illustrations and diverse plots.

It's the world of manga (pronounced "mahn-gah"), Japanese comics. Most Americans in their 20s got their first taste of the manga look through TV anime shows, such as "Voltron" and "Transformers," said Hatuey Diaz, the self-proclaimed "manga guy" and clerk at Chicago Comics in Lakeview. FullStory
---
Intro to manga

Want to sound like a manga master? FullStory
---
Local artists crazy for manga

Manga is not just made in Japan anymore. The next big trend is American illustrators and writers joining the industry. FullStory
---
Working its magicYu-Gi-Oh! card game generates math skills

Some have compared Yu-Gi-Oh! to the Pokemon phenomenon that sprang up about seven years ago. But don't tell that to a Yu-Gi-Oh! enthusiast.

"It's nothing like (Pokemon). It's more of a strategy game. … It takes a lot of math and it's really fun to play," said Eric Fairchild, 16, of Butler Township. FullStory
---
4Kids Notches Up Yu-Gi-Oh! GX Toy Partners

Mattel has developed Yu-Gi-Oh! GX action figures, including the Yu-Gi-Oh! E-Hero Thunder Giant, which is 13-inches tall and features a slate of sound effects. Mattel is also offering a variety of collectibles and accessories including a new sling pack for the top-selling Duel Disk.

From Upper Deck comes the trading card games Cybernetic Revolution, Elemental Energy and the upcoming Shadow of Infinity, while Konami has released the Game Boy Advance video game Yu-Gi-Oh GX Duel Academy. FullStory
---
Yu-Gi-Oh! Ultimate Masters - World Championship Tournament 2006 Announced

Konami Digital Entertainment, Inc., announced today Yu-Gi-Oh! Ultimate Masters - World Championship Tournament 2006. The official video game of the 2006 Yu-Gi-Oh! World Tournament. Yu-Gi-Oh! Ultimate Masters - World Championship Tournament 2006 will be available for the Game Boy® Advance this March.

Yu-Gi-Oh! Ultimate Masters - World Championship Tournament 2006 contains more than 2000 cards, including many of the latest Structure decks from the TRADING CARD GAME as well as cards from the new Yu-Gi-Oh! GX universe. FullStory
---
Xbox 360 Web Browser Software Revealed!

A man by the name of Anthony Park has created a way for you to browse the web through your Xbox 360. You are able to use the Media Center remote to do the browsing. Once you have it set up with your Xbox 360 and your PC with Windows XP Media Center edition, you are able to use the Media Center remote to surf. FullStory
---
Magic on the cards

A fantasy game is thinking big about its future fanbase in China.

Magic has captured imaginations throughout the North America, Europe and Japan since being introduced in 1993. But the scenario described above took place not in one of the more traditional strongholds of fantasy game- playing. It, and hundreds like it, was played out on tabletops and imaginations just across the border in a hotel in Guangzhou that, for a weekend last month, found itself the host of some rather unusual guests: Chinese fantasy card game acolytes.

The tournament was part of a weekend-long tournament sponsored by Wizards of the Coast (WOTC), a subsidiary of gaming giant Hasbro, and took place simultaneously in Beijing, Shanghai and Guangzhou. FullStory
---
Upper Deck Teams With Nike to Launch 'The LeBrons' Action Figure Line Based on Popular TV Ad Campaign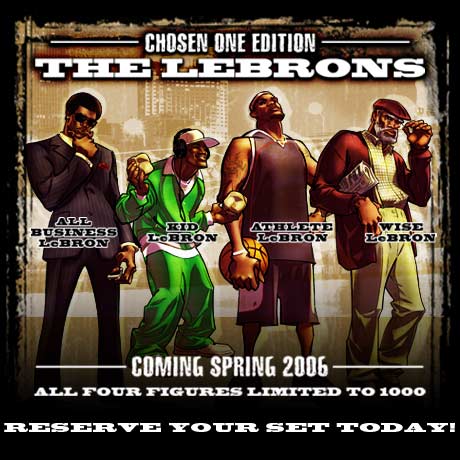 Upper Deck is releasing 750 sneak-peek versions of Athlete LeBron to coincide with NBA All-Star week. All will feature the red special edition Nike Zoom LeBron III shoes and L23 gear James will be wearing at the game.

The edgy, limited-edition figures -- a creation in partnership with Nike -- will be available online via Upper Deck's Web store on Feb. 15. FullStory
---
Sony Ericsson phones vulnerable to attacks

If you use a Sony Ericsson mobile phone, you may want to disable the Bluetooth function. The FrSIRT (French Security Incident Response Team) has warned that a security vulnerability potentially puts some of the company's phones at risk of a DoS (denial-of-service) attack. FullStory
---
Sony Ericsson W950i UMTS Walkman phone announced
Sony Ericsson decided to expand the Walkman family line-up at 3GSM, with their newest addition, the Sony Ericsson W950i. The W950i is an ultra-slim UMTS phone with an amazing 4GB of storage and touch screen for simple navigation through music genres, playlists, individual songs or music albums. FullStory
---
Pokemon Trozei - First Look (DS)

Every console/handheld ever made has had some form of Tetris, and where there is Tetris there is someone trying to better the tried and true formula. Nintendo is no different.

WITH 380 DIFFERENT POKEMON to be "found" in this upcoming title you would expect it to be a similarly challenging and time consuming game as any of the GBA Pokemon titles. But this is where the twist comes in. FullStory
---
Pokemon and Zingy tie up to introduce downloadable mobile media content

Chart-topping children's property Pokemon is joining with Zingy, Inc., the leading mobile media provider in the U.S. to launch Pokemon Mobile. The announcement was made at the American International Toy Fair.

Zingy will publish Pokemon Mobile content across a variety of platforms on the major domestic cell phone carriers. FullStory
---
Pokemon USA has announced plans for celebrating the property's tenth anniversary.

In April, a one-hour TV special, Pokemon: The Mastermind of Mirage Pokemon will debut on Kids' WB!

Later in the year, the eighth Pokemon movie, "Lucario and the Mystery of Mew," will be released on home video.

Starting on February 25, through July 22, the Pokemon Journey Across America tour will visit numerous cities across the United States. FullStory
---
Nintendo introduces voice-chat feature on the DS

Nintendo Co. has announced additional features to its DS portable video games player on Thursday. These features include a provision to allow users to load game demonstrations and other related content directly onto the device for free.

The additional features were announced at the DICE tech conference being held in Las Vegas. Another exciting new feature is the introduction of voice-chat in the gaming device. Nintendo America's vice-president Reggie Fils-Aime also announced at the conference that the company would be opening electronic kiosks at various retail outlets in the country. FullStory
---
$20 Nintendo DS mod chip, PassMe

We've already considered how to make your DS more like your PSP as far as media support goes, but what about emulation? Another device that takes advantage of both the GBA and DS game slots, the $20 "PassMe" mod chip for Nintendo DS "redirects the DS to a GBA Flash cart, so you can run your own programs... on the Nintendo DS. For PassMe to work it requires the use of a commercial NDS cart (for authentication) and a GBA Flash cart to hold your DS programs." FullStory
---
Nintendo to drop browser and TV Tuner to handheld

Nintendo announced on Wednesday that it will offer an internet browser and a TV Tuner for its Nintendo DS handheld in Japan.

The internet browser software will be sold in cartridge form and is developed by Opera software.

The browser will allow owners to view webpages on the handhelds two vertical screens or opt to have the top screen display a magnified portion of the screen.

The TV tuner, in which the prototype plugged in the Nintendo DS cartridge slot, does not yet have a release date. FullStory
---
Fullmetal Alchemist Arrives in Canada on YTV

Canadian Broadcast Debut on March 3

FUNimation(R) Entertainment, a wholly-owned subsidiary of Navarre Corporation (Nasdaq: NAVR), and a brand management company and one of the nation's leading independent home video entertainment companies, announced today that the popular anime series Fullmetal Alchemist(TM) has been picked up by YTV for broadcast in Canada. FullStory
---
PRESS RELEASE
Gen Con Committed to Indianapolis
Indy¹s Largest Annual Convention to remain

SEATTLE, Washington (February 10, 2006) ­ Gamers around the world can continue to anticipate the fun and excitement of the annual Gen Con convention right in the heart of downtown Indianapolis. Gen Con LLC is pleased to announce the Gen Con Indy convention will indeed remain in Indianapolis for the next several years.

Gen Con has confirmed that they will be returning to Indianapolis in 2006 to celebrate the company¹s 39th year and to continue the fine tradition that has been established in Indianapolis. Gen Con has signed an agreement for an additional four more years in Indianapolis, keeping the convention in the city at least through 2010.

At Gen Con gaming enthusiasts don't simply attend-they participate in over 5,000 gaming events including interactive game play, hobby-related events, and computer gaming. Attendees can join in card games, board games, role-playing games, live-action role-playing games, seminars and workshops ranging in topics from how to develop games to how to paint miniatures.

Gen Con has over 250 booths from which enthusiasts can learn more about their favorite games and products with companies ranging from the biggest in the business to hot, smaller shops. Often game manufacturers use Gen Con as a stepping stone to display their new games or to run premier tournaments.

Gamers can now mark their calendars for the next great gaming event. Gen Con Indy 2006 will take place August 10 through 13th at the Indianapolis Convention Center. With more new-product introductions than any other game convention in the U.S., Gen Con is THE place where consumers, game manufactures, and vendors get together to experience the latest and greatest in the gaming industry, along with time-honored classics. For more information and to register, call (800) 529-EXPO or visit www.gencon.com.
---
PRESS RELEASE
THE UPPER DECK COMPANY ANNOUNCES
NEW ENTERTAINMENT PRODUCTS FOR 2006 SEASON

CARLSBAD, Ca. – February 10, 2006 – Continuing the tradition of delivering quality and innovative products, Upper Deck Entertainment (UDE) -- a division of The Upper Deck Company -- is pleased to announce its 2006 line-up of exciting new card and board games. Teaming up with globally renowned companies such as Konami, Marvel, Nickelodeon, Disney, DC Comics, Rainbow Media -- and, with newly established partners Blizzard Entertainment® and the AstroTwins -- this year's line-up features fresh new products including collectible trading card game sets from the toy industry's top-rated properties, and UDE's first-ever board game, AstroStyle.

"We're very excited about 2006 as we bring both innovative and familiar products to give added value to consumers around the world. We pride ourselves on being leaders in the card industry by creating new technologies for our entertainment, sports and memorabilia categories," said Bob Andrews, President & Chief Operating Officer for the Upper Deck Company. "Our long-standing mission is to provide our worldwide customers and consumers with the highest quality sports and entertainment products."

Teaming up with award-winning and internationally recognized online computer gaming company Blizzard Entertainment, UDE will release the most anticipated trading card game of 2006 – the World of Warcraft Trading Card Game (August). Based on the biggest name in the Massively Multiplayer Online Role Playing Game (MMORPG) genre, the World of Warcraft Trading Card Game captures all the action-packed combat and furious competition online players expect. The game will feature Ultra-Rare "Loot" cards available only in TCG packs, which allow consumers to cosmetically upgrade their existing online characters, never-before-seen artwork by renowned artists such as Darrell Sweet, Greg Staples, Greg Hildebrandt, Dave Dorman, Todd McFarlane, Rebecca Guay, and R. K. Post, and will be supported by a robust organized play structure that supports tournament play.

UDE adds the newest trading card game to its illustrious TCG line-up in February with the new Avatar Trading Card Game. Based on the highly-popular Nickelodeon animated television series, the new TCG centers on the adventures of Aang -- a twelve-year-old who must master his powers to conquer the Firebenders, the evil magi who threaten the world – and will debut the new QuickStrike gaming platform, UDE's fast-paced game mechanic featuring lightning-fast one-on-one card combat. The Avatar Trading Card Game will be compatible with future releases on the QuickStrike system such as the upcoming Pirates of the Caribbean Trading Card Game (June). The new Pirates of the Caribbean Trading Card Game spotlights the swashbuckling adventures of sword fighting, cannon fire, and pirates plunder as seen in Disney's blockbuster "Pirates of the Caribbean" and the sequel, "Pirates of the Caribbean: Dead Man's Chest," due out in theaters later in July.

Continuing to serve the tween girl gaming market, UDE is pleased to introduce the newest and first-ever board game from Upper Deck -- AstroStyle (February). Based on premier teen and young women astrologers Tali and Ophira Edut (AstroTwins™), the board game utilizes zodiac signs and cooperative play to emphasize self-acceptance. Players can have a fun and exciting astrological experience by matching zodiac signs with friends and answering questions about all girls' favorite topics – love, life and style. The AstroTwins™ popular horoscope columns are published in Teen People, HelloKitty.com, and AOL Red.com.

This year, UDE and the KONAMI CORPORATION will launch the fifth season of the wildly popular Yu-Gi-Oh! TRADING CARD GAME, complete with powerful monsters, power-packed expansion sets and new cards featuring favorite characters from the highly-rated Yu-Gi-Oh! GX animated television series. UDE kicks February off with the exciting new Jaden Yuki and Chazz Princeton GX Duelist Packs, UDE's first Yu-Gi-Oh! TCG-themed set featuring staple characters from the GX series made especially for those wanting to play the Decks seen in television Additional releases through the spring and summer include: the new Yu-Gi-Oh! TCG Starter Decks (April), the perfect product for beginner-level Duelists featuring cards and a rulebook made to help teach new Duelists how to play the game without the complex rules; Shadow of Infinity (March) and Enemy of Justice (May) expansion sets, both featuring new monsters and more cards to build powerful GX-themed decks; and the power-packed Invincible Fortress Structure Deck (May).

UDE's award-winning Marvel TCG – part of the celebrated Vs. System -- gets supercharged in 2006 with the newest additions to the set. Comic vigilantes, heroism and adventures arise in the newest booster sets for the Marvel TCG series, which include the X-Men Starter and Booster Sets (February), UDE's follow-up to the debut set, Marvel Origins, featuring new cards from the classic X-Menä library such as Wolverineä, Professor Xä, Rogueä, Cyclopsä, Jean Greyä and Nightcrawlerä, to name a few, and new game mechanics bringing the Vs. System to a whole new level; Heralds of Galactus (Fall) features all of the familiar cosmic-beings comic fans have come to love, including Silver Surfer, the Watcher, and the big man himself, Galactus; and the popular Marvel holiday collector sets (Fall) feature new and exclusive cards from the Marvel TCG series.

Also igniting the Vs. System in 2006 are power-packed booster and starter sets for the critically- acclaimed DC Comics TCG. This year's releases include the Superman Starter Set (May), a two-deck pack featuring favorite characters from the Superman universe; the Infinite Crisis (May) booster set, which features some of the most heroic and darkest characters in the DC universe, new game mechanics, and feature heroes such as Captain Marvel and Dr. Fate to the Vs. System; the Legion of Super-Heroes (Winter) features the teen sensations that protect the United Planets from the perils of the future; and the popular DC Comics holiday collector sets (Fall) featuring new and exclusive cards for the DC Comics TCG.

UDE embarks on freaky adventures and unleashes ghoulish monsters this fall with the new Monster Allergy Trading Card Game. Based on the new animated series, "Monster Allergy," the game centers around pasty-faced Zick – a Monster Tamer whose sole purpose is to control the misbehaving monsters living in his house and his crazy adventures to protect the world from monsters. Using Friend, Ghost, Monster and Dom Power Cards, players assume the role of a Monster Tamer, and try to capture and tame more ghosts and monsters than their opponents. The easy-to-learn 2-player starter set will be encased in an exciting "Bombo" monster carrying case, and comes complete with with two 30-card decks, two game mats and one rule book.
---
PRESS RELEASE
MAJESCO ENTERTAINMENT ANNOUNCES
"MECHASSAULT: PHANTOM WAR" FOR NINTENDO DS

Acclaimed 'Mech Series Goes Handheld with All-New Touch Screen Features

EDISON, N.J., February 15, 2006 – Majesco Entertainment Company (NASDAQ: COOL) today announced MechAssault®: Phantom War for the Nintendo DS will ship to stores later this year. The first handheld installment of the critically acclaimed series, MechAssault: Phantom War features popular franchise elements while utilizing the Nintendo DS touch screen to deliver a new level of control and maneuverability.

"MechAssault: Phantom War fuses the best game play elements from the series with new features that take advantage of the unique mechanics of the Nintendo DS," said Ken Gold, vice president of Marketing for Majesco Entertainment. "The touch screen lets players intuitively 'touch' the cockpit controls to hack into giant 'Mechs, eject pilots, switch weapons and check battle techniques."

Developed by Backbone Entertainment, a division of Foundation 9 Entertainment, MechAssault: Phantom War brings the future of interstellar combat to today's handheld gamers in a third-person futuristic shooter. Players assume the role of a MechWarrior, an elite fighter trained to control the ultimate war machine of the 32nd century...the BattleMech. Gamers experience fast-action, 3D 'Mech combat on the top screen, while the lower touch screen positions them inside the cockpit at the controls.

Exciting MechAssault: Phantom War features include:
Commandeer over 20 types of vehicles, including 'Mechs, Tanks, Turret and BattleArmor;
Wreak havoc on the enemy and environment with an arsenal of powerful, fully upgradeable weapons;
MAJESCO/MECH ASSAULT DS/2
Brand new story drawn from the popular BattleTech series which spawned highly successful games like MechWarrior & MechCommander for the PC and MechAssault & Crimson Skies for the Xbox® video game system.
Use the touch screen to sneak into enemy territory, hijack enemy 'Mechs and wield the most secret weapon in the Inner Sphere;
Wireless multiplayer combat for up to four players simultaneously;
Master 24 single player campaigns across four planets and three exciting multiplayer game types;
Unlockable 'Mechs, maps and cheats enhance gameplay.
---