Pojo's Friday News Page
September 23th - 2005
PRESS RELEASE
Weekend for Fullmetal Alchemist: Blood & Water announced

Blood & Water, The highly anticipated first expansion to the critically acclaimed Fullmetal Alchemist(tm) TCG, arrives in stores November 9. With new leaders, new mechanics, two new theme decks, and more of the great gameplay fans have come to expect, this set should be even hotter than the Premier Edition!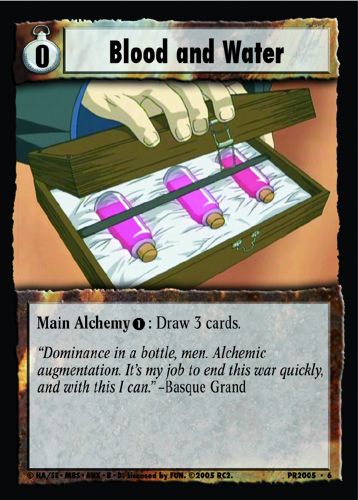 But if you can't wait that long, JoyRide Entertainment has your answer, with the Blood & Water Pre-Release Weekend coming up Oct. 28-30! If you're a retailer who wants to host a Pre-Release Tournament for Blood & Water, send an e-mail to tournaments@fma-tcg.com by Oct. 7 with your store name, city, state, and preferred contact information, and we'll fill you in on what needs to be done to secure your Pre-Release event. Or, if you're a Tournament Organizer, first clear it with the store where you want to hold the event and then write to the above address with the store's info (including a contact number/e-mail).

And, as if you needed any more incentive to sign up, the Pre-Release Tournaments will be the only place you can get the exclusive Blood & Water promo card! This card showcases one of the new mechanics in the set, allowing a player to spend one experience to draw three cards! This powerful card is sure to be a popular addition to almost any deck.

The search for the Philosopher's Stone goes on, but you can get a head start on the opposition with this opportunity to get an early look at Blood & Water! Only a limited number of stores will be granted Pre-Release Tournaments, so sign up today!
---
PRESS RELEASE
TEMPLE GAMES ANNOUNCES WORLDWIDE RELEASE OF CHIZO RISING COLLECTIBLE TILE GAME

SAN LEANDRO, CA - September 22, 2005 - Temple Games, Inc., today announced the worldwide release of its new game ChiZo RISING. ChiZo RISING is a unique Collectable Tile Game (CTG), featuring the depth of a CCG crossed with the elegance of a board game, all wrapped up in striking game tiles printed in Germany by the world-renowned Ludo Fact, GmbH.

"Officially unveiled at GenCon Indy 2005, ChiZo RISING has already garnered rave reviews from those who have played the game," said Jason Seeber, director of marketing at Temple Games, Inc. "Now that we have full distribution and our street team program in place, we can start to introduce the world to the next generation in collectible gaming with ChiZo RISING."
---
What do Pamela Anderson, Pokemon, and DBZ have in common?

According to Lycos Inc., which offered one of the Web's earliest search engines, we've put this vast, powerful, revolutionary new communications medium to work in service of information about ... Pamela Anderson.

The rest of the top 10 has a few more wholesome subjects. Dragonball was No. 2, followed by Pokemon, Britney Spears, World Wrestling Entertainment, tattoos, Las Vegas, the NFL, the Sept. 11 attacks and Christmas. FullStory
---
Slumping baseball card industry looks for ways to get back in the game

Faced with declining revenue over the past decade, the baseball card industry -- once composed of four major manufacturers -- has been halved in a matter of months.

Insiders hope the shake-up will bring the struggling industry out of its slump and help reclaim its main demographic -- boys who are spending their money on other diversions such as video games and the popular Yu-Gi-Oh game cards. FullStory
---
Overwhelmed With D&D Online Players

Turbine, Inc. announced today that over 125,000 players have officially joined the Dungeons & Dragons® Online: Stormreach™ Alpha program, but only a few thousand players have been allowed entry into the Alpha due to limited space. FullStory
---
Toys "R" Us Announces Its Annual List of the Hottest New Toys for the 2005 Holiday Season

GBA Micro from Nintendo makes the list as well the new iZ™ from Zizzle which isn't even out yet. FullStory
---
Nintendo Unveils Revolution Controller

The company seeks to set a new interface standard for games with its new freehand-style device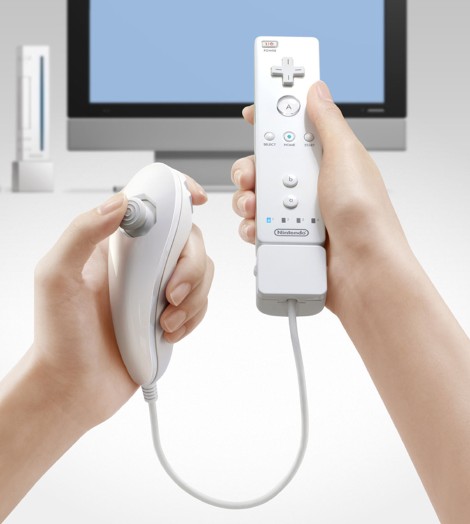 We waited and waited, and then waited some more, but now we finally know what the Nintendo Revolution controller is all about. Forget all the rumors you heard as this is nothing like those. Come on in and discover for yourself how Nintendo plans to change gaming as we know it. FullStory
---
L.A. Rush is blinged in gold for PS2 / Xbox

Midway said Thursday that the company's new racer L.A. Rush has reached gold manufacturing status and will be available in stores on October 10th.

The latest in the "Rush" series, L.A. Rush incldues a virtual L.A. city with over 350 miles of road and 35 licensed vehicles. A story mode will let players race through five recreated L.A. cities. FullStory
---
WWE SmackDown vs. Raw 2006 (PS2)


Another year, another PS2 wrestling game. Not that it's a bad thing, mind you. Last year's SmackDown vs. Raw took as many steps backwards as it did forwards, but that's to be expected from a reinvented franchise. It still emerged a very decent grappler overall.

The crowd looks phenomenal, as well. I usually judge wrestling game environments by the number of 3D fans that are in the audience. This game has more than a few rows of them, and they're some of the most rambunctious "marks" ever in a wrestling game. Of course, they have a lot to cheer about, with the amount of gameplay improvements being made this year. FullStory
---
"American Chopper" Coming To Xbox, PS2 & PC

The cast of 'American Chopper', the hit Discovery Channel TV series, feature in this excellent free roaming and racing biking sim

Gamers have to work against the clock to design and build customised choppers under the orders of cult reality show stars Paul and Paul Junior. FullStory
---
Madden touches down on PSP

Madden for the PSP shrinks almost all of its PlayStation 2 counterpart onto Sony's handheld, including familiar play-calling screens, a robust franchise mode, and all the on-field action Madden gamers are used to. FullStory
---
Gretzky hits the ice on the PS2

The Great One may be stuck behind the bench in Phoenix this year as the Coyotes' new coach, but he's still lacing up the skates and lighting the lamp in the lucrative licensed likeness market. Sony Computer Entertainment America today announced that Gretzky NHL 06 for the PlayStation 2 is now available in stores across the country, with all the new NHL rules, a new Wayne vs. Wayne mode, and an exclusive AHL license. FullStory
---
Wallace & Gromit: The Curse of the Were-Rabbit (PS2, Xbox)

"Something wicked this way hops..." The cracking great, well-loved TV series is about to make its cinematic debut, and keeping it company will be a movie tie-in game. See what's in store with these early screenshots.

The cheese-loving, bumbling wallace and his sidekick Gromit - a dog of almost frightening intellect - make the long-awaited transition to the big screen with their latest misadventure. FullStory
---
Fahrenheit ships to stores
Psychological thriller on its way to PC and consoles

Already receiving much critical praise in previews from the media, Fahrenheit is a psychological thriller where the player assumes the role of mulitple characters in a cat and mouse chase to find the truth behind a series of grisly murders in a frigid New York City. FullStory
---
Pokémon Mysterious Dungeon screenshots & details

Nintendo have recently unleashed several new screenshots from their upcoming Pokémon titles, Pokémon Mysterious Dungeon Red and Blue Rescue Force for the GBA and DS respectively. We've also managed to uncover several new details of both the story and the gameplay.

Apparently, at the beginning of the game your character is transformed into a Pokémon. As with previous Pokémon titles, which version you have will determine what Pokémon you will transform into (fire types for Red & water types for Blue). You are also asked a set of questions which determine the result of your transformation. FullStory
---
Avoiding 'Pokemon' Seizures From TV, Video Games

The Epilepsy Foundation has issued new guidelines to help avoid rare cases of seizures triggered by flickering lights from TV and video games. FullStory
---