Press Release
Pre-releases for Fullmetal Alchemist TCG's first expansion are this weekend
October 27 - 2005
If you haven't tried out the Fullmetal Alchemist TCG yet, this weekend will be the perfect chance to get into the game,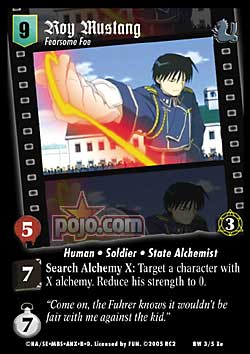 with pre-release tournaments for the first expansion, Blood & Water, taking place at 50 locations throughout the United States and Canada!
Players can get their hands on cards from Blood & Water for the first time at these tournaments. A complete list of pre-release tournaments can be found here.