Message Boards
Magic: The Gathering
Yu-Gi-Oh!
Dragon Ball Z
Duel Masters
Pokemon
Vs. System
Megaman
HeroClix
Anime
Yu Yu Hakusho
NeoPets
Harry Potter

- About Us
- Advertise on Pojo
- Our Sponsors

Please Support
Our Sponsors

Mushi King
"The Bug King"

We get asked by many people ... What's the next big thing coming out of Japan? Hey ... Our guess is as good as yours. Sega appears to have a decent hit on their hands with a game call "Mushi King". Here's some interesting new from the L.A. Times:

'Bug King' reigns supreme in Japan


Insect video game, playing cards are the latest kid craze
TOKYO — Bug fight!

And the kids in a Tokyo arcade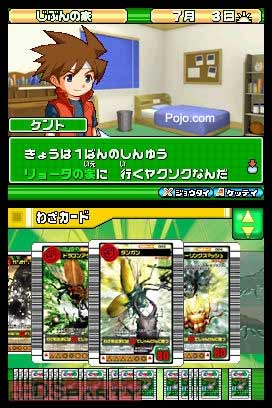 were excited by it, judging from their jostling to see the action in the ring. Facing off: a sawtooth stag beetle and a Thai five-horned beetle, each trying to kill the other with a crunching bite, pincer lock or body slam.

This was not cruelty to insects. It was child's play. The beetles were animated. The fight took place on a video screen in a toy store. The warring insects were computer-generated from playing cards, all based on real beetle species and collected by kids who have succumbed to the lure of Mushi King (Bug King), Japan's game craze of the year.

Introduced to video-game-obsessed Japan in 2003, Mushi King has become electronic manna for preteens.

Executives at Sega, the Japanese game company that developed Mushi King, said they have sold 256 million of the cards and more than a half-million copies of the software that allows you to play at home on a Game Boy or PlayStation.

It remains to be seen whether Mushi King can travel across cultures as well as Pokemon and Yu-Gi-Oh. Sega has launched the game in other parts of Asia and is test-marketing it in Dallas arcades to see whether American kids will bite."


Copyrightę 1998-2005 pojo.com
This site is not sponsored, endorsed, or otherwise affiliated with any of the companies or products featured on this site. This is not an Official Site.