Pojo's Friday News Page
October 7th - 2005
PRESS RELEASE
USA'S RAW PREMIERE KICKS A**

This weeks premiere of WWE's RAW on USA was the most watched RAW in 3 years with viewership up 30% from the average number of viewers that watched on Spike TV.

#1 telecast of the night on cable for A18-49 and A25-54
Delivered 2.9 Million A18-49 and 2.5 Million A25-545
6 Million total viewers
The most amount of people to watch RAW in 3 Years
Up 30% from Spike average viewer numbers
---
PRESS RELEASE
4Kids Home Video Debuts Yu-Gi-Oh! Volume 3.5: The Final Face-Off on DVD

4Kids Entertainment Home Video, Inc., the home video unit of 4Kids Entertainment, Inc. (NYSE: KDE), in association with FUNimation Entertainment, will release Yu-Gi-Oh! Volume 3.5: The Final Face-Off on DVD on October 18, 2005. This latest release brings to a close the thrilling Battle City Championship from Yu-Gi-Oh!'s third broadcast season on Kids' WB!

The DVD features five episodes.
---
Demand for anime, manga has libraries wide-eyed
Torrance will be spending $10,000 to stock shelves with the colorful Japanese counterculture comicbook novels.

What kids want to check out most these days is in short supply at South Bay libraries.

Demand for Japanese animation and graphic novels has exploded since Americans were first introduced to television imports like "Yu-Gi-Oh!" and "Dragon Ball Z" earlier in the decade. More!
---
Duel Masters(TM) Will Pay Homage to Creatures with First-Ever 'Creature Appreciation Week'

Creatures live a tortured existence: they often get blamed for chaos and mayhem even when they are innocent, they rarely receive accolades for a job well done, and their physical appearance limits their appeal to the masses.
Now, creatures are finally getting their due -- and in appropriately grand fashion. Wizards of the Coast's Duel Masters brand -- a trading card game employing dozens of awesome battling creatures -- has established the first- ever Creature Appreciation Week, to be celebrated Oct. 24 to 30, 2005. Fans of mysterious creatures and fantasy can learn more about the week's happenings by visiting DM-CAW. More!
---
The Esoteric Beat: Audio Games, Virtusphere, Mindplay

Welcome to 'The Esoteric Beat', the news report that provides new and unusual ways to think about games and culture. This week's column looks at audio games, hamster-ball interfaces and digital relationships.

First off this week we take a quick look at acoustic games. These audio-only titles have been around for a while, and make up the eclectic mix of adventure games like those found over on Audiogames.net. These games rely purely on sound output to deliver information to players, making them ideal for people with sight problems to experience the immediacy of interacting with digital entertainment. More!
---
Castlevania: Dawn of Sorrow
How does adding a second screen make the classic series better than ever?

Castlevania: Dawn of Sorrow follows this handheld trend to a T. Though the Nintendo DS is clearly far more capable in its hardware power to drive a more contemporary 3D design, the development team stuck to the game's roots on the handheld and have produced the best portable Castlevania game to date. Like past handheld Castlevania games, Dawn of Sorrow is more an evolution than a revolution, and the DS functionality is much more supplementary than integral to the design, but man -- this is one hell of an action adventure. You want a DS game with punch? This one's a knockout. More!
---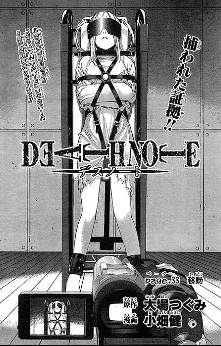 Shonan Jump's Death Note

Light Yagami is at the head of his class, and he's bored out of his mind. That all changes when he finds the Death Note, a notebook that allows him to control the equally bored rogue Death God Ryuk; simply by writing down the name of the person he wants dead, Light can kill anyone at will without getting caught. He immediately starts work killing off all the world's dangerous criminals, but the cops are hot on his trail; after all, he's a mass murderer! When the enigmatic and seemingly unstoppable detective L goes after Light, the result is a deadly battle of wits!

Probably the most compelling and interesting title to come out of Viz's young-adult-themed Shonen Jump Advanced line, Tsugumi Ohba and Takenshi Obata's Death Note is a surprisingly gripping and original suspense tale that raises a handful of interesting questions about morality. Anyone with a taste for mystery (and a good dose of gallows humor) should find Death Note to be refreshingly sophisticated. More!
---
Tekken 5 Cheats Codes FAQs and Hints for PS2

Don't always be quick to defeat the Story Mode interlude opponents, in some cases when you lose you get to see a different movie as part of the story. More!
---
Battlefield Blowout: Hands-on w/ Modern Combat
Lock and load, soldier. New impressions, movies, images and more.

The Battlefield series for the PC has been one of the few sets of games that the IGN crew would get together as a group to play night after night for overly extended periods of time. Sure, there are small groups of folks that play various sports games and the like for weeks on end after their release, but it takes a certain kind of game to have a majority of the office pulling all-nighters just to get in "one more round" together. Though we never actually saw Battlefield 1942 hit consoles, Xbox and PS2 gamers will see Battlefield 2: Modern Combat hit their systems in but a few short weeks. More!
---
Doom the Movie in theaters October 21st.
Official Movie Site
---
We Love Katamari

Last year's Katamari Damacy took the gaming world by surprise. Starting with a racquetball-sized "katamari," players rolled around a level for a set period of time, adding various household objects (and even people) to increase their ball's size, much like people roll a snowball in the yard. If they met their size objective by the level's end, it was on to the next round. That was the extent of the gameplay, but players ate it up like a katamari rolling over tempura shrimp.

We Love Katamari is a simple game, much like Katamari Damacy, but that's what makes the game so special. There's a reason the Nintendo Game Boy systems sell just as well as consoles: good gameplay doesn't require fancy graphics or sound, just good imagination and excellent execution. And We Love Katamari has both of those in spades. More!
---
X-Men Legends II: Rise of Apocalypse (Xbox, PS2, PSP, PC)

Comic book heroes have had a dismal time on the small screen via video games even while countless movie adaptations have raked in the big bucks. Thanks to CGI the X-Men movies captured the mutated super team almost perfectly. But alas the video games bearing the X-folks have always fallen quite short.

X-Men Legends II: Rise of Apocalypse doesn't deliver on the promise of an X-Men oriented RPG that many have been waiting for, but instead it mixes RPG elements in with a classic bash-fest reminiscent of Gauntlet. Your team of four heroes (and villains due to an unholy alliance between the X-Men and the Brotherhood of Evil Mutants) runs through a number of levels of thugs and mutant insects with little variation and less challenges. More!
---
King of the cards

A Kingston teen who hopped on the Pokemon bandwagon in 1999 is still along for the ride – and $7,500 richer for it.

Jeremy Maron's collection of mythological monsters has, over the years, grown to roughly 10,000 cards.

In August, he competed against players from more than 30 countries in his age group at the Pokemon Trading Card Game Tournament in San Diego and became the Pokemon World Champion. More!
---
Nintendo Creates An Easy, Accessible Video Game Network
- And It's Free

Wi-Fi Connection will begin a new era of easy, social gaming. For the first time, characters from the Nintendo universe will be playable online, as part of a unique wireless community, accessible inside or outside the home. Nintendo DSTM games like Mario Kart® DS, Animal Crossing®: Wild World and Metroid® Prime Hunters will require no additional charge for online play. Each is scheduled to launch in the coming months, along with the first third-party title using Nintendo Wi-Fi Connection, Activision's Tony Hawk's American SK8Land, developed by Vicarious Visions. More!
---
Dragon Ball Z Hits The Street

All right all you eager gamers, Infogrames Inc. announced the much-anticipated Dragon Ball Z: The Legacy Of Goku, for the Game Boy Advance, will be shipped on May 14. "With 600,000 registered fans on the Dragon Ball Z web site alone, there is a huge consumer base anxiously awaiting the opportunity to become part of the interactive experience," Said Sr. VP and GM of Infogrames' Minneapolis label, Paul Rinde. More!
---