Pojo's Friday News Page
May 20th - 2005
KONAMI'S YU-GI-OH! NIGHTMARE TROUBADOUR DEBUTS ON NINTENDO DS THIS FALL

Electronic Entertainment Expo (E3) Booth #800 - May 17, 2005 - Konami Digital Entertainment – America, a division of Konami Digital Entertainment, Inc., today announced new details about Yu-Gi-Oh! Nightmare Troubadour for the Nintendo DS. Based on the popular trading card game and top-rated animated TV show, Yu-Gi-Oh! video games continue to captivate fans of the franchise with more than six million units sold to date in North America alone. FullStory
---
E3Expo 2005 Exhibitor Profiles

E3Expo 2005 takes place May 17-19 at the Los Angeles Convention Center.

Below are profiles from E3Expo 2005 exhibitors; breaking news releases are available at http://www.tradeshownews.com, Business Wire's trade show, conference, and event news resource. FullStory
---
Star Wars Miniatures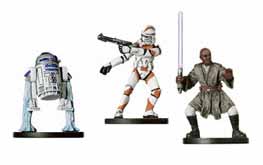 To celebrate the opening of Star Wars Episode III: Revenge of the Sith, Wizards of the Coast is releasing literally hundreds of Sith-themed miniature figures that accurately recreate tons of characters from the universe.

Collectors will be able to snag all the heroes, creatures, droids and enemies from the films. General Grievious, Agen Kolar, Mace Windu, The Emperor, Bail Organa, Chewbacca, Anakin, Darth… the gang's all here.

Set up your own battle on the Outer Rim, or pit Jedi against Sith. Act out famous lightsaber battles from the movie or reimagine what happens… it's all up to you! FullStory
---
E3 2005: Magic: The Gathering Online 3.0

In Magic: The Gathering Online 3.0, Wizards of the Coast puts a magic touch to the User Interface (UI). Looking back at over the last three years, Wizards of the Coast has taken feedback from the community along with their own review process of this highly successful game. According to Justin A. Ziran, Brand Manager for Wizards of the Coast, there are over 200,000 registered users in the game with approximately 10,000 new accounts added every other month. He also mentioned that they handle up to around 10,000 simultaneous connections and hosting over 2 million matches a month. Their goal is to have over 30,000 simultaneous connections. FullStory
---
"EXALTED" COMIC BOOK SERIES COMING FROM UDON ENTERTAINMENT

White Wolf Publishing has licensed the rights to a comic book series based on its successful roleplaying game Exalted to Toronto-based UDON Entertainment. The first issue in the series will be on comic book stands in October of 2005, and a special #0 issue comes out this summer.

UDON has a longstanding involvement with the Exalted property, having provided covers and interior art for many supplements, as well as covers for the Exalted novel series and all card art for the upcoming Exalted Trading Card Game. This history of close collaboration has given White Wolf confidence that UDON can do justice to the property. FullStory
---
Booster packs heighten Attacktix 'Star Wars' play

Master toy licenser Hasbro takes younger "Star Wars" fans on an amazing hands-on adventure as they become part of the world of Attacktix.

Reminiscent of the days when children used toy soldiers to wage war, the game blends the maneuverability of action figures with the surprises of a collectible-miniatures game to deliver a play experience geared to the 6-to-11-year-old crowd.

Attacktix uses durable and multiarticulated, 33/4-inch representations of heroes and villains from the current trilogy of "Star Wars" films, mounted on bases that click when they are moved. FullStory
---
E3 2005: Xbox 360 vs PS2 vs PC
Final Fantasy XI to allow cross-system play.

What's better than knowing that your upcoming next generation system of choice will be getting a high definition version of Final Fantasy XI? How about knowing that you'll be able to brag about your new gaming hardware to your PC and PS2 counterparts?

Japanese news source Mainichi Interactive reveals that Final Fantasy XI for Xbox 360 will allow for cross platform play. Players of the PC, PS2 and Xbox 360 versions will be able to play one another.

This immediately hints that we can, at the very least, expect the Xbox 360 version of Final Fantasy XI to offer all current content now available for the PS2 and PC versions. But what bonus features will Xbox 360 users get besides powered-up visuals? For this, we'll have to wait for Square Enix to share more details on the title. FullStory
---
4Kids and Upper Deck Create "Winx Club" Trading Card Game

4Kids Entertainment, Inc. and Upper Deck Entertainment have created a new trading card game based on 4Kids' animated series Winx Club.

The Winx Club Magical Fairy Game, designed just for girls, will be available on May 15, 2005, at Toys "R" Us stores nationwide. The game will also be launched simultaneously throughout participating retail stores in Canada, Australia, and New Zealand. FullStory
---
Konami reveals new Shaman King and TMNT

Konami is looking to help out gamers thirsting for a little more action on their consoles. The publisher is showing off two previously unannounced games at this year's E3: Shaman King: Master of Spirits 2 for the Game Boy Advance and Teenage Mutant Ninja Turtles 3: Mutant Nightmare for the PlayStation 2, Xbox, GameCube, and DS.

TMNT 3 brings the mutated reptiles back for some more martial arts beat downs on the evil Shredder and his minions. Based on characters from the comic series, Mutant Nightmare lets up to four gamers play simultaneously as any one of the turtles, whose powers are upgraded as they progress through the game. The console versions will feature the original TMNT arcade game as unlockable content. Look for TMNT 3: Mutant Nightmare this fall. FullStory
---
E3 2005: Pokemon XD A true Pokemon RPG?

Actually playing Pokemon XD: Gale of Darkness at E3 is somewhat of a time-consuming affair. Claiming one of the largest chunks of real estate at Nintendo's Booth, Pokemon XD drew scores of show goers throughout the entire show. It's not just the game people showed up to see, but to score four free pokemon dolls courtesy of Nintendo. Nintendo employed an excellent strategy here. The masses can't resist free stuff, especially when it's cute and doubles as a pillow. FullStory
---
Screw Breaker is from GAME FREAK, the people behind Pokemon. It certainly doesn't look like the next big thing, but we are intrigued.

Crime syndicate The Skull Rollers have stolen a red diamond, so the as yet unnamed main character sets off to get it back with the aid of their trusty Breakall Drillbot. The shoulder buttons are used to change the direction of the drill and gears can be found to upgrade it. From how it's described, it sounds like a horizontal Mr. Driller. FullStory

It's on its way to Game Boy Advance only.
---
Pokémon XD Screens

Pokemon XD is a brand new Pokemon game for GameCube. According to Nintendo it's a true RPG Pokemon that isn't a sequel to Collosseum. It's a brand new build that really plays off the RPG aspects. For more information check out our previous coverage on the game (news article).

The media we present to you today have been taken from the Japanese version of the game. Expect this title to be released later this year in PAL territories. Cube-Europe will keep you posted! FullStory
---
Nintendo Launches Japanese Website for Pokemon XD

With E3 just days away, Nintendo's Japanese website devoted to Pokemon has been updated with a new page devoted to the forthcoming GameCube RPG, Pokemon XD.

While there is not much currently on the page, there is some information floating around. Pokemon XD is slated to launch in Japan on August 4th of 2005 at a price of ¥8,500 ($54 US). Also, it appears that the Pokemon Eevee will be the companion of the hero's character this time around, according to some rough internet translations. There also seems to be both a female and male character involved in this adventure. FullStory
---
Nintendo unveils Revolution
New console focuses exclusively on games, unlike rivals' systems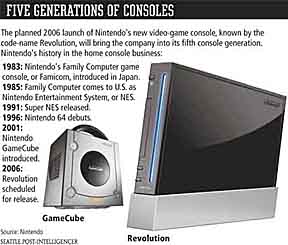 Mario saves princesses, hits golf balls and even drives go-karts. But don't expect him to play recorded television.

Nintendo, the industry veteran behind the iconic video-game character, sought yesterday to secure its place in the next wave of game consoles -- showing a new machine, code-named Revolution, that will differ from its rivals by sticking mainly to games. FullStory
---
Nintendo Reveals Game Boy Micro

Nintendo Co. Ltd. today unveiled their new GameBoy Micro, similar in design of the first generation Nintendo's joystick, the Micro measures a mere four inches by 0.7 inches and weighs 2.8 ounces. The super-clear 2.0-inch LCD screen embedded in the center has adjustable brightness and contrast and is expected to make up for the lacking quality in past Game Boy screens. FullStory
---
E3 2005: Dragon Ball Z DS Screens

Head inside for the first screens showing off Dragon Ball Z for the Nintendo DS. Go!
Fight exciting battles set in the DBZ universe on land or in the air in Dragon Ball Z Supersonic Warriors. Choose from over 20 Z-Warriors, each with unique powers and abilities and unleash Devastating Ultimate and Team Attacks to defeat your opponents. Go head-to-head with wireless support for intense 2 player battles. FullStory
---
Dragon Quest™ VIII: Journey of the Cursed King

Dragon QuestTM VIII is the latest installment in the popular Dragon Quest series (previously known as Dragon Warrior® in North America) and the first to be released for the PlayStation®2 computer entertainment system. The colorful characters, exotic environments and daunting dungeons of the Dragon Quest series have made the transition to glorious 3D! Players will find themselves in a universe like no other, as they explore the plains, peaks and valleys of a seemingly limitless world. FullStory
---
Atari Announces E3 2005 Lineup

Following is the list of Atari's products that will be showcased at E3
this year: FullStory
---