Message Boards
Magic: The Gathering
Yu-Gi-Oh!
Dragon Ball Z
Duel Masters
Pokemon
Vs. System
Megaman
HeroClix
Anime
Yu Yu Hakusho
NeoPets
Harry Potter

- About Us
- Advertise on Pojo
- Our Sponsors

Please Support
Our Sponsors

Pojo's Friday News Page
March 18th - 2005
PRESS RELEASE
WIZKIDS ANNOUNCES DC HEROCLIX: ICONS

WizKids Inc., makers of the popular Mage Knight(tm), HeroClix(r) and MechWarrior(r) collectable miniatures games (CMGs), is proud to announce DC HeroClix: Icons, the upcoming base set for the DC HeroClix game.

"DC HeroClix: Icons is the perfect way for new players to jump into HeroClix," said Mike Samora, vice president of Sales and Marketing at WizKids(r). "The set includes favorite characters like Superman and Batman, and popular teams like the JLA and Titans." DC HeroClix: Icons features all-new sculptures and statistics for these figures, offering new and existing players alike a powerful and fun series to collect.

DC HeroClix: Icons Starter Sets will contain everything two players need to get into the game, including two preconstructed forces with six characters found only in the Starter Set, and complete rules, tokens, a map and dice (MSRP $12.99). Each DC HeroClix: Icons Booster Pack contains two randomly inserted figures (MSRP $3.99). The set contains 60 figures, including the six characters in the Starter Set and six super-rare characters, and bystander tokens, battlefield condition cards and feat cards.
---
PRESS RELEASE
WIZKIDS OFFERS THE WORLD OF TOMORROW WITH ROCKETMEN: AXIS OF EVIL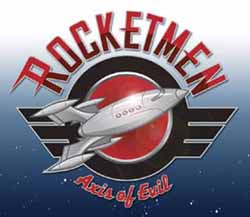 March 16, 2005 (SEATTLE) - WizKids Inc., makers of the popular Pirates of the Spanish Main(tm) and Pirates of the Crimson Coast(tm) constructible strategy games(tm) (CSGs), is proud to announce
Rocketmen(tm): Axis of Evil, a new CSG debuting this summer. Rocketmen will be accompanied by both Web- and DVD-based cartoons that feature a cutting-edge animation style that updates the fun of a retro space serial. WizKids created the CSG genre in 2004.

"WizKids(r) is committed to creating innovative new games," said Mike Samora, vice president of Sales and Marketing at WizKids. "Rocketmen combines large-fleet strategy, resource management and a fun, "retro-space" universe." In the weeks leading up to the release of Rocketmen, an exclusive cartoon will debut on the WizKids website.
Later, a DVD will collect all eight episodes of the cartoon, add two new episodes and come with exclusive Rocketmen game pieces.

The Rocketmen game will be sold in fine game, comic, and hobby stores everywhere. Its exciting fictional universe was created by Jordan Weisman, and the game was created by WizKids' award-winning game designers.
---
MLB Showdown 2005

Wizards of the Coast has just released MLB Showdown 2005. New cards will change the way the game is played. Check-It-Out!
---
No Joystick Required
A company turns hit PC titles into old-style board games.

In the age of Jobs and Gates, the trend, of course, has been to turn existing board games like Monopoly and Scrabble—the analog stuff of yesteryear—into on-screen, bells-and-whistles experiences. In turning that around, Drover's company represents part of a resurgence that began in Europe with small, independent publishers and focused on simple rules and detailed art; popular games included Princes of Florence (a Renaissance trading game) and Settlers of Catan (where players build cities and try to become the dominant force on an island). The "Euro-gaming" movement spread to North America, helped in part by Wizards of the Coast stores at shopping malls across the country. FullStory
---
Ghost Recon 2 deployed for GameCube

Ubisoft's squad-based shooter enlists Nintendo's console; controversial plot sees elite commandos battle in North Korea.

Tom Clancy's Ghost Recon 2 has finally invaded the Nintendo GameCube, Ubisoft announced today. The game was developed by Ubisoft Shanghai, which also had a hand in developing the PlayStation 2 version with Ubisoft Paris. FullStory
---
Pokemon amusement park opens in Nagoya

A long queue of children and their parents formed Friday for the opening of an amusement park dedicated to the Japanese Pokemon cartoon characters in Nagoya at one of the sites for the 2005 World Exposition in Aichi Prefecture, which opens March 25. FullStory
---
Nintendo Announces Pokémon Competition, Pokémon Emerald Pre-order Bonuses

Pokémon fanatics in the United States and Canada have been given an opportunity to take part in a Pokémon knowledge competition, and subsequently win a cache of prizes courtesy of Nintendo. Starting today, March 15, visitors to pokemon-games.com will be greeted by a "Pokémon Emerald Frontier Battle Graphic," wherein Pokémon fans will be able to register to compete in the contest. FullStory
---
Zelda Trailer: A Closer Look

We put Nintendo's new Legend of Zelda teaser under a magnifying glass. Inside, 12 revelations you may have missed.

Nintendo's new Legend of Zelda title isn't scheduled to release for GameCube before the holidays, but that hasn't stopped overzealous fans from speculating on how the game might be different or enhanced over previous installments in the series. Most of the recent talk about the adventure outing stems from a gorgeous new trailer released by Nintendo that shows off never-before-seen areas and mechanics in the game. Naturally, editors and readers alike have meticulously combed over every frame in the video, hoping to catch a glimpse of some previously unnoticed, special secret that will set the message boards ablaze. FullStory
---