Pojo's Friday News Page
February 25th - 2005
MLB SportsClix LE Tin Fetches $250

February 22, 2005 (SEATTLE) — Topps Inc. and WizKids Inc., makers of the hit collectable miniatures game (CMG) MLB SportsClix, announced that the tsunami relief auction for the MLB SportsClix 2005 Limited Edition Collector's Tin netted $250 for the American Red Cross.

The tin contains four rare silver-based Hall of Fame players from the 2005 MLB SportsClix release: Reggie Jackson, Rod Carew, Tom Seaver, and Carl Yastrzemski. These figures normally come randomly packed in booster packs, and will not be available until March 2005.

"It's truly inspiring to see people come together for a good cause," said Mike Samora, Vice-President of Marketing at WizKids. "It shows just how much our fans are willing to help others." The tin will only be available in extremely limited quantities, and makes an excellent centerpiece for any MLB SportsClix collection.

This auction was the first chance for an MLB SportsClix fan to purchase these amazing Hall of Fame players before the game's release in March.
---
BABE RUTH, LOU GEHRIG AND HALL OF FAMERS
HEADLINE 2005 MLB SPORTSCLIX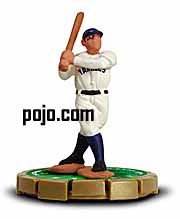 Topps Inc., makers of the best-selling MLB™ SportsClix™ collectible miniatures game (CMG), is proud to announce the all-new 2005 MLB™ SportsClix releasing March 30th. The game is produced by WizKids Inc., a subsidiary of Topps.
The all-new game plays faster, with everything two people need to get into the dugout packaged in one low-priced Starter Set. Booster Packs expand collections with rare Hall of Fame players like Lou Gehrig and Babe Ruth, and they also include the elusive Master Piece Babe Ruth Red Sox figure (one recently auctioned on eBay for $1,300, which benefited the Boys and Girls Club of America).

It features real major leaguers sculpted as two-inch-high 3-D game pieces. MLB SportsClix gamers act as team managers, collecting and trading the miniature players to face each other on a ballpark playmat.
---
Yu-Gi-Oh! 7 Trials to Glory: World Championship Tournament 2005

The latest in the Konami series gets the world's longest title. Oh, and the game's not that bad, either.

As long as those packs of cards continue to sell, and as long as the quirky anime still plays on Cartoon Network, Konami will continue to develop games in the Yu-Gi-Oh series. No franchise has had more titles on the Game Boy Advance than Konami's card series, with the exception of the umpteen Mega Man spinoffs that's hit the handheld over the course of its life. It's a cash-cow, absolutely, and the latest game in the series is quite a mouthful: Yu-Gi-Oh! 7 Trials to Glory: World Championship Tournament 2005. FullStory
---
Second Duel Masters game to GameBOY Advance
Atari is ready for the next Duel Masters.

The next wave of exciting new Duel Masters interactive entertainment is on its way as Atari and Wizards of the Coast, a subsidiary of Hasbro Inc, today announced Duel Masters: Showdown will find a home on Nintendo's Game BoyŽ Advance in March 2005. Duel Masters: Showdown, the highly anticipated sequel to Duel Masters: Sempai Legends, which shipped for Game Boy Advance in October 2004, reunites fans with their favourite characters from the TV show as they battle in tournaments and embark on a mysterious mission in which the fate of the world is in jeopardy. FullStory
---
Upper Deck Announces New Entertainment Products for 2005 Season
Highly Successful Yu-Gi-Oh! TRADING CARD GAME Enters Fourth Season With New Collectible Cards and Sets
Upper Deck Entertainment Powers Up 'Winx Club' Trading Card Game for Girls
Marvel Trading Card Game Gets Supercharged With the Fantastic Four™, Marvel Knights™, and the Avengers™ in 2005
DC Comics Ignites Trading Card Game Scene with Batman™, Green Lantern™ and Justice League of America™
Disney Treasures Celebrates Disneyland's 50th Anniversary and Spotlights Classic Mickey Films With New Collectible Card Sets; Favorite
Disney-Pixar Characters Featured in New Figurine Set
Upper Deck Entertainment Releases New 'Avatar' Trading Card Game Based on New Nickelodeon Anime Series. FullStory
---
DE NIRO'S TAXI DRIVER PULLING FARES ON PS2 AND XBOX?

Reports suggest Majesco planning to brings De Niro's mentalist masterpiece to consoles

Hot off the gossip mill this afternoon is talk of a game based on De Niro's Taxi Driver that will take the classic film and bring it to the world of games using a gameplay formula similar to Sega's much-loved classic, Crazy Taxi. FullStory
---
BATTLEFIELD 2 PLANS JUNE OFFENSIVE

And Battlefield: Modern Combat set for "Microsoft's forthcoming platform", confirms developer

12:01 We've ached for this game for so long now, we've started breathing heavier than a raincoat-sporting pervert scanning the top shelf at the local newsies.
Well, it's time for us to regroup, because according to EA-owned developer Digital Illusions CE, the online shooter should - and we say 'should' with a mild sense of caution - finally be hitting PCs this June. FullStory
---
MVP Baseball 2005 sprints out of the box; MLB 2K5 close behind.

Cyber-spring training has sprung. Electronic Arts today made the semi-surprising announcement that MVP Baseball 2005 has shipped to retailers, which is more than a full week before the real Major League Baseball preseason games begin. Last week, online retailers listed today as the game's ship date, even though EA never made it official. EA previously announced March 1 as the game's official release date. MVP takes to the field on the PC, PlayStation 2, Xbox, and GameCube. FullStory
---
Nintendo's Major Games For May February 24, 2005

Donkey Konga 2, Geist and a new Game Boy Advance Fire Emblem are on deck. Nintendo of America announced today several official release dates for some major games to be shipped in the month of May. For the GameCube, Nintendo will be shipping Donkey Konga 2, the sequel to the original Bongo-thumping game, on May 9th. The n-space developed Geist, where players take on the role of a spectral scientist possesing both organics and machinery will be released on May 23rd. For the Game Boy Advance, a new entry in the Pokemon series, Pokemon Emerald will be released on May 1st. Also, a new chapter in the Fire Emblem series Fire Emblem: The Sacred Stones will be released on May 23rd. GameCube Advanced will have more details on all these new titles coming in the near future, so stay tuned. Source
---
Pokémon Dash -- Run Pikachu, Run!



As racing games go, they are pretty standard affairs; go faster than your opponent and maker sure you cross the finishing line first. No real great strategy, but like a certain Ridge Racer game, Pokémon Dash uses the touch screen to control the movement of your beloved Pokémon Pikachu which you can see from a birds eye view. Single strokes of the touch screen give Pikachu a short burst of speed, so constant rubbing of the screen is needed to keep the little yellow mouse running. The direction in which your stroke is also important as it to determines which way Pikachu runs; however constant rubbing is the only way to win. FullStory
---
Pokémon: Destiny Deoxys

For a flash in the pan, the Pokémon franchise sure has staying power. The newest movie spin-off of the 300-plus episode series, Destiny Deoxys, premiered last year on Kids!WB. FullStory
---
Nintendo DS Download Service - Feb 26

Tomorrow, Nintendo will start a nationwide test of its Nintendo DS download service. Through kiosks in retail outlets, DS users will be able to download game demos and additional content. The game demos will remain on the DS until it is turned off but the additional content for Band Brothers will remain saved on the memory card for play any time. FullStory
---
Could this be the Nintendo Revolution?

Ok, so maybe that "leaked pic" of what is supposed to be a development system for the Nintendo Revolution (or whatever it's going to be called) isn't doing it for you. Anyone want to take a shot at debunking these other, also "leaked" Nintendo Revolution illustrations? Are these yet more fakery? Mock-ups for a potential design that Nintendo may or may not end up using? Does someone out there have too much time on their hands? You know how it goes—stuff like this is never official until it's official. PictureHere
---
Nintendo DS Accessories

Well it's launch day and you more than likely have your hot little hands on a Nintendo DS. Now it's time to accessorise.

YOU'VE CHARGED IT UP (not that you need to, but just in case), you've gone through the first few levels of Super Mario 64 DS, but how do you keep it safe, and how do you play it anywhere? Here are some items you may want to keep an eye out for. FullStory
---
Atari Announces Retro Classics for Nintendo DS
Old school games get new school looks on the Nintendo DS.

Atari will revisit the roots of modern video games with a contemporary spin with its upcoming Retro Atari Classics for the Nintendo DSTM. The game, expected to be available in March 2005, will reinvent 10 classic Atari titles with fresh graphics provided by world renowned graffiti artists. The game will also take advantage of all Nintendo DSTM innovations, including dual screen gameplay, touch screen controls, and wireless play. FullStory
---
Nintendo DS to record TV and to play music

The DS is the size of a paperback book with a wireless connection and two screens, one of which is touch-sensitive and works with a pen-like device.

Nintendo Co. will begin selling an adaptor for its DS and Game Boy Advance handheld game players to allow them to play music and video, the company said, matching a popular feature on Sony's portable game machine. FullStory
---
Nintendo DS to use Palm OS?.

The licensing of Palm OS by Nintendo makes people speculate about the possible use of the OS in the Nintendo DS portable console. The fact that the DS has a touch screen certainly helps to draw a relation with the Palm OS.

Nintendo filed (on Dec 7) a patent related to the Palm OS licensing under the name V-pocket. At the moment, the V-pocket trademark will be used by Nintendo in Japan only because in the U.S, V-poket is owned by Sports Licensing, Inc. FullStory
---
Madman Releases The Dragon Ball GT Movie on DVD

Throughout the years Goku's life burned as a beacon of truth, a prime example of a life well lived. His journey was a triumph of commitment and resolve. But the torch must pass. Now, decades after departing this world, Goku watches as his descendant undertakes his own journey of discovery, a journey where veiled dangers lurk at every turn, to uncover the amazing truth behind the Dragon Balls.

It is a demanding ordeal for Goku Jr. but what he does not yet realise is that the same fire which fuelled the mighty Goku burns within himself as well. Goku Jr. must discover that fire to realize his legacy, to prove that some things never die. FullStory
---
Dragon Ball Z: Sagas brings the TV series to the gameplay. We talked to producer Dan DeOreo to know what's new and what remains the same in this upcoming title.

Fans of Dragon Ball Z rejoice, because yet another game in the series is about to be released. Instead of sticking to the regular fighting action that the games (and most of the television series) is known for, Dragon Ball Z: Sagas moves into an entirely open 3D realm ripe with exploration and action. Recently FileFront got the chance to sit down with producer Dan DeOreo and find out exactly what this game is about. FullStory