Pojo's Friday News Page
February 11th - 2005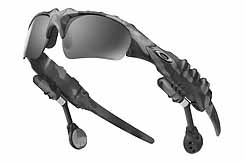 "Cool"
OAKLEY THUMP™ is the world's first digital music eyewear.

No more wires. Just high-performance optics forged with an integrated, state-of-the-art digital audio engine. Listen to music virtually anywhere. Change the way you see and hear the world. OAKLEY THUMP comes in seven color combinations and two types: a 128 MB version and a 256 MB version with polarized lenses. FullStory
---
Parents wary of gaming obsession

Akron mother blames son's suicide on Yu-Gi-Oh!; some experts and gamers say it's not that simple

Carol O'Connell, a psychologist at Akron Children's Hospital, said the "mind control'' claim is a bit of an oversimplification.

A child, or anyone, who becomes obsessed with something enough to commit suicide had other problems to begin with, she said. And it's not just games. FullStory

---
Yu-Gi-Oh! and Shaman King Unedited Releases On Feb 22

4Kids Entertainment Home Video To Release New Volumes Of Collector's Editions Of YU-GI-OH! And SHAMAN KING On February 22, 2005

4Kids Entertainment Home Video, Inc., the home video unit of 4Kids Entertainment, Inc. (NYSE: KDE), in association with FUNimation, will release the third volume of the special DVD collector' s editions of YU-GI-OH! and SHAMAN KING on February 22, 2005. Never before available in the U.S. and Canada, the discs will contain the original, unedited Japanese animation and Japanese dialogue with English subtitles, as well as optional English language tracks. FullStory

---
New Star Wars TCG and Miniatures from Wizards

Get your game on with new Trading Card Games and Miniatures from Wizards of the Coast centered around the highly-anticipated Star Wars film, Revenge of the Sith.
The Star Wars Trading Card Game has two new sets coming out in 2005, based around Episode III. The tenth expansion set for the Star Wars TCG, Revenge of the Sith hits shelves on April 2. This 110-card expansion features characters and art from the forthcoming film, including such favorites as Darth Vader, Mace Windu and Chewbacca, as well as a new card type: Equipment. FullStory

---
Adventures in Self-Publishing
Freedom Force vs. the 3rd Reich Irrational's Ken Levine writes about the trials and rewards of going it alone as an independant developer.

So, you want the long version of this story or the short one? The short version of this story is: Irrational Games is self-publishing Freedom Force vs. the Third Reich! Go to http://www.freedomfans.com/store/ right now and pre-order the darn thing! Anybody that does pre-order it from freedomfans.com will get three bonus characters, concept art, wallpapers and a whole bunch of other goodies. The first 500 get a piece of art signed by Robb Waters, the concept artist. FullStory

---
IDW HERALDS THE RETURNS OF "ANGEL" TO COMICS

Last time we saw Angel, things didn't look too good for him. His TV show was ending, his comics had stopped and he faced seemingly insurmountable odds. FullStory

But he wouldn't be Angel if he didn't battle his way back to the forefront.

---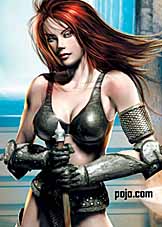 From the "If pojo.com ever got itself a mascot' Department: The Babes of Champions: Return to Arms (PS2)

Oh my -- we present possibly the sexiest inhabitants ever to grace the lands of Norrath. Like any gamer knows, there's only one thing more important than the overall gameplay experience offered by a new game -- and that's the quality of the hot babes on display! Luckily for you guys, we're pleased to be able to present a selection of the uber-smokin' female counterparts of SOE's new PS2 action sequel -- Champions: Return to Arms. FullStory

---
Brothers in Arms: Road to Hill 30 Visions (PS2)

Gearbox supplies brand new images and commentry from its upcoming WWII shooter.

There's little doubt that World War II makes for exciting, believable first-person shooter game experiences. Ubisoft is currently involved in a new project with Gearbox Software which could well take the genre to the next level. Brothers in Arms: Road to Hill 30 is expected to hit PlayStation 2, Xbox and PC midway through March. FullStory

---
King of Fighters hits PS2s with one-two combo

SNK Playmore ships 2002 and 2003 versions of its 2D fighting franchise in one compilation; Xbox version to follow in June.
SNK Playmore today announced that The King of Fighters 2002 & 2003 has shipped for the PlayStation 2. The two-disc compilation features both The King of Fighters 2002 and The King of Fighters 2003, both previously unavailable on the PS2. A KOF double pack isn't a first for the PS2, because in 2003, Playmore released The King of Fighters 2000/2001. FullStory

---
Swords Of Destiny on PS2

Rising Star Games is set to release a new take on third-person action adventures with the beautiful hack-and-slash epic Swords Of Destiny. Heading for the PlayStation 2 in the summer, Swords of Destiny is further example of Rising Star's commitment to bringing quality Japanese software to the European market. FullStory

---
StarCraft: Ghost on Revolution
Blizzard's elusive title may hop to future consoles.

The rumors just keep on coming. This time concerning Blizzard's upcoming sci-fi shooter based on the StarCraft series, StarCraft: Ghost. News regarding Ghost has been scarce, to say the least. The last time Ghost made any kind of appearance was at last year's E3, where a chunk of the game was on display in playable form. Then all went quiet for about a month. On June 21, Blizzard announced that Ghost would fail to meet its original ship date and that it would be pushed back. To when, no one really knows. FullStory

---
Getting Up: Contents Under Pressure – details and screenshots (PS2)

You would think pretty much every game genre imaginable has already been created. However, Atari is looking to forge new ground with one of its latest titles, despite the inclusion of its main feature it previous works.

GRAFFITI, THE BANE OF all building owners, is about to become an Atari game. The city is your canvas, the game Getting Up: Contents Under Pressure, the challenge, to tag your way to street cred in the oppressive city of New Radius. FullStory

---
Pikachu gets his own GBA

Nintendo to launch a Japan-only limited edition SP in honour of the little mouse

Despite six years of eeking out an existence as the only Pokemon who never evolves, the electric-yellow mouse remains evergreen.

Not content with being the whiskered face of everything from the failed films to the full range of games, Pikachu is now set to get his own repackaged GBA. FullStory

---
Japanese comics showing their feminine side

A group of girls is running a dating service out of their school when they're caught by the principal, who then hires them to find a suitor for the woman who is stalking him. No, this isn't the latest plot twist in "Days of Our Lives" but the idea behind a "shojo manga," or Japanese comic targeted to girls. FullStory

---
Pokémon Emerald - Prima's Official Game Guide

If you liked Pokémon Ruby and Sapphire, you're gonna love Pokémon Emerald. In Emerald, the two-on-two fights have been expanded so that two individuals, each with their own set of Pokémon, take you on together. Much tougher than just taking on two Pokémon at once! FullStory

---
Nintendo Stores in the US?

Nintendo announced that they are planning to open a new retail store in Rockefeller Center, New York. They are looking for a Retail Store Manager to oversee operations for a new concept store. They promise that the store will have state of the art design and structure, and you can buy everything from Nintendo Games, Platforms to Memorabilia. It is also likely that this will be the home for Nintendo software/hardware launch parties. There is no name for the store at the moment. FullStory

---
Score Entertainment brings back Dragon Ball Z game

Score Entertainment is redesigning, and will re-release the Dragon Ball Z trading card game.

"The timing of this is perfect. Dragon Ball Z returns to broadcast this spring and there are a lot of Dragon Ball initiatives coming from other major Dragon Ball licensees in the next few months," says Jason Taitano, director of games at SCORE.

The return of the DBZ TCG will feature original characters that combat with physical and energy attacks. Some original Dragon Ball Z cards will be compatible in the premier edition of the enhanced Dragon Ball Z. FullStory