Message Boards
Magic: The Gathering
Yu-Gi-Oh!
Dragon Ball Z
Duel Masters
Pokemon
Vs. System
Megaman
HeroClix
Anime
Yu Yu Hakusho
NeoPets
Harry Potter

- About Us
- Advertise on Pojo
- Our Sponsors

Please Support
Our Sponsors

Pojo's Friday News Page
August 26th - 2005
PRESS RELEASE
NEW 'CODENAME: KIDS NEXT DOORTM TRADING CARD GAME' SEEKS TO BE "NUMBUH ONE" AMONG YOUNG CHILDREN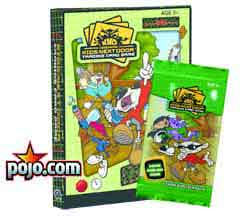 Renton, Wash. (August 2005) — This summer. children everywhere are invited to join the covert team of operatives known as the Kids Next Door by playing the first-ever game featuring the agents from Cartoon Network's popular animated series Codename: Kids Next Door. CODENAME: KIDS NEXT DOOR Trading Card Game (TCG), released by Wizards of the Coast, a developer and publisher of game-based entertainment products and a subsidiary of Hasbro, Inc., (NYSE: HAS), is especially designed to appeal to young children new to the trading card game genre.

Codename: Kids Next Door, the story of five extraordinary 10-year-olds, who have formed a covert team called the Kids Next Door launched on Cartoon Network in December 2002 and quickly gained a loyal fan base. The Kids Next Door invites kids to join a secret club empowering them to solve extraordinary missions using technology and teamwork while fighting for kids' rights.

CODENAME: KIDS NEXT DOOR TCG players start with a deck of cards featuring the five agents on 5 different color cards. On their turn, players decide if they want to engage in a face-off competition using their top card, or instead place that card into the Kids Next Door's tree house headquarters. Cards placed in the tree house help boost the power of cards that are played in future face-offs.

When cards are played in a face-off, the player with the higher number (which may get boosted by a card banked in the tree house) wins the round. The first player to win 5 rounds wins the game, ensuring an entire game can be played in five minutes or less.

And what happens when each player plays a same-colored card? Both players race to be the first to slap a giant panic button placed on the playing mat to determine the round's winner.

"CODENAME: KIDS NEXT DOOR TCG provides a fun and easy point of entry for six to eight-year olds to begin enjoying the fascinating game play found exclusively in trading card games," said Debbie Uttecht, Senior Brand Manager at Wizards of the Coast. "The new game provides a foundation for understanding the core elements of trading card games and incorporates just enough strategy to match the skill level of young children."

The starter set, which includes cards, playing mat and panic button, has a suggested retail price of $8.99. Booster packs, which expand the game play, have a suggested retail price of $2.99. Wizards of the Coast will produce the game via a licensing agreement with Warner Bros. Consumer Products.
---
PRESS RELEASE
The World of Warcraft Trading Card Game Available In Spring '06

CARLSBAD, CA – August 18, 2005 – Setting the mark as the industry's leader in innovation, Upper Deck Entertainment (UDE), a division of The Upper Deck Company, announced today plans to create and distribute a trading card game (TCG) based on the biggest name in the Massively Multiplayer Online Role Playing Game (MMORPG) genre, World of Warcraft®. Teaming up with award-winning and internationally recognized online computer gaming company Blizzard Entertainment®, Inc., Upper Deck's World of Warcraft TCG -- and it's supporting Organized Play programs -- will be available to consumers in Spring of 2006.

"The World of Warcraft TCG will perfectly capture all of the action-packed combat and furious competition that online players have come to expect," said Jerry Bennington, Senior VP of Upper Deck Entertainment. "There are a myriad of similarities between online and TCG gaming communities; Blizzard and Upper Deck have focused on creating products that both support and capture the imagination of these gamers. With the combined efforts of these two great companies the World of Warcraft TCG will be nothing less than phenomenal."

"TCG's have always been very popular with Blizzard's development teams, so we're especially excited to be working with Upper Deck to produce a card-based World of Warcraft game," commented Mike Morhaime, Blizzard Entertainment president and co-founder. "In addition to offering our players a new way to experience Azeroth, this new game will also introduce World of Warcraft's fantasy setting to a whole new audience."

"Upper Deck is proud to offer a robust organized play structure which allows players to come together for special events from all around the world," said Jeff Donais, UDE Director of Game Development. "Among the activities, players will be able to build their decks and attend events that let them challenge Onyxia, or raid Molten Core in an attempt to defeat Ragnaros with the hopes of getting powerful Epic cards. We expect a tempest of activity surrounding the game and plan to support it to the fullest for many years to come."

World of Warcraft is currently one of the most popular MMORPGs in the world, with more than three and a half million paying customers playing the game in North America, Australia, New Zealand, Korea, Europe, China and Singapore. In World of Warcraft, players assume the roles of legendary heroes and interact with thousands of other players online as they explore, adventure and quest across a vast realm. Whether journeying together or fighting against one other in epic battles, players form friendships, forge alliances and compete against enemies for power and glory.
---
PRESS RELEASE
WizKids Announces Battlestar Galactica CCG

August 18, 2005 (SEATTLE) — WizKids Inc., creator of the runaway hit games HeroClix® and Pirates of the Spanish Main™, announced today its agreement with Universal Studios Consumer Products Group to develop a collectable card game (CCG) based on the new SCI FI Channel Battlestar Galactica series.

"We couldn't be happier to add our tradition of innovative gaming to one of the hottest science fiction properties available," said Mike Samora, vice president of Sales and Marketing at WizKids®. "The success of the television show has introduced a new generation to the Battlestar Galactica story, and a game is the natural expansion of that introduction." The game, slated for release in early 2006, features characters, ships and familiar scenes from the miniseries and television show on the SCI FI Channel.

Game play will mirror the intrigue of the television show: Players won't know whom to trust, who the Cylon agents are or where the next attack will come from! Players will battle for ownership of resources and influence in order to control the fleet.

The Battlestar Galactica CCG will be supported by the WizKids Approved Play program
---
PRESS RELEASE
Mage Knight: Nexus Releases!

August 24 2005 (SEATTLE) — WizKids Inc., creators of the runaway hit games Pirates of the Spanish Main and HeroClix, are proud to announce the release of Mage Knight Nexus, the latest expansion for the Mage Knight Collectable Miniatures Game (CMG)

"Mage Knight Nexus brings Mage Knight back to its roots," said Mike Samora, Vice President of Sales and Marketing for WizKids Inc. "We offered updated versions of many favorite characters from across the Mage Knight timeline, and gave many of them new stats and paint schemes." Mage Knight: Nexus features over 144 figures, each of them with an ability nexus and slots to wield Items and Relics – an important ability in the Mage Knight game.

Earlier this year, it was announced that Mage Knight Nexus would be the last release for the Mage Knight CMG in its current format. The brand will continue on the PC with the release of Mage Knight Apocalypse early next year.
---
PRESS RELEASE
KONAMI DIGITAL ENTERTAINMENT, INC. LICENSES INTERACTIVE GAMES BASED ON MARVEL ENTERPRISES, INC./ UPPER DECK COMPANY TRADING CARD GAME

Gaming Industry Leader Adds Property To Its Stable Of Hugely Successful Trading Card Based Video Games

LOS ANGELES – August 18, 2005 – Konami Digital Entertainment, Inc. announced today a multi-year agreement with Marvel Enterprises, Inc. and Upper Deck Entertainment that gives Konami exclusive worldwide interactive rights to develop games for current and next generation video game systems based on Upper Deck Entertainment's best-selling Marvel Trading Card Game. This is the latest addition to Konami's collection of interactive trading card based properties, which also includes the tremendously successful Yu-Gi-Oh! series.

"The Marvel characters are among the most recognizable icons in popular culture, with a significant presence across all media," said Kazumi Kitaue, Chairman and CEO of Konami Digital Entertainment, Inc. "When combined with Konami's experience in developing successful video games based on trading card properties, this will give consumers a powerful new way to interact with some of their favorite Marvel characters, especially as the online community expands."

"The Vs. System utilizes the strengths of the Marvel characters and universe in a unique and compelling way," said Jerry Bennington, Vice President of Entertainment at Upper Deck. "Upper Deck Entertainment is excited to be working with industry giants such as Konami and Marvel Enterprises on this amazing project."

"Given the vast popularity of the "Marvel Vs." card game, we are very excited to be working with both Upper Deck and Konami in bringing "Marvel Vs." to the world of interactive gaming", said Ames Kirshen, Vice President, Interactive at Marvel Enterprises.
---
Sci-fi fans flock by the thousands to Indiana gaming convention

From its humble beginnings in 1967 as a one-room meeting with 200 board game fans, the convention known as Gen Con has grown into a four-day confab of 5,300 gaming events - including live-action role playing, a gamer Olympics, fantasy card games and historical board games. FullStory
---
Konami Shuffles Marvel
Or at least snaps up the rights to the trading card game anyway.

Konami loooooves their trading games. The kind of numbers that Yu-Gi-Oh pulls down show that they aren't the only ones. Sure the real trading card game, the cartoon built up around it and the masterful blending of marketing and interactive real-life gaming that took place before Yu-Gi-Oh ever hit the states was pure genius, but there is a real attraction there.

It'd be criminal, then, not to capitalize on what could be another up-and-coming TCG/game tie-in -- or so Konami apparently believes -- since they took the plunge and shelled out for the Marvel trading card game rights. Given that the game's innovative Vs. System for one-on-one character duels managed to net the TCG Inquest's 2005 Fan Award and the GAMA 2005 Gamer's Choice award, it certainly seems like a hot property. FullStory
---
Screens from Shaman King: Power of Spirit (PS2)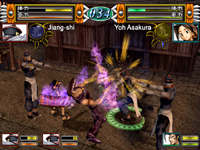 FullStory







---
Sega Shells Out Cash for Gotoku
New Shenmue-like game costs almost as much as Shenmue.

Yesterday, SEGA officially unveiled Ryu Ga Gotoku, a new PS2 project set for Japanese debut later this year. In development with producer Toshihiro Nagoshi at SEGA's NE R&D Division, Ryu Ga Gotoku has many similarities with SEGA's Dreamcast Shenmue project, including a massive scope and a sense of reality about the world. Today, we learned of one additional similarity: cost. FullStory
---
Worm in Pokemon emails

Clearly targeting the younger emailers, the worm arrives with the email subject "Pikachu Pokemon". The email purports to be from the Pikachu website and contains an attachment file "pikachupokemon.exe" which will only run if the file MSVBVM60.dll is installed and available on the system. FullStory
---
Pokémon Mysterious Dungeon screenshots emerge

First screenshots from the upcoming RPG for the Game Boy Advance and the DS. FullStory
---
NINTENDO'S EURO WI-FI ON SCHEDULE

DS set to go online at Mario Kart launch, Animal Crossing not too far behind!

Nintendo's Head of European Marketing, Jim Merrick, has outlined the company's plans for their upcoming launch of the much-vaunted Wi-fi Connection Service across Europe in an interview with French website Puissance-Nintendo.

As with US and Japanese territories, Nintendo hopes to offer wi-fi access via private home internet connections and through public hotspots, pushing its vision of an anywhere-anytime service for all DS owners. FullStory
---
Nintendo to release DS Rumble Pack; 170 games in Fall

Nintendo will bundle a Nintendo DS Rumble Pack with the release of Metroid Prime Pinball on October 24th. The DS Rumble Pack fits in the Game Boy Advance slot of the DS.
The company previously included a Rumble Pack with StarFox 64 for the Nintendo 64 in 1997.

In addition, Nintendo plans to release 170 new games this Fall for the Nintendo DS, Game Boy Advance, and GameCube. FullStory
---
No strong link seen between violent video games and aggression

After an average playtime of 56 hours over the course of a month with "Asheron's Call 2," a popular MMRPG, or "massively multi-layer online role-playing game," researchers found "no strong effects associated with aggression caused by this violent game," said Dmitri Williams, the lead author of the study. FullStory
---
Nintendo Unveils Micro Accessories August 18, 2005

Nintendo of Japan has revealed three accessories for the upcoming Game Boy Micro.

What's a new-model game system launch without new accessories? Apparently nothing, that's what, as Nintendo has announced a few new accessories for the latest iteration of the GBA, the Game Boy Micro. These items may not excite anyone, but a few of them will prove useful for fans of multiplayer titles.

First up is a wireless adapter. Yes, it is capable of communication with the somewhat recently released GBA wireless adapter made famous by the Pokemon games it supports. Next up is a standard link cable that can be used for multiplayer games that don't support the wireless adapter (which is most of them) and finally an adapter that will allow the Micro's link up cable to be used with the previous GBA models.

All three peripherals are on display on Nintendo of Japan's website here. FullStory
---
Sega's Project J Revealed
A new Shenmue-like PS2 game from the Super Monkey Ball team.

As reported here at IGN a few weeks back, legendary Sega producer Toshihiro Nagoshi (Super Monkey Ball, F-Zero GC, Spikeout) is currently working on Project J, a new PS2 game so big that SEGA promised to hold a press conference in late August exclusively for its announcement. Well, it's late August, and Sega has at last held the press conference. The place: Club Heights in the red lights Kabukicho area of Tokyo's Shinjuku ward. The subject: the announcement of Project J, now formally known as "Ryu Ga Gotoku."

Ryu Ga Gotoku, a name that can be translated to English as "Like a Dragon," is an action-adventure title with a story and setting focusing on the darker side of Tokyo life. FullStory
---
GenCon 2005 Wrap-up
In which Delsyn rediscovers his love of gaming by hanging out with people who -- ya know -- actually play games.

I've decided to come out of the closet. I'm a geek. That's right. A 100% card-carrying geek, and I've decided to declare it with pride. It's really easy to get jaded and cynical in this business. Hang out in an utterly insane, fad and hit-driven business like video games and you'll find it's very easy to get caught up in the details and miss out on the fact that gaming is supposed to be fun.. Going to GenCon this year, though, offered me something I haven't had a chance to do much of for a lot of years -- just be a gamer. I was there to cover the videogame aspects of the show, which I did. What I discovered, though, is there's a whole world of analog gaming going on that I simply knew nothing about. In between those moments I was hanging out at the Blizzard booth playing Starcraft: Ghost or fooling around with Fable: The Lost Chapters, I managed to sneak in some time to play these wild board and card games I had never heard of and revisit some old favorites I haven't played in years. FullStory
---
Puffy AmiYumi will rock you

Japan has become an economic giant exporting Sony electronics and Honda cars -- but over the past several years, the country has been adding to its export menu with the international cultural sale of Puffy AmiYumi, the cute girl group.

The Puffys already appear as cartoon figures on the Cartoon Network, where they show up as anime versions of themselves -- Ami and Yumi -- singing and mincing their way through the program. FullStory
---
"Pokémon" Deoxys Download Event

Nintendo is hunting down its biggest and boldest Pokémon fans this Autumn to help search for the elusive Deoxys. Pokémon fans across the country can download Aurora Tickets onto their Pokémon LeafGreen version and Pokémon FireRed version games. The Aurora Ticket allows players to visit the previously inaccessible Birth Island and capture the elusive Pokémon, Deoxys! FullStory
---
Pokemon Fire Red & Leaf Green
Capturing Pokemon Pokedex
Source
---
If You Enjoy Picking Up Virtual Doggy Doo, You'll Love 'Nintendogs'

The 1970s had pet rocks. The '80s introduced the Chia Pet. And the '90s brought the world the digital lives and deaths of Tamagotchi. In 2005, can a company that built its reputation on the back of an ape named Donkey Kong and a plumber named Mario turn Americans into lovers of virtual dogs?

That's the gamble Nintendo is taking this week as it releases a virtual puppy simulator called "Nintendogs," for its Nintendo DS handheld, to a video game audience more accustomed to guns, gangsters and football than fur, squeak-toys and digital doggy doo. FullStory
---