Message Boards
Magic: The Gathering
Yu-Gi-Oh!
Dragon Ball Z
Duel Masters
Pokemon
Vs. System
Megaman
HeroClix
Anime
Yu Yu Hakusho
NeoPets
Harry Potter

- About Us
- Advertise on Pojo
- Our Sponsors

Please Support
Our Sponsors

Pojo's Friday News Page
April 17th (Sunday) - 2005
PRESS RELEASE

Kirby Comes Right Back At Ya with His First Full-Length Movie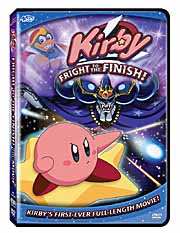 Kirby: Fright to the Finish-The Movie
Available June 14, 2005 on DVD and VHS

4Kids Entertainment Home Video, Inc., the home video unit of 4Kids Entertainment, Inc. (NYSE: KDE), in association with FUNimation Productions LTD, will release Kirby: Fright to the Finish-The Movie at retailers across the country on June 14, 2005, it was announced by Joe Lyons, Director of Home Entertainment, 4Kids Entertainment.

One of Nintendo's most popular characters of all time, Kirby pours on the power with more laughs, more action and more adventure in his first full-length movie. Is this Kirby's final battle? Will this be the end of Dream Land?

When a fleet of mysterious spaceships attacks Dream Land, Kirby embarks on a nerve-shattering journey into deep space and confronts his ultimate nightmare.the diabolical eNeMeE. Can Kirby defeat the dark force of eNeMeE's malevolent mindscape, or will eNeMeE realize his devilish dream of total domination?

In addition to the full-length movie, the DVD includes:
. Bonus Kirby Episode: Hour of the WolfWrath
-- WolfWrath injures Meta Knight and Blade and Sword must now defeat him with Kirby's help.
. Music Video: Kirby 'If Ya Can't Beat 'em, Eat 'em . Music Video: What's Cooking on Kirby

On June 13, 2005, the day before Kirby: Fright to the Finish-The Movie is released, Kirby will make his Nintendo DS debut in the new game Kirby: Canvas Curse.
---
"Yu-Gi-Oh! Online"
Full-Scale Service to Start Simultaneously in Japan, US and Europe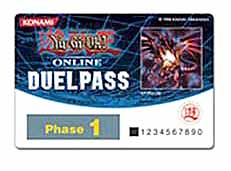 Konami Corporation (hereafter referred to as Konami) announced today that it will start full-scale service for its new "Yu-Gi-Oh! Online" game simultaneously in Japan, US, and Europe on April 11, 2005 at 9:00 a.m. Pacific Standard Time (PST). The new game faithfully reproduces Konami's "Yu-Gi-Oh! Official Card Game" over the Internet.

In order to allow a wide range of customers to engage in online battles, Konami will introduce a pay system using the new "DUELPASS," which will be sold worldwide. "DUELPASS" is a pay system Konami has developed exclusively for its "Yu-Gi-Oh! Online" game. FullStory
Official Site
---
Dungeons & Dragons Online sign-ups starting

New MMORPG based on legendary pen-and-paper fantasy game adventures on PCs later this year.

Turbine Entertainment, developer of the Asheron's Call franchise, today announced that it has opened sign-ups for the alpha testing of its forthcoming online role-playing game, Dungeons & Dragons Online. The game is the first massively multiplayer online RPG based on the fantasy game from TSR and Hasbro subsidiary Wizards of the Coast, and it will be released in the second half of this year. Atari will be publishing the game in North America and Europe, and Turbine will publish localized versions in Asia.

The alpha testing, which begins in "the near future," will give gamers a chance to get a sneak peek at the game's fantasy world if they meet Turbine's requirements. A limited number of players will explore the realm of Stormreach with created characters from D&D races, such as elves, dwarves, and humans. More players are expected to be added incrementally.

Gamers looking to get in on the alpha testing should head over to Turbine's registration page. For more information on Dungeons & Dragons Online, check out GameSpot's previous coverage. SOURCE
---
Mad's Spy vs Spy on Xbox

Featuring eight action-packed single and multiplayer game modes, Spy vs. Spy lets gamers take on the roles of the diabolical spies from MAD Magazine's beloved long-running comic strip. In addition to split-screen offline multiplayer, Spy vs. Spy allows up to four people to participate in wild online skirmishes with support for Xbox Live.

Spy vs. Spy is rated T for teen and is available in retail stores now. FullStory
---
XBox Vs. PS2: Systems Reviewed Head to Head

There has been a great deal of discussion regarding the two most popular gaming consoles currently on the market: Playstation 2 (PS2) and Xbox. PS2 is a Sony product, while Xbox is owned by the software giant Microsoft. Many different people have worked with these gaming systems inside and out, attempting to determine which system provides the best performance for your hard-earned gaming dollar. Here we take a look at each gaming system and compare the specs and performance of each. We will attempt to answer that age-old question: which is the better gaming system, Xbox or PS2? FullStory
---
God of War on the PS2 Reviewed

The PS2 has come a long long way, at the end of the road is God of War. First of all, there is no doubt that this is the best looking action-Adventure game on the PS2, and one of the best looking games in general on all the consoles. I have to start off with that water, well, I haven?t seen anything this good yet on a console before...Its just mind-blowing, and its not just a texture like let's say in halo 2. FullStory
---
Pokemon Emerald - Get Ready to Preorder

Pokemon Emerald Nintendo has announced that any interested in the new Pokemon Emerald game for GameBoy Advance may preorder it now. FullStory
---
Electroplankton Nintendo DS for all ten of you

Nintendo continues their long tradition of offering Super Duper Special Edition handhelds to people who give them copious amounts of personal information. This time around, Electroplankton gets its own skin on a standard silver DS. The results are as odd as the game it commemorates.

There are only ten of these in existence. To get one you have to go to the Electroplankton exhibit in Tokyo and fill out the survey. If you win, you have one. If you don't, you never will. SOURCE
---
DS Owners Style with the Stylus

Since the Nintendo DS's launch, owners of the handheld have found that the wireless messaging program, PictoChat, can be used to create unique and artistic drawings using the DS stylus and dual screens. Originally created just for wireless messaging and scribbles, PictoChat has demonstrated a new form of videogame creativity. FullStory
---
World Championship Poker Ships for DS

Video game publisher Crave Entertainment announced today that their latest title, World Championship Poker: Deluxe Series, has shipped to retailers nationwide for the Nintendo DS. The game features 4 different themed casino settings, which will also include blackjack and video poker.

There will be up to 10 poker games to choose from, including Texas Hold 'em, Five Card Draw, Baseball, and Seven Card Hi-Lo. Players will also be able to compete against their friends in mini poker tournaments using the DS's wireless functions. FullStory
---
Another Dragon Ball for PS2

According to the latest issue of the Japanese magazine Shonen Jump, Bandai Corporation has announced a brand new title in its always-popular Dragon Ball Z franchise. Known simply as Dragon Ball Z Sparking!, the new game is said to be more action-oriented with an emphasis on greater movement and freedom. Of course, there will still be hand-to-hand fighting combat in addition to more than 40 different selectable characters in all. It is said that the title should be also completed in time for a release in Japan later this year. FullStory
---