11.21.03 FIRE UP YOUR GAME WITH THE NEWEST POKéMON-E TRADING CARD GAME: EX DRAGON
Roars Into Stores Nationwide on November 24
**************************************************************************
REDMOND, WA, November 21, 2003 – Nintendo of America Inc.,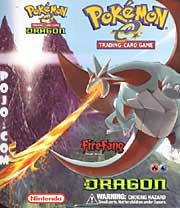 distributor of both video and trading card games for the Pokémon franchise, will ignite the hottest expansion yet for the Pokémon Trading Card Game EX series with the release of Pokémon-e TCG: EX Dragon on November 24th. Players can heat up the holidays by battling with 97 new cards and new Dragon-type Pokémon, featuring dragon-themed attacks. Game play sparks with enhanced strategic challenges, and 26 newly introduced Ruby and Sapphire Pokémon, while the e-Reader bonus feature continues to kindle surprises by providing EX-panded Pokédex information.

Completely compatible with previous Pokémon Trading Card Game releases, Pokémon-e TCG: EX Dragon adds several new elements enhancing playability. Dragon-themed attacks, such as Dragon Claw, Dragon Flame and Dragon Wave, lend a new facet to traditional game battles that pit the new Dragon-type Pokémon, such as Flygon, Salamence and Rayquaza, against one another. Players will be able to experience this new playability and try out these new attack strategies at Organized Play events. For more information on Pokémon Organized Play, go to

www.pokemon-tcg.com.

"EX Dragon challenges players to use their imaginations and strategies in ways they've never had to before," says Gail Tilden, Nintendo's Vice President, Brand Management. "From the fiery design of the new Dragon-type Pokémon card art, to the unique package design and the enhanced strategic capabilities, the sky is literally the limit with EX Dragon. We know this release, backed by a multi-million dollar marketing campaign, will excite current fans and capture the attention of more new players than ever before – helping them to 'fire up their game!'"

Pokémon-e TCG: EX Dragon theme decks and booster packs go on sale November 24th with a MSRP of $10.99 for the theme decks and $3.29 for the booster packs. Theme decks include a 60-card deck, including one holographic card, a card list, game coin, damage counters and an updated rulebook. Each booster features nine randomly inserted game cards (five common, two uncommon, one rare, one reverse foil). Nintendo's Game Boy Advance and e-Reader are required to access the expanded Pokédex information.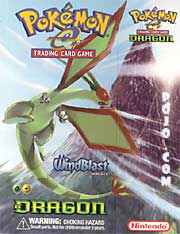 Pokémon USA, Inc., the New York-based subsidiary of The Pokémon Company in Japan, manages and oversees the Pokémon franchise in North and Latin Americas, which includes licensing, merchandising, TV animation, theatrical releases, home video entertainment, the official Pokémon website, the Pokémon Center NY in Rockefeller Center and PokémonCenter.com, an e-commerce site. Pokémon was launched in Japan in 1996 for play on Game Boy®, the world's best-selling video game system. It has since evolved into a global cultural phenomenon. Since the Pokémon franchise arrived in North America in September of 1998, more than 110 million Pokémon video games have been sold worldwide by Nintendo. Pokémon merchandise has generated over $15 billion in worldwide retail sales since 1998. The trading card game, fueled by organized play programs in 47 countries, has spurred global sales of 10 billion cards to date. The Pokémon television series airing on both Kids WB and Cartoon Network is in its fifth season and currently enjoys a position consistently in the top 3 shows for Boys 6-11, achieving its highest ratings since 2000. For more information on Pokémon, go to

www.pokemon.com.

As the worldwide leader and innovator in the creation of interactive entertainment, Nintendo Co., Ltd., of Kyoto, Japan, manufactures and markets hardware and software for its popular home video game systems. The systems include Game Boy®, Nintendo 64®, Game Boy® Advance and Nintendo GameCube™. Since the release of its first home video game system in 1983, Nintendo has sold more than 1.8 billion video games worldwide, creating enduring industry icons such as Mario™ and Donkey Kong® and launching such franchises as Zelda™ and Pokémon®. Nintendo of America Inc. has marketed and distributed Pokémon video games in North America since 1998. Pokémon-e TCG: EX Ruby & Sapphire marked NOA's first release in the Pokémon-e TCG product line. As a wholly owned subsidiary, Nintendo of America Inc., based in Redmond, Washington, serves as headquarters for Nintendo's operations in the Western Hemisphere. For more information about Nintendo, visit the company's website,

www.nintendo.com.