The New Tins
by Scott Gerhardt
Recently, Upper Deck came out with some new tins for Christmas. So what's my job? Well, I'm gonna tell you about them. :)
So what we have here is 4 different tin variants: Wolverine, Magneto, Spider Man, and Doctor Octopus. Sorry DC fans - no tins for you yet. Maybe once Superman comes out, we'll have something. The contents of the tins are all the same - 4 booster packs plus a variant card featuring the guy on the front. Now for a little Q&A:
What versions are in the tins?
The Spider-Man is the 3 drop, the Wolverine is also the 3 drop, the Doctor Octopus is the 4 drop, and the Magneto is the 5 drop.
What makes the card variant?
Well, not only are they extended art, they are also ALTERNATE art. That's pretty cool. In my opinion, the art on these cards is better than the art on the originals. Just to be nice, I will post the art here so you can see them. :)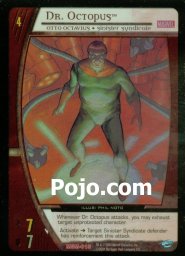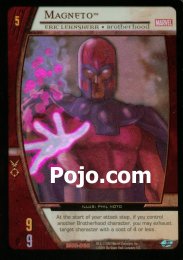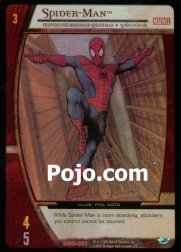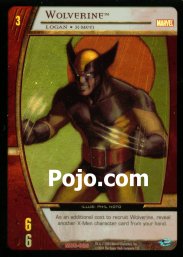 What booster packs come in the tin?
There are 4 - Two Marvel Origins, two Web of Spider-Man. The Web boosters are 1st edition, the Origins boosters are Unlimited.
Is there anything else I should know?
Not really. Just cards cards and the 4 boosters. You could use the tin's plastic insert to hold a deck if you wanted.
This is something I wanted to hit on. The tins are kinda odd shaped - not necessarily rectangular. Look at these scans and see if you can tell what I mean: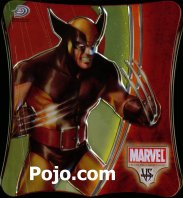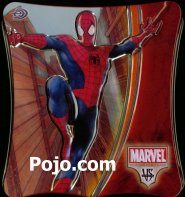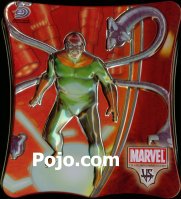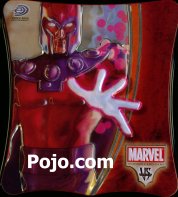 Because of this, the tins aren't real good for holding cards later - their design makes that semi-problematic. Then again, the bumps, while reducing the useable size of the tin, might makes the cards in it easier to get in and out. Either way, they're still quite nicely sized to use as cookie tins. :)
Overall, this is a nice little Christmas gift. They are low on the retail end, and who can't use some extra boosters and a good alternate card. All 4 of the cards are good, so you really can't go wrong either way.
www.ShuffleAndCut.com will have these tins available for sale shortly, so look for them there!
Until next time, keep playing!