Pojo.com's Magic: The Gathering News
September 25, 2013
<![if !vml]>

<![endif]>
<![if !vml]>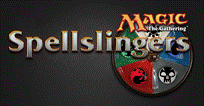 <![endif]>
***FELICIA DAY'S GEEK & SUNDRY AND WIZARDS OF THE COAST LAUNCH 'SPELLSLINGERS,' A NEW SHOW BASED ON MAGIC: THE GATHERING***
WHAT: THE SHOW
Spellslingers is a new show based on the phenomenally popular trading card game, Magic: The Gathering. Presented by web TV personality Sean "Day[9]" Plott, the show exposes viewers to fun-filled, fast-taking and adrenalin-paced battles that highlight a myriad of the latest cards. In each episode a new geek icon will take on our expert Sean with the hope of emerging victorious in an all-or-nothing match. In the premiere episode, Sean goes head to head with E-sports caster Rob Simpson (StarCraft II caster and Red Bull eSports manager). Upcoming guests include Grant Imahara, Bobak Ferdowski and Felicia Day. Starting today, be part of this exciting Magic experience every other Wednesday, only on Geek & Sundry.
Magic: The Gathering is the first and most widely played trading card game. Players take on the role of Planeswalkers – powerful mages who battle others for glory, knowledge and conquest. Their weapons include spells, creatures, and artifacts gathered from a vast Multiverse of unique fantasy worlds. With more than 12 million players and fans worldwide, Magic is printed in 11 languages and played in more than 70 countries. For more information, visit www.magicthegathering.com.
WHEN: The premiere episode aired Wednesday, September 18th 2013 at 10am PT / 1pm ET
WHERE: Geek & Sundry Network: http://www.youtube.com/geekandsundry
Digital entertainment company Geek & Sundry presents the best in internet television and online's foremost geek voices. Founded by the producers of the hit web series The Guild, Geek & Sundry offers a diverse lineup of shows that create a hub for fans of comedy, gaming, comics, music, and literature around the world. Spearheaded by prominent geek figureheads, Geek & Sundry features original content by Felicia Day (The Guild, Dr. Horrible, Eureka) and Wil Wheaton (Star Trek, The Big Bang Theory).
Check out the network's slate of shows: http://youtu.be/lxZq37eHw1s
WHO: Host Bio:
Sean "Day[9]" Plott is an internet TV host best recognized as an evangelist and influencer in the gaming, game lifestyle and e-Sports fields, with over 5 million views each month. His web show Day[9] Daily and autobiographical story, My Life of StarCraft, based on Sean's experiences in the industry have both been widely acclaimed. Sean is also a staple in the games scene as a commentator for Blizzcon, ESL, Dreamhack and NASL tournaments. Most recently, Artillery Games announced that he has joined their studio in a games design role. Sean started his career as a former professional games competitor where he won multiple games honors such as placing 1st at the World Cyber Games USA Tournament in 2005 and as PC Gamer Magazine's "Gamer of the Year" in 2010.