Pojo.com's Magic News
November 8, 2012
Magic: Duels 2013 Deck Pack #1 Now Available!
Wizards of the Coast has released the first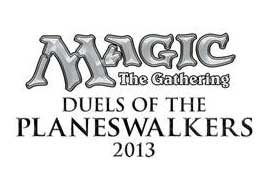 Deck Pack for Duels of the Planeswalkers 2013 on Xbox LIVE Arcade, PlayStation Network, Steam (PC) and iPad. Available for $2.99, the Deck Pack features two brand new decks – Act of War & Sky and Scale. These two decks bring even more depth to Campaign and Multiplayer gameplay.
Here's a little taste of what each new deck offers:
Act of War

: The horns sound. To war! With the red and white "Act of War" deck, your heroes will cut a path to the enemy's door. If they stumble, cast tide-turning spells to light their way.

Sky and Scale

: Hold your ground and rule the skies with this green and blue deck. "Sky and Scale" starts slow and steady but wins by summoning titanic flying creatures to end your foes' hopes.
The Deck Pack also comes with the foil conversions for both Act of War & Sky and Scale.
Beginning on November 21, players will be able to purchase either of these decks and/or their foil conversions individually, as well.