Pojo.com's Magic News
December 13, 2010
GUILLAUME MATIGNON PREVAILS AT
2010 MAGIC: THE GATHERING WORLD CHAMPIONSHIP IN CHIBA, JAPAN
December 12, 2010—The best Magic: The Gathering players in the world converged in Chiba, Japan this weekend for the 2010 World Championships. Over 350 players representing more than 50 countries battled in four days of head-to-head competition until Guillaume Matignon of France victoriously earned the coveted title of World Champion.
Taking home the title of World Team Champion was the Slovak Republic, which included players Robert Jurkovic, Ivan Floch and Patrik Surab reigned supreme. The Magic Online Champion, Carlos Romao of Brazil, was also crowned.
Rounding out the top eight players from the 2010 World Championships in Chiba:
1. Paulo Vitor da Rosa – Porto Alegre, Brazil
2. Love Janse - Linkoping, Sweden
3. Guillaume Wafo-tapa – Nantes, France
4. Eric Froehlich – Las Vegas, Nevada
5. Lukas Jaklovsky – Prague, Czech Republic
6. Christopher Wolf – Oberwaltersdorf, Austria
7. Jonathan Randle – Chester, England
8. Guillaume Matignon – Bordeux, France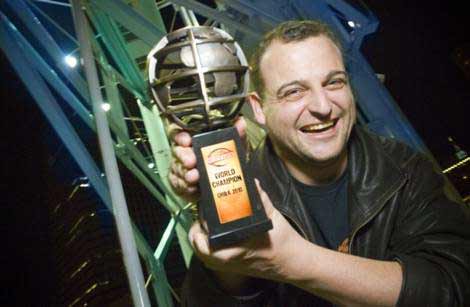 Wizards of the Coast also honored Magic Rookie of the Year Andrea Giarola (Italy), and Pro Tour Hall of Fame inductees Brian Kibler (Oceanside, CA), Gabriel Nassif (France), and Bram Snepvangers (Netherlands).
The 2010 World Championships was a four-day tournament where players from around the world gathered to test their skills. In addition to the main competition, the weekend also included several public events for Magic fans of all ages and skill levels.
The Magic Pro Tour is the highest form of competitive play for the collectible trading card game and its series of top-level tournaments lends itself to Magic players and fans all over the world. The first 2011 Magic Weekend for the Pro Tour and accompanying public events will take place February 10-13 in Paris, France.