Magic Poster Child, Jon Finkel, Wins $40,000 at Malaysian Tournament

Finkel, Nicknamed "Jonny Magic," Sweeps Magic: The Gathering's Pro Tour Kuala Lumpur
WHAT: This past weekend, in Kuala Lumpur, Malaysia, gaming icon Wizards of the Coast awarded Jon Finkel of New York City with $40,000 and the coveted title of Pro Tour Champion. Considered by many as the best Magic player in the World, 29-year-old Finkel holds a seat in Magic's Hall of Fame, the 2000 Magic World title and is a seasoned player of nearly 15 years.
"The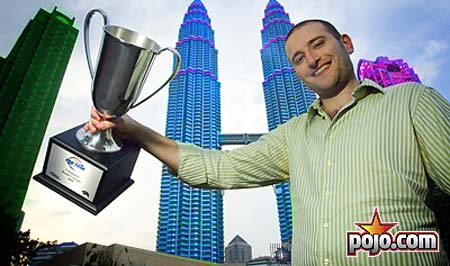 vast majority of my friends today are friends that I've met playing Magic throughout the years," said Finkel. "It's rare to find a field that encourages so much positive peer-to-peer interaction."
Finkel's win in Kuala Lumpur marks his third Pro Tour victory. Currently, he is ranked second in lifetime Pro Tour earnings with more than $300,000 won in Wizards' sanctioned tournaments. Since 1996, Wizards of the Coast has given away more than $28 million in Magic: The Gathering prize money.
Finkel is known to many outside of the Magic circuit for his success playing in high-level poker tournaments and as the subject of the book Jonny Magic and the Cardshark Kids by David Kushner. After two years of hiatus from competitive Magic play, Finkel said he returned to the Magic Pro Tour because of his competitive nature.
"I love playing Magic because it's a well-made game that encourages players to use their skill and intellect to win," said Finkel. "I enjoy competition and pressure, and Wizards gives you an opportunity to compete against the best Magic players in the World."
The Magic: The Gathering Pro Tour is the highest form of competitive play for the collectible trading card game. It is a series of high payout tournaments held throughout the world and run by the Wizards of the Coast "Organized Play" division, culminating in the Magic World Championships each year.
RESOURCES:
Professional webcast, Kuala Lumpur: http://www.wizards.com/default.asp?x=mtgevent/webcast/home
Professional podcast, Kuala Lumpur: http://www.wizards.com/default.asp?x=mtgcom/podcast/25
Prize money information: http://www.wizards.com/default.asp?x=protour/default/prizesawarded