ANTTI MALIN OF FINLAND WINS THE 2008 MAGIC: THE GATHERING« WORLD CHAMPIONSHIPS IN MEMPHIS AND THE UNITED STATES TAKES HOME THE TEAM TROPHY

Finnish Player Takes Home World Title and $45,000 in Prize Money
December 14, 2008 (Seattle, WA) –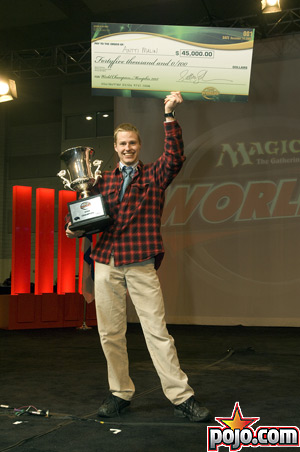 This past weekend Antti Malin of Finland competed in Memphis against hundreds of Magic: The Gathering professional players from around the world for the title of 2008 Magic: The Gathering World Champion and a cash prize of $45,000. Rounding out the top-three individual players were Jamie Parke of New York, New York who earned $24,000 in second place, and Akira Asahara of Japan who earned $15,000 in third place.
In addition to crowning the World Champion, the United States won the World Team Championship with a team of Paul Cheon of Highlands Ranch, Colorado, Sam Black of Madison, Wisconsin and Michael Jacob of Farmington Hills, Michigan. Each member of the team took home bragging rights, a trophy as well as a check for $4,000.
The World Championships for Magic: The Gathering attracted over a thousand novice and pro players from around the world to participate in competition and public events of this premier trading card game. For the World Championships, Wizards of the Coast pays out more than $250,000 in cash prizes and has given away more than $30 million in total prize money since 1996. For additional information, visit www.wizards.com/worlds.