Relative Newcomers from New Jersey Win $50,000 Cash Prize at Magic: The Gathering's Pro Tour San Diego
Pompton Plains' Chris Lachmann and Wayne's Jacob Van Lunen stun favored Japanese teams and seasoned professionals by bringing home the trophy
WHAT: This past weekend, in San Diego, CA, gaming icon Wizards of the Coast announced Chris Lachmann and Jacob Van Lunen of New Jersey the winners of its Magic: The Gathering« professional tournament (Pro Tour). Following the shortest final matches in Pro Tour history where the duo dispatched two strong and highly favored and seasoned Pro Tour players, judges awarded Lachmann and Van Lunen with a check for $50,000, along with first place trophies and the coveted title of Pro Tour Champion. Relatively unknown on the Pro Tour circuit, this win will position these gentlemen as favorites at the Magic: The Gathering World Championships in New York City this December. Since 1996, Wizards of the Coast has given away more than $28 million in Magic: The Gathering prize money.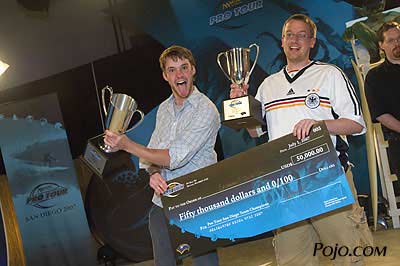 Chris Lachmann and Jacob Van Lunen came to Pro Tour San Diego with a plan that flew in the face of nearly every other established strategy. But who's telling these first-time Pro Tour players they're crazy now? Lachmann and Van Lunen started drawing attention after defeating Magic™ Pro Tour Hall of Famers Jon Finkel and Dave Humpherys in back-to-back rounds during Day One. They stuck with their plan all the way through three days of intense competition. The New Jersey duo steamrolled through the Top 4 in record time, dispatching Kentaro Yamamoto and Yuuta Takahashi of Japan in five turns in the finals after besting semifinal opponents and fellow Americans Eugene Harvey and John Fiorillo in four turns.
The Magic: The Gathering Pro Tour is the highest form of competitive play for the collectible trading card game. It is a series of high payout tournaments held throughout the world and run by the Wizards of the Coast "Organized Play" division, culminating in the Magic World Championships each year. This year, Wizards of the Coast has selected New York City as the host of the World Championships in December 2007.
RESOURCES: Professional footage shot in San Diego: http://www.youtube.com/profile?user=wizardsmtg