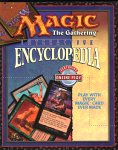 Get the MTG
Interactive Encyclopedia
from Amazon.com


Necropotence

It was the cornerstone of the best deck of all time. It has dominated
tournaments for almost five years. It is considered one of the most broken
cards of all time. This card is Necropotence. Necropotence was printed in
the Ice Age and Fifth Edition sets for Magic: The Gathering. When it was
released in the summer of 1995, its impact on the tournament scene was
rather limited. Decks built around Black Vise were everywhere, and a card
that could refill your hand every turn was considered sub-optimal at best,
as most people wanted to empty their hands quickly.

The card remained unused until 1996, when Black Vise was restricted from
tournament play. Shortly after Black Vise was restricted, the first Pro
Tour ever, New York, was held. The Pro Tour's format was a variation on
Type two which required the players to use at least five cards from every
legal set: Fourth Edition, Fallen Empires, Chronicles, Homelands, and Ice
Age. Leon Lindback played the first tournament Necro deck here, and got a
top four finish with the deck.

Leon Lindback's Necro deck
Artifacts (7)
2x Nevinyrral's Disk
2x Serrated Arrows
1x Ivory Tower
1x Jalum Tome
1x Zuran Orb

Creatures (11)
4x Hypnotic Specter
4x Order of the Ebon Hand
3x Knight of Stromgald

Spells (19)
4x dark Ritual
4x Hymn to Tourach
4x Drain Life
4x Necropotence
1x Dance of the dead
1x Soul Burn
1x Dark Banishing

Land (23)
17x Swamp
4x Strip Mine
2x Ebon Stronghold

Sideboard (15)
3x the Rack
2x Nevinyrral's Disk
1x City of Brass
1x Safe Haven
1x Apocalypse Charm
1x Feldon's Cane
1x Jalum Tome
1x Meekstone
1x Serrated Arrows
1x Ashes to Ashes
1x Stromgald Cabal
1x Torture

Necropotence had proven its worth to professional magic players, and use of
the card exploded. A Necropotence deck went on to win the U.S. Nationals
and place second at the World Championships that year.

Dennis Bentley's U.S. Nationals championship deck
Artifacts (3)
1x Black Vise
1x Ivory Tower
1x Zuran Orb

Creatures (12)
4x Black Knight
4x Hypnotic Specter
2x Knight of Stromgald
2x Order of the Ebon hand

Spells (21)
4x Dark Ritual
1x Dystopia
4x Hymn to Tourach
4x Icequake
3x Necropotence
4x Lightning Bolt
1x Fireball

Land (24)
14x Swamp
4x Sulfurous Springs
4x Strip Mine
2x City of Brass

Sideboard (15)
1x Contagion
2x Dance of the Dead
2x Dark Banishing
3x Dystopia
1x Infernal Darkness
1x Jester's Cap
2x Serrated Arrows
1x Shatter
2x Stromgald Cabal

Soon after Worlds, two key cards from the Necro deck, Hymn to Tourach and
Strip Mine, were restricted from tournament play. At Pro Tour Dallas, held
in late 1996, it was proven that the deck didn't need four copies of each of
those cards to still dominate. Paul McCabe won Pro Tour Dallas using a
powerful Necro deck built around cards that McCabe had considered "junky".
Cards like Mind Warp and Lake of the Dead.

Paul McCabe's Necro deck
Artifacts (7)
4x Nevinyrral's Disk
1x Ivory Tower
1x Serrated Arrows
1x Zuran Orb

Creatures (7)
4x Hypnotic Specter
2x Sengir Vampire
1x Ihsan's shade

Spells (23)
3x Contagion
4x Dark Ritual
2x Demonic Consultation
4x Drain Life
1x Hymn to Tourach
2x Mind Warp
4x Necropotence
3x Stupor

Land (23)
18x Swamp
2x Lake of the Dead
2x Mishra's Factory
1x Strip Mine

Sideboard (15)
1x Contagion
4x Dystopia
3x Infernal Darkness
1x Soul Burn
3x Stench of Decay
1x Stupor
1x Lodestone Bauble
1x Serrated Arrows

During 1997, however, popularity of the Necro deck started to wane. Fifth
Edition was released, and Hypnotic Specter and Strip Mine were both removed
from tournament play. Fallen Empires was also removed from tournament play,
and Zuran Orb was banned. At the 1997 Worlds, however, the Necro deck came
back, placing two people in the top eight.

John Chinnock's 1997 Worlds Necro deck
Artifacts (4)
4x Nevinyrral's Disk

Creatures (12)
4x Knight of Stromgald
4x Black Knight
4x Nekrataal

Spells (21)
4x Drain Life
4x Coercion
4x Ice Quake
4x Dark Ritual
3x Necropotence
2x Choking Sands

Land (23)
17x Swamp
4x Quicksand
2x Lake of the Dead

Sideboard (15)
4x Contagion
2x Serrated Arrows
1x Demonic Consultation
4x Dystopia
1x Necropotence
2x Infernal Darkness
1x Mind Warp

The Extended format was invented at the 1997 Worlds, and Pro Tour Chicago,
held late in 1997, was the first major tournament to use Extended as its
play type. The magic team CMU made its Pro Tour debut at Chicago, and they
brought with them a powerful Necro deck, designed by Erik Lauer. Randy
Buehler of Team CMU won this tournament, using the CMU Necro deck, which was
named "Lauerpotence."

LauerPotence
Creatures (9)
4x Order of the Ebon Hand
4x Knight of Stromgald
1x Ishan's Shade

Spells (27)
4x Demonic Consultation
4x Drain Life
3x Disenchant
4x Hymn to Tourach
2x Firestorm
2x Incinerate
4x Lightning Bolt
4x Necropotence

Land (24)
3x Gemstone Mine
3x Lake of the Dead
2x Bad River
4x Badlands
4x Scrubland
8x Swamp

Sideboard (15)
2x Circle of Protection: Black
1x Disenchant
1x Firestorm
3x Honorable Passage
2x Mind Warp
3x Pyroblast
3x Terror

At the same time, Tempest became legal in tournament play, and the
tournament scene changed once again. Mono-red Sligh and Living Death decks
became dominant, and the Necro decks couldn't out-race those decks. So, the
Necro deck evolved, becoming more control-like.

Control Necro 1997-98
Artifacts (8)
4x Bottle Gnomes
4x Nevinyrral's Disk

Creatures (3)
3x Nightmare

Spells (25)
4x Necropotence
4x Funeral Charm
4x Diabolic Edict
4x Stupor
4x Drain Life
3x Agonizing Memories
2x Spinning Darkness
2x Dark Ritual

Land (22)
18x Swamp
3x Quicksand
1x Volrath's Stronghold

Sideboard (15)
3x Perish
3x Dread of Night
3x Gloom
2x Nekrataal
3x wasteland
1x Phyrexian Furnace

At the 1998 Worlds, Necro decks went largely ignored, as most players had
turned to the power of Sligh and Recurring Nightmare/Survival of the Fittest
decks. In extended, however, LauerPotence became one of the more dominant
decks. During the 1999 Pro Tour season, various combo decks became popular,
and it seemed that every time one combo deck was eliminated due to a
banning, another combo deck became popular. Late in the 1999 season,
however, Necro decks gained an increase in popularity, and it showed at the
Junior Super series Tournament. The winner and the runner-up in the 15-17
catigory at the tournament both played Necro decks. I wish I could provide
you all with those deck lists, but my files on that tournament had gotten
corrupted. Soon after the Junior Super Series tournament, Sixth Edition was
released, and Necropotence was removed from the basic set.

The deck went largely un-played until Pro Tour Chicago 1999, held in
December of 1999. Two completely different versions of the Necro deck were
successful there. The first version was a combo deck called Cocoa Pebbles.
The Cocoa Pebbles deck was built around the Goblin Bombardment/ Enduring
Renewal combo, and it used Necropotence to draw the combo quiclkly.

Deck Name: Cocoa Pebbles
Deck Designed by John Ormerod, Warren Marsh, Ben Donaldson, Tony Dobson

CREATURES (10)
4 Academy Rector
2 Phyrexian Walker
4 Shield Sphere

SPELLS (28)
1 Aura of Silence
4 Dark Ritual
4 Demonic Consultation
4 Duress
3 Enduring Renewal
4 Goblin Bombardment
1 Mana Vault
3 Mox Diamond
4 Necropotence

LAND (22)
4 Badlands
4 City of Brass
4 Gemstone Mine
3 Peat Bog
3 Phyrexian Tower
4 Scrubland

SIDEBOARD
1 Abeyance
3 Aura of Silence
1 Defense of the Heart
2 PeaceKeeper
4 Pyroblast
2 Mana Short
2 Wasteland

The second Necro deck was a controllish Necro deck, built around the
life-gaining powers of cards like Corrupt and Drain Life. Brian Davis
played this deck to a second place finish, losing in the finals to Bob Maher
Jr's Counter-Oath deck.

Deck Name: Necro
Deck Designer: Craig Wescoe

CREATURES (2)
2 Skittering Skirge

SPELLS (36)
4 Contagion
4 Corrupt
4 Duress
4 Dark Ritual
3 Demonic Consultation
4 Drain Life
4 Necropotence
2 Nevinyrral's Disk
3 Spinning Darkness
4 Unmask

LAND (22)
18 Swamp
4 Wasteland

SIDEBOARD
2 Dystopia
2 Nevinyrral's Disk
2 Perish
3 Persecute
3 Planar Void
3 Powder Keg

In January 2000, Grand Prix Seattle was held, and the format was extended.
Several people, all of which played on the Your Move Games team, played a
new combo deck, called Trix. The Trix deck was built around the Illusions
of Grandeur/ Donate combo. Necropotence served the same purpose as it did
in the Cocoa Pebbles deck. The deck had a solid performance at Seattle, and
use of the deck exploded soon afterwards.

Trix
Artifacts (4)
4x Mana Vault

Spells (38)
4x Dark Ritual
4x Demonic Consultation
4x Duress
4x Vampiric Tutor
4x Necropotence
4x Donate
4x Illusions of Grandeur
4x Force of Will
1x Boomerang
1x Firestorm

Land (22)
4x Badlands
4x Gemstone Mine
4x Peat Bog
4x Saprazzan Skerry
4x Underground Sea
1x City of Brass
1x Underground River

The DCI responded to the dominance of the Trix deck by banning Dark Ritual
and Mana Vault from extended tournaments. These bannings eliminated the
viability of several extended decks, but only slowed down the Trix deck.
Trix continued its dominance though out the year, and at the next major
Extended tournament, Masters Series New York, Trix was one of the most
played decks. Soon after that tournament, a new Necro deck, Called "Combo
Breaker" started to circulate around the Internet. The deck was capable of
beating Trix with ease, while still being good against almost every other
deck in the Extended Format.

Combo Breaker
Artifacts (4)
4x Mox Diamond

Creatures (12)
4x Phyrexian Negator
4x Dauthi Slayer
4x Carnophage

Spells (23)
4x Necropotence
4x Sarcomancy
4x Duress
4x Unmask
4x Demonic Consultation
3x Firestorm

Land (22)
10x swamp
4x Badlands
4x Scrubland
4x wasteland

Earlier this month, The DCI banned four cards, Necropotence, Replenish,
Survival of the Fittest and Demonic Consultation, from Extended tournaments.
Now, Necro decks can no longer be played in any type of tournament except
Type One, and Necropotence is restricted in Type One. The deck still
remains, however, as an example of how one card can control the history of a
game.

Matt "Hydramon" Ladwig

P.S: If there is a specific tournament deck that any of you out there want
me to cover, e-mail me at KainTheCursed@Hotmail.com and let me know.
---