Getting Started in Magic:The Gathering: Part 2
by Evil Blue Mage
INTRODUCTION
Hello again! Welcome to the second part of a series of articles on getting started playing Magic. Last week we talked about the basics: buying cards and the five different flavors of Magic. This week, I am going to take a sample card pool helpfully sent to me by a reader and break it down into its components; hopefully you might find this educational. There is also some theory in here, but I am going to cleverly disguise it with some charts and graphs, so it should not hurt too much. First, though, I hope you will permit me a quick digression.
I AM EVIL, BLUE
Michael Taggart (also of this site) recently published an article entitled "Blue's Clueless". In it, he says the following:
Blue Mages Suck. Have you ever felt that way? After building a masterpiece deck; crafting and honing that puppy for weeks. It's perfect - you have tuned it to kill on turn 5 or 6 consistently... then the tournament comes around and you go to the table for round one. Who shows up, ready to be your first unsuspecting victim? A blue mage!
He then goes on to examine a sample decklist tuned to defeat a blue mage. Generally good stuff (but what's with 8 removal spells? It's blue, for dogssakes!). Therefore, on behalf of blue mages everywhere, Michael:
In response, I Undermine your article. Consider it countered. Also, please subtract 3 from your life total. Thanks.
Thbbt!
Sorry, that was childish.
FUN WITH SWAMPS
Ah, the swamp. A basic land type very near and dear to my heart. Swamps are, after all, mostly water. This might explain why black and blue as a color combination seem to go well together.
Wait, ignore that mention of color combinations! We are living in a mono-colored world, people!
What I mean by this is that for the next few articles I am going to be solely focusing on decks built of a single color, with maybe some artifacts thrown in for flavor. I have what I believe to be a good reason for this: getting the right number of lands for your single-colored decks is difficult. Add to that trying to figure out which type of land, and in what ratio, and that is even more tricky. For our purposes, I will only talk about one color decks. Which brings us to today's exercise: building a black deck.
I had originally planned to build a blue deck (naturally), but one of my (two) readers, Matt, sent in a nice black deck. His original card pool was also available. These cards are based on the purchase of 4 Classic starter boxes and an indeterminate number of booster packs. It's actually a fairly decent deck, so let's take a look at it now:
| | | |
| --- | --- | --- |
| Quantity | Card name | CMC |
| 2 | Raise Dead | 1 |
| 3 | Bog Rats | 1 |
| 3 | Blood Pet | 1 |
| 4 | Terror | 2 |
| 4 | Enfeeblement | 2 |
| 3 | Bog Imp | 2 |
| 3 | Drudge Skeleton | 2 |
| 3 | Coercion | 3 |
| 3 | Razortooth Rats | 3 |
| 2 | Scathe Zombie | 3 |
| 1 | Abyssal Hunter | 4 |
| 1 | Fallen Angel | 5 |
| 1 | Nightmare | 6 |
| 24 | Swamps | 0 |
| 57 total | | |
The first thing that we notice about Matt's deck is that is 3 cards short of the standard 60 cards. This is not necessarily bad… it is usually easier to add cards than to try to decide what to trim. Here are some other cards that he has but isn't using in this deck:
3 Syphon Soul
1 Bog Wraith
1 Clay Statue
1 Elkin Bottle
1 Snake Basket
1 Rod of Ruin
1 Lead Golem
1 Patagia Golem
1 Mana Prism
1 Charcoal Diamond
1 Throne of Bone
1 Hand of Death
1 Muck Rats
1 Erg Raiders
1 Dread of Night
1 Agonizing Memories
2 Fatal Blow
2 Mischievous Poltergeist
1 Strands of Night
1 Kjeldoran Dead
2 Lost Soul
1 Hidden Horror
1 Pestilence
1 Perish
1 Gravebane Zombie
3 Python
1 Mind Warp
4 Painful Memories
We will revisit this group of cards again later.
MANA CURVE
The second thing that pops out is that this deck has a decent mana curve. This is an important and fundamental concept in Magic. How do you find your mana curve? Group your cards by their casting cost. For example, Terror costs 1B, so it has a converted mana cost of 2. The Fallen Angel has a mana cost of 3BB, for a converted mana cost of 5. When I am building a deck, I will sort the potentials by casting cost and arrange them so they look kind of like a bar graph. For this deck, I actually did make a little bar graph.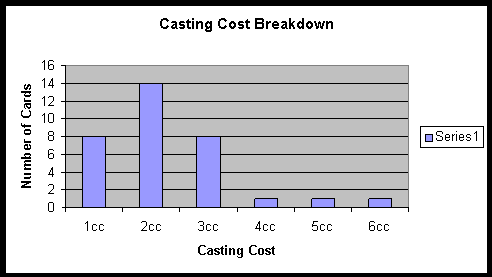 What this graph clearly shows is a curve that is balanced on the low end of the scale, featuring a lot of cheap creatures and spells, with some high end creatures for backup. What else does your mana curve tell you?
Your deck's mana curve will also tell you how likely it is that you are going to be able to play a spell on the turn that you want. As an (extreme) example, suppose you have a deck composed of cards with casting costs of no less than 4. These are more than likely all powerful cards, but by the time you get to cast them, you will most likely be dead. You have a strong late game, but no middle or early game. In our example, however, we can see that Matt's deck has a very strong early game, with very little to do in the late game. This is a perfectly valid strategy and gives us an idea on how to fine-tune this deck.
CREATURES
There are a total of 20 creatures in this deck. Is that good or bad? Like many things in Magic, it depends. We have to try to figure out what the point of this deck is. If we assume that it is to win quickly by swarming the opponent with inexpensive creatures, then I would say the creature count is a little low. In addition to creature count, you have to look at creature quality.
Creature quality, and the judging of card quality in general, is very difficult to do. The question that you are always asking yourself is, "Is there a comparable card that costs less to cast, has a more powerful effect, or produces some other advantage that I can use instead?" This is where the notion of blocks, sets, and formats are very important, as these influence what other cards you have to compare against. The bottom line is that not all cards are good. Some are even downright horrible. A common criticism of the basic sets (6th edition, and soon 7th edition), is that the overall card quality is lower than (insert favorite set here). What this often means is that it is much harder to "break" cards from this set. I am only going to compare cards with the other cards in the color that Matt has. I will also offer some suggestions as to what other cards he might want to acquire, but doing an exhaustive card by card evaluation is beyond the scope of this article.
SYNERGY
Synergy is defined as "The interaction of two or more agents or forces so that their combined effect is greater than the sum of their individual effects". In Magic, this means cards that work well together. When you build a deck, try to look for cards that have a strong effect by themselves, but when combined with another card become even stronger. Combo decks are extreme examples of the abuse of positive synergy. The entire deck is devoted to finding and protecting the combination, so that when it is played it will result in winning the game. Speaking as an Evil Blue Mage, I can tell you that combo players are even more widely despised than permission players, if only for the fact that a combo player could care less what the person sitting across from them is doing.
CRITIQUE
Revisiting Matt's other cards, there are a few that immediately jump out at me as worth looking at:
Bog Wraith
A 3/3 Creature for 4 mana is a good buy, especially for Black. This is worth playing. The special ability of swampwalk (unblockable if defending player controls a swamp) is icing on the cake.
Rod of Ruin
An Artifact! This would be a worthwhile inclusion for two reasons: One, it is a reusable source of damage. Two, the damage is colorless. Black has a hard time dealing with creatures who have protection from black, so a colorless damage source is always good.
Erg Raiders
Ah, the Erg Raiders. A staple of many black decks, this 2 Power creature for a casting cost of two has a minor drawback, namely that if you do not attack with him then he hurts you. This drawback is mitigated by the fact that if you are playing him in a low-curve black deck like we are then if you are not attacking you are losing. Worst case scenario, he's Angel food.
Dread of Night
Too limited for most play as it only affects white creatures.
Agonizing Memories
It costs 4 mana. While the effect is powerful, we would like our disruption effects to be cheaper so that we can play them sooner. A better card in the 4 spot would be…
Strands of Night
This is decent reanimation in a permanent form and a way of giving a little bit of extra longevity to a deck that would otherwise burn out quickly. The key phrase on the card is "to play". For the measly cost of 2 black mana, 2 life, and a swamp, you can put creatures directly into play. The drawback is minor, especially when you consider that you can do this on another player's turn for surprise blockers or to have the creature ready to attack on your turn, negating summoning sickness.
Fatal Blow
This card can be extremely valuable. It destroys black creatures, which Terror will not. It has decent synergy with the Rod of Ruin, giving you a somewhat expensive, but instant speed, way of dealing with opposing black permanents.
Hidden Horror
This guy is a beating. A 4/4 for 3 mana, and the cost of pitching a creature card from your hand (which could then be Stranded or otherwise returned to your hand).
Pestilence
Normally a good card, but I don't think it would work very well in this deck because of the high number of low-toughness creatures.
Perish
If you regularly play against a fair number of green decks, it might be worth it to run Perish in your main deck. It is a horribly unfair card, and the Green player may attempt to inflict bodily injury on you, but that's what they get for playing green. This is a perfect example of a "color hoser", a card that has a really severe effect against one color, but is worthless against anything else.
Gravebane Zombie
The good thing about this Zombie is that he is remarkably resilient. The bad thing is that you lose your draw step. At four mana, there are better things to cast.
Python
A three power creature for three mana in black is not a horrible thing. Not great (no special abilities), but certainly not bad. If you are trying to lay the smack down, you could do worse.
Looking at this card pool, I might be tempted to rebuild the deck to look like this:
| | | |
| --- | --- | --- |
| Quantity | Card name | CMC |
| 3 | Blood Pet | 1 |
| 2 | Fatal Blow | 1 |
| 3 | Bog Rats | 1 |
| 2 | Raise Dead | 1 |
| 4 | Terror | 2 |
| 4 | Painful Memories | 2 |
| 4 | Enfeeblement | 2 |
| 3 | Bog Imp | 2 |
| 3 | Drudge Skeletons | 2 |
| 2 | Coercion | 3 |
| 2 | Razortooth Rats | 3 |
| 3 | Python | 3 |
| 1 | Hidden Horror | 3 |
| 1 | Rod of Ruin | 4 |
| 1 | Clay Statue | 4 |
| 1 | Fallen Angel | 5 |
| 1 | Nightmare | 6 |
| 20 | Swamps | |
I decided against including Strand of Night, simply because there aren't that many creatures where it would be really advantageous to find some other way to put them into play aside from casting them. I like the Painful Memories because it makes your opponent effectively skip their draw step, giving them one less turn to find an answer to your threats. The Clay Statue and Rod of Ruin are colorless damage sources that a black deck should have. Cutting down the number of swamps to 20 is also a good idea given the high number of low casting cost cards. The revised mana curve now looks like this: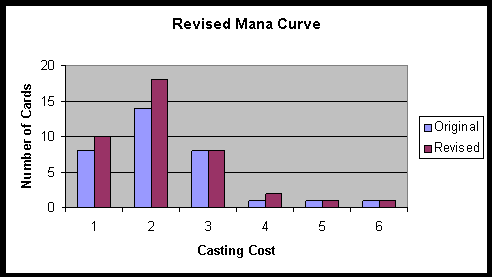 There is still a spike in the 2cc slot, but there is an overall increase in card quality. Given the card pool, I think this is a decent build and should hold its own against another deck from a similar pool.
SUMMARY
This week, we have tackled some basic ideas including mana curve, card evaluation, and synergy and applied these concepts to analyzing a deck. I hope it has been instructional. Next week, I am going to discuss some commons that every mage should own. Hint: a good way to cheaply build your collection is to go to your local card shop and ask to browse through their commons. You can usually pick some up for a dime each. As always, feel free to email me to chat about anything Magic-related.
Stay Evil.
---