Finally, we'll wrap up with the too-clever-for-his-own-or-anyone's-good # 011 THE RIDDLER and his semi-reformed, semi-legitimate post-criminal version # 105 EDWARD NIGMA.
THE RIDDLER
boot symbol
90 points
Team: Batman Enemy
Keywords: Detective, Gotham City
Range: 6 x 2
DIAL & CARD:
http://www.wizkidsgames.com/heroclix/dc/figuregallery.asp?unitid=14255
STRENGTHS:
Riddler has a great first click: Stealth and Outwit +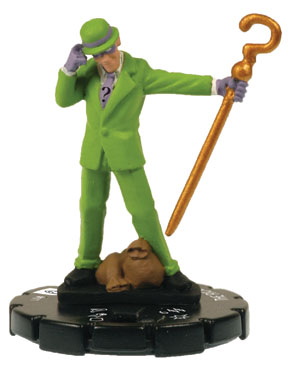 SuPerplex against enemies (-2 to any of their stats except damage -- turn that 18 DV to a hittable 16) thanks to "They'll Never Get This One." His other SP "Riddle Me This" also offers a grand opportunity he'd normally lack -- and Incap attack, then a normal one, or the ability to attack for free while tokened. (But note that he can't Incap twice in a turn.) Mastermind helps even after he's lost Stealth -- Leap/Climb enables him to run to MM fodder or just get out of harm's way. Mid-dial Exploit Weakness is a nasty surprise.
WEAKNESSES:
Defensively soft with mediocre range and damage for his high cost. Once off his opening Stealth, he's a walking bull's eye who needs fodder to live, adding even more cost to a short dial whose latter half isn't very good at all. And his free Incap power is very hard to land: the roll not only has to be successful, but it has to show the chosen number to add the token.
CARDS TO CONSIDER:
CONTINGENCY PLAN and OUTSMART work all dial long, but try not to use both. Pick a role for Riddler and stick with it. GETAWAY might be worth it. Don't use BRILLIANT TACTICIAN -- his version of Perplex only works on enemies, so while he can technically be assigned the card, it'll do you no good at all. Similarly, STUNNING BLOW isn't very good for him, since he can't Outwit enemy defenses first during his free-action version of Incap.
IN SUM:
Between his general inability to deal damage and his reliance on Mastermind, Riddler must be built around. But with him being just one-third of the usual 300 build total, that's not hard to do, and his SP makes allies' attacks land MUCH easier and hurt more. 3 of 5.
------------------------------
EDWARD NIGMA
boot symbol
60 points
Team: Batman Enemy
Keywords: Celebrity, Detective, Gotham City
Range: 6 x 1
DIAL & CARD:
http://www.wizkidsgames.com/heroclix/dc/figuregallery.asp?unitid=14254
STRENGTHS:
His main strength is the "A Man Reborn?" SP. I'd call it Warbound-lite, but it's actually a bit better as there's no point or keyword restrictions (be careful of using it with characters who can't afford to take the 1 unavoidable damage if you roll a 1, though). This power also grants Mastermind and Enhancement to make him hard to hurt and fellow shooters hurt harder. Outwit rounds him out nicely, with Incapacitate being icing. His stronger AV down his first half is good for fellow Batman Enemies and wildcards. His back-half Perplex is good for all allies.
WEAKNESSES:
No Stealth means he NEEDS the better DV he gets over the normal Riddler. One less target is bad for his sole Incap click. He has less life, too.
CARDS TO CONSIDER:
CONTINGENCY PLAN and OUTSMART again work fine, and this time he's cheap enough to maybe use both. The latter is the better choice, as he needs to keep his powers and can't hide in the bushes like Riddler can.
IN SUM:
Considerably cheaper than Riddler, Nigma doesn't have to anchor a team. But he's able to serve some the same role as a team-booster. His token-swapping + Enhancement ability alone makes him worth running. 4 of 5.
------------------------------
WHICH TO RUN?
At only 2/3 the price of The Riddler, LE Edward Nigma is an easier fit while still qualifying for several of the same themed teams that Riddler does, so I'd reach for him first. But don't discount the common Riddler's greater ability to affect the battlefield via his Outwit and -2 suPerplex (esp. if expecting high DVs to hit), or his greater survivability due to Stealth+Mastermind.
And that wraps it up for the side-by-side reviews! Look for a return to normal reviews shortly. If you have any requests, send them to us and we may highlight them in future Clix of the Day articles!