Now we get bestial with # 010 GORILLA GRODD and his Sinestro Corps-empowered version # 104 GRODD
------------------------------
GORILLA GRODD
indomitable and boot symbols
157 points
Team: none
Keywords: Animal, Brute, Psychic, Rogues, Ruler
Range: 0 x 1
DIAL & CARD:
http://www.wizkidsgames.com/heroclix/dc/figuregallery.asp?unitid=14245
STRENGTHS:
He's Indomitable, to start. 18 DV with Toughness and Outwit all serve well. His SP gives him some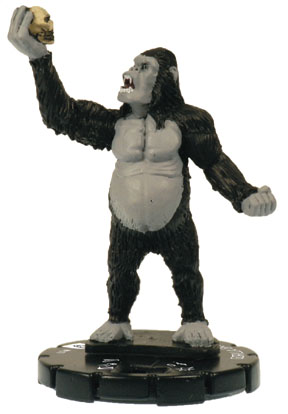 range (Mind Control) and mobility (Leap/Climb), and Super Strength rounds out his first click. Click #3 switches it out for TK and Charge with a spike to 4 damage -- he can either smash or support. From mid-dial on, he gets a strong combo in Steal Energy + Exploit Weakness, and he gets his SP back, too.
WEAKNESSES:
No natural range limits him beyond Super Strength tosses and Mind Control. Bare DV clicks on #2-4 (and nothing better than Toughness) is a big soft spot despite his high 18 DV against others in his weight class and giant-killing cheapies. His DV sinks pretty low on his back end, too.
CARDS TO CONSIDER:
MENTAL SHIELDS is always good on a Mind Controller, especially one who can't afford to get feedbacked off his weak damage reducers. PROTECTED or NANOARMOR -- or both -- is needed to keep that one massive hit from nerfing him. Lots of Outwit may make OUTSMART or THWART a good idea. If you've got it, remember that the ELEHA'AL VINE is fantastic healing for Indomitable characters.
IN SUM:
Is he a Mind Controller or a brick? Too costly for the one role and too soft for the other. He can work -- 11-10 AV for half his dial is nothing to sneer at -- but you've got to use great care. 3 of 5.
------------------------------
GRODD
wing symbol
161 points
Team: none (though probably intended to be Calculator)
Keywords: Animal, Legion of Doom, Psychic, Sinestro Corps
Range: 8 x 1
DIAL & CARD:
http://www.wizkidsgames.com/heroclix/dc/figuregallery.asp?unitid=14253
STRENGTHS:
True range, Running Shot and Invulnerability make for a much more versatile fighter for just a few more points. His opening SP "Weaponer's Ring" (Barrier, RCE, Super Strength and TK) makes him a swiss army knife of offensive and support options, and he even sports natural Outwit, to boot. Flurry on clicks #2-3 shift him to a more melee focus.
Mid-dial on, though, he's all range with Psychic Blast, ESD and a SP to keep folks away, "Giant Yellow Paws": Barrier, Plasticity and Force Blast with a free use of Barrier between him and the target. Late-dial he gets a run of Pulse Wave and even more Willpower. His DV is a steady 16 through his whole latter half.
WEAKNESSES:
He's completely soft, defensively, after the opening two Invulnerable slots, and he's not Indomitable like the normal Gorilla Grodd figure. Worst of all, his dial lacks the Calculator symbol that appears on his character card. With no official errata from WizKids before the company's closing, he's stuck without a TA because the dial trumps the card.
CARDS TO CONSIDER:
CONSTRUCT could work with his dial-long ability to use Barrier, especially the special Paws version. OUTSMART functions as cheap Fortitude.
IN SUM:
Even without Indomitable or a TA, LE Grodd is an upgrade thanks to a greater focus on the ape's ranged strengths. Kneel before Grodd! 3.5 of 5.
------------------------------
WHICH TO RUN?
I'll pick LE Grodd over the Gorilla nearly every time even without the wildcard TA unless I'm running a Rogues theme...and even in that case I may stick with the lesser but cheaper Hypertime versions to prevent investment in the tentpole-priced AA common.
Okay, enough of this naked ape. Next time we'll look at one of the snappiest dressers in the set.