Next in the series is the venal # 008 STREET THUG and his more jaded and experienced "brother" # 103 HENCHMAN.
STREET THUG
boot symbol
19 points
Team: Batman Enemy
Keywords: Gotham City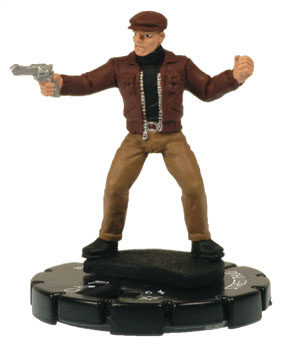 Range: 6 x 1
DIAL & CARD:
http://www.wizkidsgames.com/heroclix/dc/figuregallery.asp?unitid=14288
STRENGTHS:
He's the price of an expensive pog, but worth 2 or 3 hits via 5 clicks of life. Better still, he's got Stealth to really act as a meat shield and Batman Enemy TA means he might have a potential 11 AV to harass foes with.
WEAKNESSES:
And with a 1 damage, harass is about all he'll do.
CARDS TO CONSIDER:
So use ARMOR PIERCING to make him a legit threat. RUNNING START can get him off hindering faster to run away from or tie up a bigger target. But the newer INFILTRATE or SNEAK cards are better and cheaper for the latter.
IN SUM:
Perfect for rounding out a Gotham City team or as Mastermind fodder or simple point filler. Cheap enough that his weak stats don't matter. 3 of 5.
------------------------------
HENCHMAN
boot symbol
40 points
Team: Batman Enemy
Keywords: Gotham City, Injustice Gang, Injustice League, Injustice Society, Rogues, Secret Society of Super Villains, Superman Revenge Squad
Range: 6 x 1
DIAL & CARD:
http://www.wizkidsgames.com/heroclix/dc/figuregallery.asp?unitid=14252
STRENGTHS:
You see all those keywords?!? This guy fits nearly every DC villain team, especially given his Trait "You'll Hafta Wear Some Silly Costumes", which makes him a wildcard in ADDITION to his natural Batman Enemy TA (share Joker's 11 AV AND contribute to Superman Enemy-Outwit, for example). His "Do Whatever You're Told To Do" SP allows him to boost his own stats as needed while Stealth + Super Senses keep him fairly safe early on. Toughness, then Willpower fill out his defense slot while Poison starts mid-dial on. He's fully playable in multiples, and the fun factor of his powers' flavor text can't be ignored.
WEAKNESSES:
His weak numbers similar to the Street Thug are less forgivable at over twice the Thug's cost. Super Senses instead of Toughness to start hurts his potential as Mastermind fodder. And why doesn't he get the Legion of Doom or Society keywords?...they could use the help.
CARDS TO CONSIDER:
ARMOR PIERCING is even better on the Henchman's Poison. INFILTRATE and/or RUNNING START is key for getting him in place to poison.
IN SUM:
Although he's intended somewhat as filler, his powerset is actually too useful for -- and priced somewhat beyond -- that role. Unfortunately, he lacks the stats to really leverage those powers. Yet despite those drawbacks, his potential as a wildcard gives Henchman a huge lift in playability. 3 of 5.
------------------------------
WHICH TO RUN?
Honestly? Both. While the Thug is perfect filler for any Gotham City villains team, the Henchman needs to be reserved for larger builds where he's not the ONLY filler.
Next time we'll look at the hairier side of Arkham Asylum LEs.