Back in December, I wrote the first of an intended series of side-by-side reviews of the Arkham Asylum LEs compared with their Common rarity versions on Gotham City Detective and the LE Crispus Allen (or "Black Spectre" as I like to call him. But then, I LIKED the dumb 70s trend of naming black characters "Black whatever"). Well, that one wasn't much of a comparison, as the two figures are WILDLY different in both cost and application. (And the Pojo webmaster doubled up my next several reviews, too, though they really WEREN'T intended as side-by-sides.)
Now, though, with the top 10 of 2008 list done, and the majority of the AA LEs in peoples' hands, it's time to do this right.
------------------------------
First up is the classic side-by-side character: # 007 TWO-FACE and # 102 HARVEY DENT.
TWO-FACE
boot symbol
75 points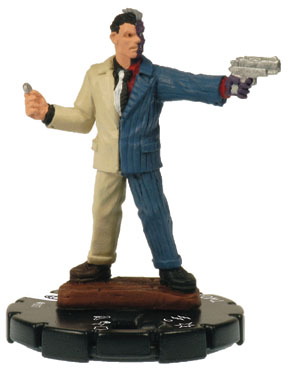 Team: Batman Enemy
Keywords: Brute, Gotham City, Politician
Range: 6 x 2
DIAL & CARD:
http://www.wizkidsgames.com/heroclix/dc/figuregallery.asp?unitid=14243
STRENGTHS:
His SP "Mercy or Murder" means he can always potentially hurt Invulnerable or Imperious characters with either Incapacitate or Psychic Blast, particularly with his two targets. Natural Stealth means he can hide and snipe, and his Mastermind makes him a tough KO when enemies DO reach him. Perplex on 2nd-4th clicks is a good help for himself and his team (though you may not want to push off his double-digit AV to get there). Flurry and a revival of his AV on the 2nd half of his dial aren't bad. Sporting the increasingly solid Gotham City and Politician keywords, he's also a rare Brute-keyworded piece with range.
WEAKNESSES:
By the time he gets Flurry, he's lost both Stealth and Mastermind to protect him, and he's only dealing 1 damage as well. In fact, his damage is low throughout. Not having Perplex toploaded is a problem -- you'll have to push him -- and his SP is too unreliable. His mediocre range means he's relatively easy to get to.
CARDS TO CONSIDER:
ARMOR PIERCING will fix his damage problems. CONTINGENCY PLAN can fix his initial lack of Perplex (and free up that power to use on his damage or defense instead of other values). GETAWAY works with Mastermind to keep him out of harm's way a little longer. But whatever you use, don't load him up too heavily with cards.
IN SUM:
He's a little too expensive for such low damage and his coin-flip powerset. Use him only for fun or for theme teams. 2.5 of 5.
------------------------------
HARVEY DENT
boot symbol
67 points
Team: Batman Ally
Keywords: Gotham City
Range: 6 x 1
DIAL & CARD:
http://www.wizkidsgames.com/heroclix/dc/figuregallery.asp?unitid=14251
STRENGTHS:
A Batman Ally now, he's got perma-Stealth to back up Combat Reflexes. An unflagging 10 AV, Flurry and SP "2nd Chance" (Willpower + Outwit) on his 1st half are impressive, too. Mid-dial, his AV stays pretty good with 2 damage Exploit Weakness, and Mastermind on his last two clicks could be a lifesaver.
WEAKNESSES:
Still has low damage for his cost, though it's offset by Outwit and Exploit Weakness. Only one keyword restricts him to Gotham themes alone.
CARDS TO CONSIDER:
OPPORTUNIST will work well thanks to his SP-granted Willpower and his being able to stay in Stealth to Outwit while building up tokens. OUTSMART also fits nearly every click, enabling him to act as mini-Fortitude while being taxied by a flier. THWART could work if you plan to use him strictly for Outwit. If he's part of a wildcard abuse team to contribute his Bat TA, give him LONER (since he'll probably be the only one with the Gotham City keyword) to bump his DV up to sick levels.
IN SUM:
The ability to support from afar with Stealthed Outwit, better stats and lower cost all make Harvey Dent way better than Two-Face despite the loss of a target and some theme-worthiness. 4 out of 5.
--------------------------
WHICH TO RUN?
Mental health is good. Harvey Dent is a better choice for so many reasons than Two-Face. However, strictly speaking, if you're running a true Gotham VILLAINS team, the mostly-heroic Dent doesn't quite qualify. Two-Face is also more fun because instead of the die roll, you can flip a coin for the "Mercy or Murder" SP (same 50/50 odds).
Next time we'll look at guys that Two-Face might hire and Harvey might hunt...